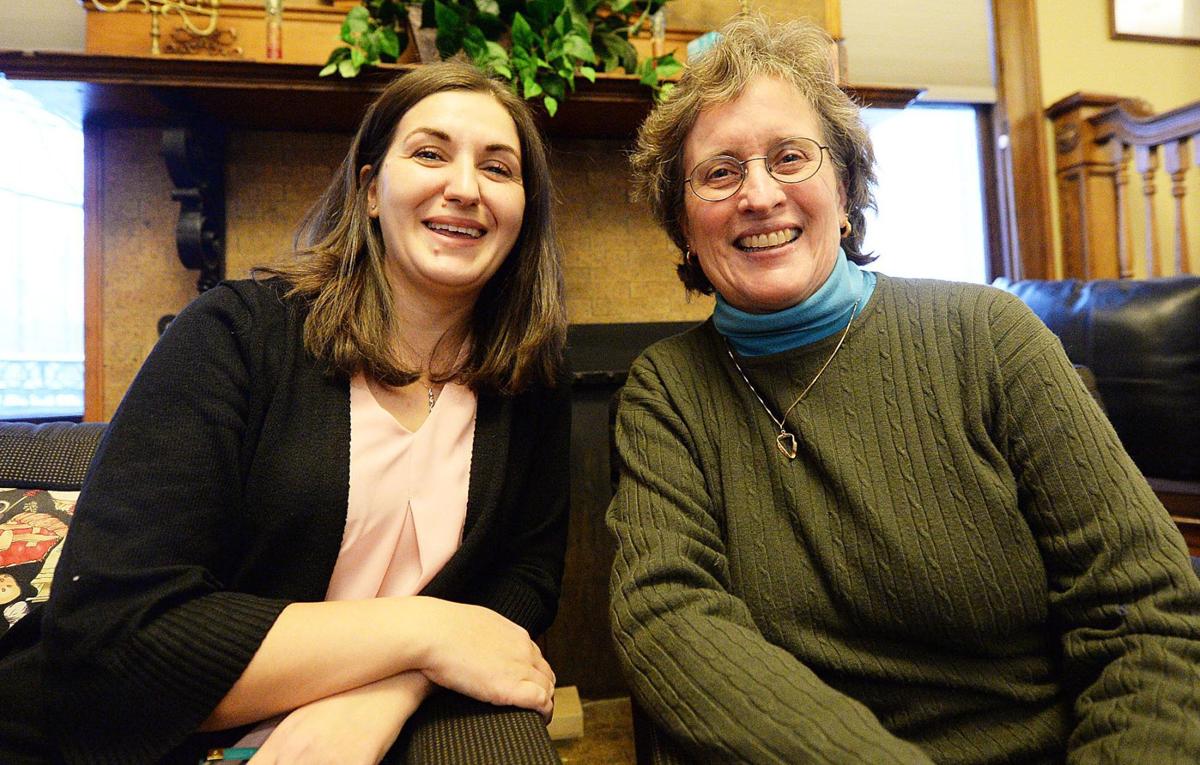 Every stereotype in the book says Emily Burt-Hedrick and Sehija Becirovic shouldn't be friends.
Yet the two women are forging a sisterhood to break down those stereotypes and bring Jewish women like Burt-Hedrick and Muslim women like Becirovic together for conversation, learning opportunities and community service.
"There's a lot of misconceptions between Muslims and Jews, and we want to break that barrier," Becirovic said.
The Sisterhood of Salaam Shalom takes its name from the Arabic and Hebrew words, respectively, for peace. According to the website for the national organization, women in their "sisterhood chapters" participate in dialogue, socialization, social action projects and activities designed to expand knowledge of each other's practices and beliefs.
It's the sort of undertaking Burt-Hedrick sought after the 2016 election, which left her "absolutely devastated" and fearful about what might happen. She discovered the Sisterhood on Facebook and decided to start a chapter.
"I felt so hopeless and helpless after the election. I felt that maybe one thing I can do positive is get this chapter started," she said.
She started by sending letters of inquiry to local mosques. Out of those letters, Becirovic responded.
From there, the local chapter held its first meeting in April, and has held about five or six meetings since then, Burt-Hedrick said. At the meetings, the group engages in activities that are designed to help them learn more about each other as women and as members of their faith.
"The more you know someone, the less likely you are to dislike them. The closer we get together, we appreciate each other, each other's backgrounds," Becirovic said.
Initially, women from as far away as York attended the meetings, so the group held meetings in different locations. They met at the YWCA in Carlisle, the Islamic Center in Harrisburg and Temple Israel in York, among other places. After consulting with the national organization, the group split into two chapters with the Carlisle chapter now planning to hold its meetings at the YWCA.
"It was just getting to the point that we needed to split it if we wanted to have that personal connection with each other," Becirovic said.
Becirovic said she wants to know more about the Jewish faith so she can be an advocate and correct misconceptions about Jewish people in her community. Similarly, Burt-Hedrick said she has learned much about Islam and its ways of practicing the faith, making her more able to confront bigotry when she encounters it.
During Ramadan, for example, Becirovic invited the women from the group to the iftar meal that signifies the end of the day's fast. Burt-Hedrick said the women were permitted to attend the evening prayers that are part of the observances, and found a warm and generous welcome from their Muslim hosts.
The group is planning a program for Feb. 1, which is World Hijab Day, in which women can learn the proper way to put on a hijab. Some Muslim women, like Becirovic, do not wear them outside of their religious services. The day becomes one in which nonhijab wearing Muslims and women of other faiths can experience what it is like to visibly be a member of a religious community.
Right now, the group is largely inward-focused as its members continue to get to know each other. Once the chapter has a more regular group that meets, they will decide what projects they would like to do, Burt-Hedrick said.
"We're still trying to organize the group. We want to get to the point where we have a group of maybe 10-12 women, half Muslim and half Jewish, who meet on a regular basis and get to know each other very well," Burt-Hedrick said.
That's not to say the group hasn't started its effort to make a difference in the community.
The national Sisterhood asked chapters to perform an act of charity — sadaqa in Arabic and tzedakah in Hebrew — around Christmas, Burt-Hedrick said. Though the chapter did not have a lot of time to coordinate its effort, they chose to collect toys to donate to Toys for Tots in what both women deemed a successful effort.
"We also want to strengthen our own communities. We want to do things in the community," Becirovic said.
Though politics had a role in motivating the creation of the group, it is one of the topics the national organization advises new chapters to avoid, Burt-Hedrick said. Such topics are only to be discussed once the members get to know each other, and if the members of the group are comfortable with such discussions.
Such precautions are important as the women in the group come from different backgrounds. Becirovic described her own background as a Bosnian immigrant who came to the United States due to the war in her home country, and said women with similar backgrounds sometimes have difficulty talking about their experiences.
At the same time, Becirovic's background fuels her love for the group.
"I love our country, and I don't want whatever is happening in a negative way to reflect what the United States is. This country is great, and we need to appreciate that. I think we forget that sometimes with all the stuff that's going on now. We are great because we do things different and we stand out," she said.
The sisterhood stands out because they choose to be together, she said.
"The sisterhood is saying that we won't be divided. We'll be waging peace," Burt-Hedrick agreed.