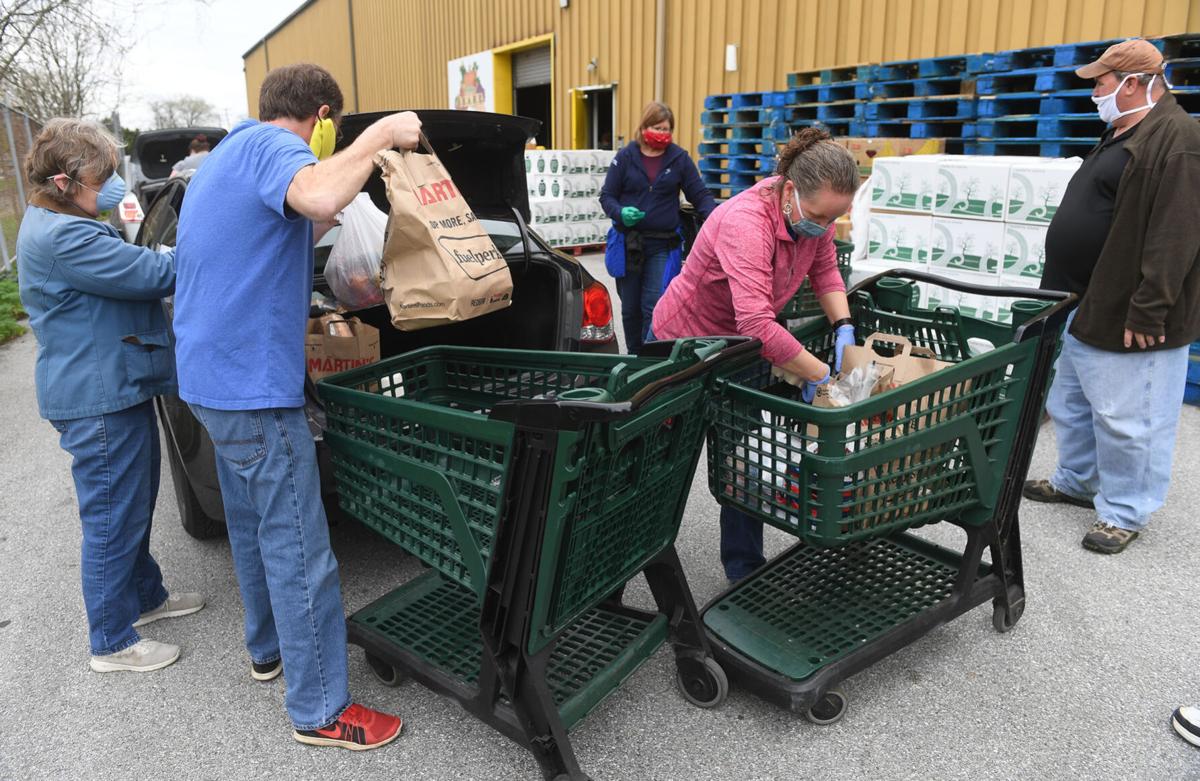 Project SHARE will host a food truck fundraiser Sunday in lieu of its usual fall dinner, as the organization anticipates further need for food assistance with the expiration of federal unemployment benefits.
The event will be held Sept. 20 in the parking lot of Second Presbyterian Church, at 528 Garland Drive in Carlisle, with a portion of vendors' proceeds going toward Project SHARE, according to the Carlisle food pantry's CEO, Bob Weed.
Project SHARE distributes food to needy families daily at its Farmstand location on Lincoln Street in Carlisle, and also does monthly bulk distributions at its warehouse on Orange Street.
The group saw a spike in demand for food during the April distribution, when the COVID-19 pandemic and the associated job losses were at their peak. Since then, demand has slackened, but remained elevated, Weed said.
In the last two weeks, however, Farmstand demand has picked up, and Weed expects increased need during this week's September bulk distribution.
Anecdotally, he said, many families that regularly used Project SHARE stopped doing so once the $600 per week federal unemployment benefit enhancement began, allowing them to afford enough food on their own.
But the portion of the federal CARES Act that provided the extra unemployment money expired in July, and most families received their last check in mid-August.
"People who were on unemployment got that last $600 per week boost in the middle of August, and not having that will start to impact some of those families," Weed said. "I'm anticipating increased demand this week."
Fundraiser and support
Historically, Project SHARE would typically be holding its annual Farm-to-Table banquet and auction fundraiser at this time of year. But with such an event not possible due to the pandemic, Weed said the group will instead have a "to-go" fundraiser.
Some of the local food truck vendors that will support Project SHARE at Sunday's event are Banana Leaf Indian Cuisine, PB's Southern Smokehouse BBQ, Farm Show Milkshakes, Bricker's Famous Fries, The Sweet Patch, Say Cheese, Uncle Moe's Soul Food and Italian Job.
Socially-distanced picnic table seating will be available for those who want to eat on-site. The event will take place from 4 p.m. to 7 p.m.
Project SHARE has benefited from grants from the Partnership for Better Health and Renew Cumberland, the program from the county government to apportion nearly $23 million in federal CARES Act block grants that flowed to Cumberland County, Weed said.
The organization also ramped up its student programs this summer, which are sponsored by the U.S. Department of Agriculture to provide food to children who receive free or reduced meals at school during the academic year.
The program typically reaches about 130 students three days a week through Project SHARE's Lunch & Learn day camp, Weed said. This year, with camp canceled, Project SHARE was still able to distribute meals to about 370 students seven days a week, for breakfast and lunch.
Community support and bulk buying through the Central Pennsylvania Food Bank have sustained food stocks, but Weed is still wary of the months ahead, with federal aid having slackened and flu season approaching.
Data from the U.S. Census Bureau's Household Pulse survey shows that, for survey period of Aug. 19-31, about 60 percent of households reported food sufficiency, up slightly from 55 percent in the mid-July survey period.
Financial distress was the most common reason for food insufficiency, with roughly a third of those who experienced food inadequacy in August having not experienced it prior to mid-March, when the COVID-19 pandemic began to strike in earnest.
Poverty rate estimates, compiled by several academic research outlets using Census income data, show the nation's poverty levels actually decreasing through April, likely due to the CARES Act unemployment benefits and stimulus checks.
But those levels jumped back up in the last two months, with poverty estimates surging from 9.3 percent of the population in June to 10.5 percent in August, according to a modeling project from the University of Chicago and University of Notre Dame.
Congress remains gridlocked on a replacement to the Federal Pandemic Unemployment Compensation (FPUC) program, the portion of the CARES Act that added $600 weekly to unemployment checks, which otherwise pay out just under half of a worker's lost wages, depending on the state-level formula.
President Donald Trump's executive order last month appropriated $44 billion in Federal Emergency Management Agency (FEMA) funds to a new $300 weekly benefit for certain workers who were unemployed due to the pandemic, but that funding ran out with the work week ending Sept. 5, per the Pennsylvania labor department.
Concerned about COVID-19?
Sign up now to get the most recent coronavirus headlines and other important local and national news sent to your email inbox daily.