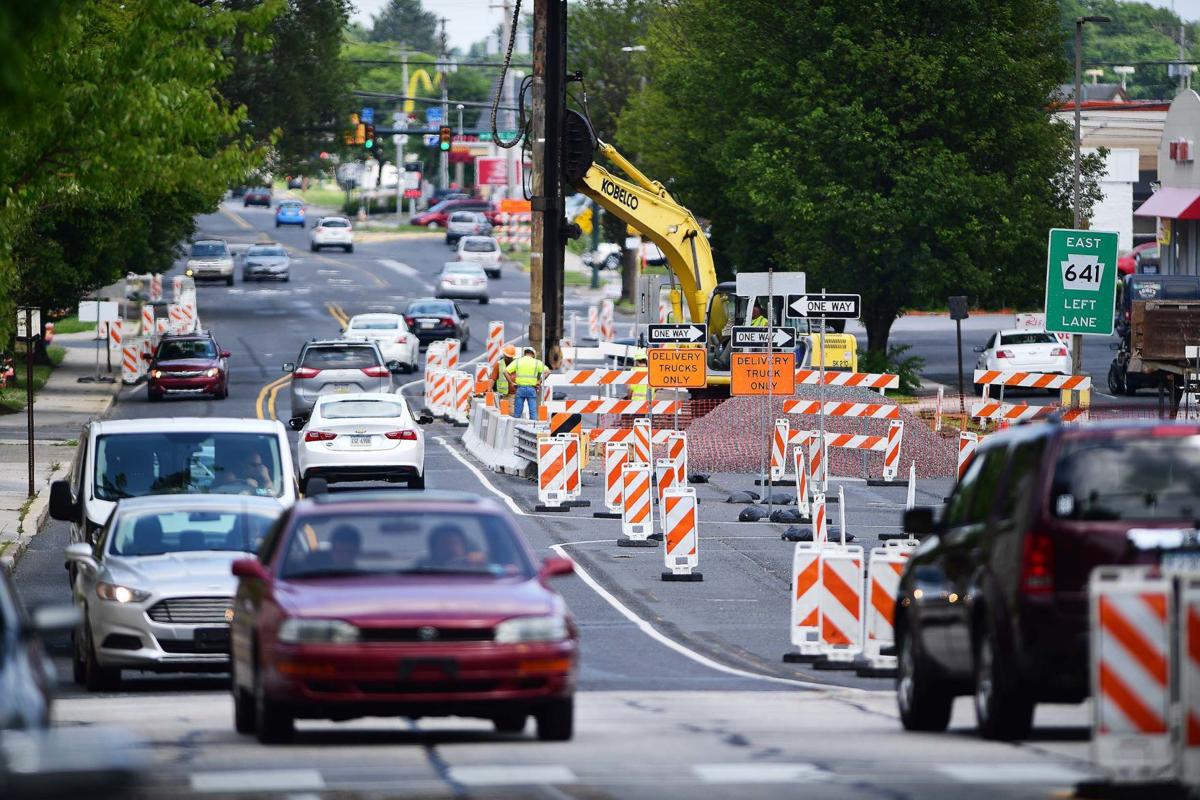 Several Cumberland County projects are among those recently highlighted by PennDOT as the agency reviewed the 2019 construction season.
Approximately 170 construction projects were active and 76 were completed in the PennDOT Engineering District 8 region covering Adams, Cumberland, Dauphin, Franklin, Lancaster, Lebanon, Perry and York counties last year.
In addition to those projects, bids were opened for 66 contracts totaling nearly $211.8 million in value.
You have free articles remaining.
In addition to work through contracts, resources were further maximized with department forces completing more than 75 miles of paving and 175 miles of seal coating (oil and chip) in 2019. District 8 department forces also placed more than 5,500 tons of Recycled Asphalt Paving, or RAP, which repurposes materials from projects onto other roadways by mixing ground millings with oil.
Work was performed on 57 state-owned bridges by contractors or department forces. This included the replacement or rehabilitation of 25 bridges, and preservation work on 25 bridges to extend the life of those bridges.
There were seven small bridge projects completed by department force crews.
Below is a list of the major projects that were under construction last year in Cumberland County. Some of the largest were multi-year projects that started prior to 2019.
A $2,788,771 contract to repair and resurface a 2-mile section of Carlisle Pike, from the intersection with Dapp Lane through the Village of Hogestown to the intersection with Route 114 in Silver Spring Township. Work was completed in August 2019.
A $2,598,847 contract to replace the bridge that carries Route 74 (High Street) over LeTort Spring Run in Carlisle. Work includes the design of the new structure, coordinated utility work, removing the existing 83-year-old two-span concrete T-beam bridge and replacing it with a two-span prestressed concrete spread box beam bridge under staged construction, installation of erosion and sediment control measures, drainage work, roadway approach construction, and new guiderail, signs and pavement markings. The road is restricted to a single 10-foot lane in each direction across the bridge through 2020 as crews demolish the existing bridge and replace it one half at a time.
A $26,480,000 contract to resurface and preserve a 12.3-mile section of Interstate 81 in Southampton, Shippensburg, South Newton, and Penn townships. The work limits for this project are from the Franklin County Line in Shippensburg Township to the Kutz Road bridge in Penn Township. Work began in October and currently is in winter shutdown. Work will resume in the spring and is expected to be completed by October 2022.
A $14,770,419 contract to repair and resurface a 10.5-mile section of I-81 in Cumberland County from the bridge over Kutz Road in Penn Township through Dickinson and South Middleton townships to the bridge over Route 641, West Trindle Road, at Exit 49 for High Street in Carlisle. This project also includes installation of Intelligent Transportation System equipment such as a Dynamic Message Sign along the northbound lanes at mile marker 26 and six closed-circuit television video cameras. Work is expected to be completed by February 2021.
A $4,144,090 contract to repair and resurface a 1.3-mile section of Interstate 83 from the Yellow Breeches Creek at the Cumberland-York County Line to the Susquehanna River. Work was completed in fall 2019.
A $3,647,491 contract to improve the Route 581 interchange with Creekview Road in Hampden Township. Work included widening Creekview Road approaching the bridge over Route 581, widening the ramps to accommodate turn lanes, and the installation of traffic signals on Creekview Road at the interchange ramps. Construction began in early October 2018 and was substantially completed in December 2019. Minor finishing work is scheduled for this spring.
A $7,789,631 contract to replace the Erford Road bridge over the Camp Hill Bypass in East Pennsboro Township. Work included some design requirements for the removal of the existing 66-year-old two-lane three-span continuous steel I-beam bridge, full-depth reconstruction of the ramps, realignment of the road, and construction of a new wider bridge superstructure that will accommodate two through lanes and a center-turn lane. Work was completed in fall 2019.
A $2,754,495 contract to repair and resurface three roads in Franklin and Cumberland counties. Work includes a 3-mile section of Route 696 that follows Olde Scotland Road near I-81 from just west of the Sheetz on United Drive in Southampton Township to its intersection with South Fayette Street and continues to West King Street in Shippensburg Borough; a section of Route 533, North Morris Street, from the Shippensburg Borough-Southampton Township line just west of Westover Road to West King Street; and a section of Orrstown Road from the intersection of Campbell Circle through Orrstown Borough to 1,450 feet west of Muddy Run in Southampton Township, Franklin County.