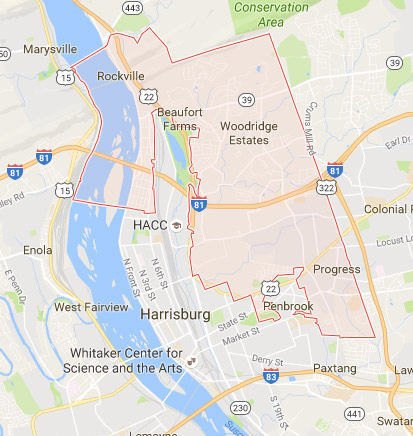 As the debate in Carlisle over the Human Relations and Citizen Participation Commission's proposed non-discrimination ordinance continues, similar action in other municipalities offer a glimpse into what could be waiting for the borough.
In Pennsylvania, 35 municipalities have passed ordinances that create a commission to review allegations of discrimination based on sexuality or gender identity, which is similar to the one proposed in Carlisle.
Allentown, West Chester (on whose ordinance Carlisle's is based), Doylestown and Susquehanna Township are just some of those municipalities with non-discrimination ordinances in place.
Adrian Shanker, founder and executive director of the Bradbury-Sullivan LGBT Community Center in Allentown, was a member on the city's Human Relations Commission from 2009 to 2012. He believes that the biggest challenge with such ordinances is that action is forced at the local level, when it should be the state or federal governments instilling such protections.
"Some people believe that it's more the responsibility of the state and federal governments, and I agree," Shanker said. "They've failed in their responsibility to protect citizens, but because they haven't and they've stalled for so many years, it's important that municipalities take it upon themselves to protect their own citizens."
And that's why the ordinance was proposed: to protect a class thus far unprotected within the borough, according to officials.
Some of the feedback borough officials in Carlisle have received, and have even voiced themselves, is the fear of costs to staff, manage and support a possible Human Rights Commission. However, Shanker said that during his stint with Allentown's HRC, costs were never an issue, and that for a municipality like Carlisle—much smaller than Allentown—racking up expenses is even less likely.
Carlisle's HRC would function without paid staff, according to the borough's ordinance, but they may be paid "expenses incurred in the performance of their duties as approved by the borough council."
"Typically, there would be access to the borough's solicitor if there are questions, and for a borough the size of Carlisle, you're not going to see the kind of influx coming in that would be cost burdened to the borough," Shanker explained. "A lot of it, if they're standard, those cases will get referred to state's HRC; if it's something that needs to be dealt with on the local level, those are reasons why borough may need to speak with borough solicitor.
"It is not a very costly commission, and it hasn't been in number of borough's that have already done this."
Nearby example
It took Susquehanna Township nine months to pass its non-discrimination ordinance, but according to Diane Bowman, former president of the township's board of commissioners, they went about the process a bit differently than Carlisle.
Bowman said the township put together a team of staff and residents to discuss putting together an ordinance that used "the best language" of multiple ordinances already approved in the state, before finally voting and approving it in December 2011.
Carlisle has already had three meetings where the ordinance was discussed by officials and residents, yet Bowman said Susquehanna Township flew a little more under the radar than Carlisle.
"At some point in July (of 2011) my board approved drafting this ordinance, and we didn't open it up to everyone," she said. "We posted the minutes and the ordinance online, so anybody that wanted to know could know, and we didn't open it up for discussion until we came to the vote."
Doing it that way allowed for less of a challenge in getting the ordinance passed, whereas in Carlisle, the open discussions have caused a dialog to begin that started from the moment the borough's ERCP introduced it.
After Susquehanna Township passed its ordinance, it did get some public response, but Bowman said that response was far from what Carlisle has seen in its packed meetings.
And like Shanker, Bowman said there's been little to no cost in establishing and managing their HRC. In fact, that HRC hasn't had one case brought before it in the five years since it was established.
"Everyone thinks you're going to get bunch of complaints, but the HRC only accepts ones for the LGBTQ community," she said. "I know for a fact they've not spent one dime of township taxpayer dollars to support this ordinance. They may have paid out something for brochures, but other than that, nothing."
Ted Martin, executive director of Equality Pennsylvania, a statewide LGBTQ advocacy organization, said the ordinances already approved by 35 other municipalities and considered in Carlisle now, send a bigger message to the state legislature that it may be time to make some bigger changes.
He also believes that these ordinances are the only way at this point to establish these protections for the LGBTQ community until the state or federal governments implement change.
"The state legislature can pass legislation that can amend human relations act that would prohibit discrimination, so yeah the legislature could pass legislation, that would solve the problem in many ways," Martin said.
Tyler Miles is a news reporter for The Sentinel covering Carlisle. Follow him on Twitter @TylerTMiles or email him at tmiles@cumberlink.com.