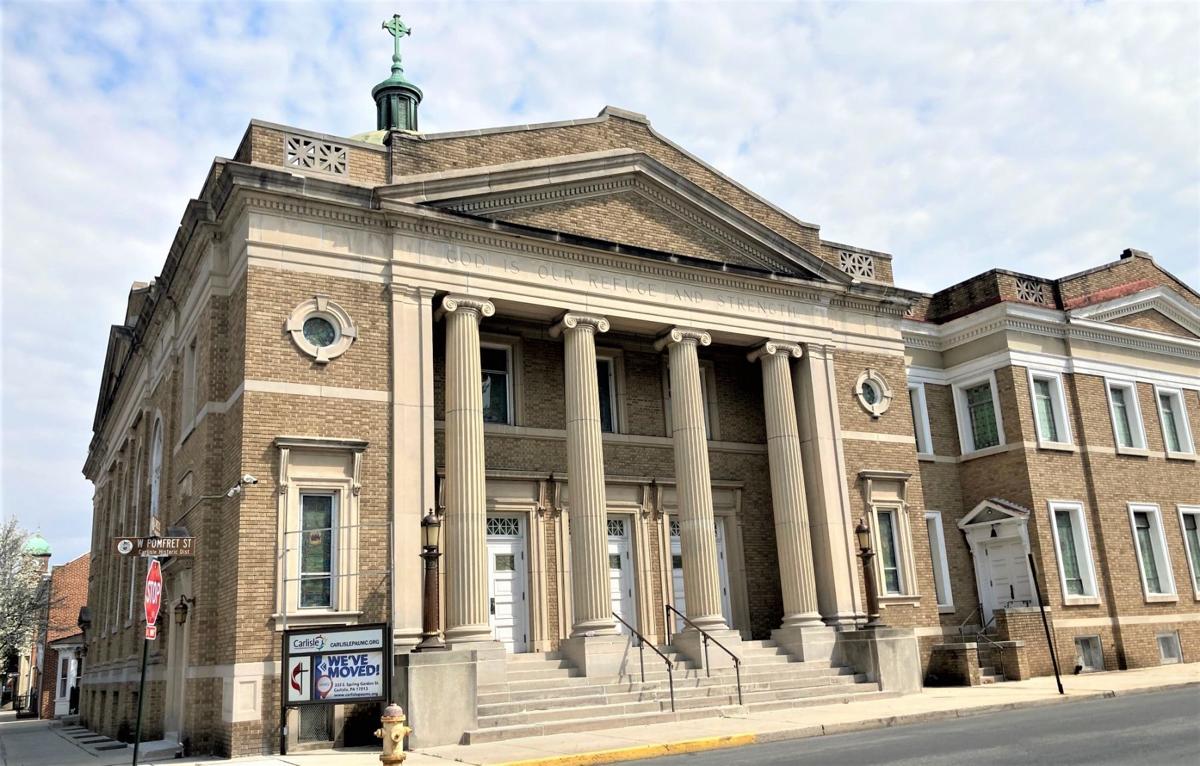 People who live in the neighborhood near the former Grace United Methodist Church in Carlisle learned quite a bit about how and why a request to change the property's zoning from residential to commercial will go before Carlisle Borough Council Thursday, but there are still plenty of questions about what will happen if the zoning is changed.
Those plans are entirely dependent on what happens with the zoning, developer Kenn Tuckey said.
A public hearing on the proposed zoning change will be held at the start of the Carlisle Borough Council meeting at 7 p.m. Thursday with a vote to follow later in the meeting.
The Grace United Methodist Church building became the home to Carlisle United Methodist Church in 2012 after the former Allison United Methodist Church, Grace United Methodist Church and First United Methodist Church merged. In 2020, the congregation moved to its own newly constructed building on South Spring Garden Street.
Neighbors of the church building met with Tuckey, his attorney Hubert Gilroy, Carlisle United Methodist Church representative Jeff Barnes and members of the borough council in the sanctuary of the church at the corner of West Pomfret and South West streets last week to talk about their concerns and find out what they could about Tuckey's vision for the building.
Communication key
Alyssa DeBlasio, one of the meeting organizers, said the purpose was to talk over the potential change before the vote happens so that everyone understands each other.
"I think it's so critical to seek community feedback before it goes to a public hearing, especially during COVID where we're online and we're squares in Zoom," she said.
At the meeting, neighbors expressed concerns that there had been no outreach save for a notice posted at the church.
Tuckey first approached the borough council about changing the zoning from R-4 residential to C-1 commercial in April. He seeks the change because commercial zoning offers a wider range of potential uses than does the residential zoning.
Gilroy, who represents Tuckey on land-use issues, said the key to the zoning change is options.
"What do you do with this room?" he said, gesturing to the sanctuary itself. "R-4 does not provide many options. C-1 is going to give us the options. The key is options. We don't know what we're going to do. Kenn has no specific plans."
The R-4 town center residential zoning district allows the following uses by right: single-family detached dwelling, single-family semidetached dwelling, town houses, garden apartments, two-family detached dwellings, two-family semidetached dwellings, bed and breakfast, forestry, group home and community gardens.
The C-1 commercial zoning, on the other hand, would allow other uses. Among them are retail sales, business or professional sales, hotels, movie or performing arts theater, offices, restaurants, exercise clubs and day cares centers for adults or children.
Tuckey said any plan for the site would be contingent on the zoning decision.
"We want to do the best we can using the building with the options we have," Tuckey said.
Commercial use Gilroy said any use for the building would have to go through the borough planning process. The potential for commercial use sparked concern among neighbors, particularly for traffic and parking. Drivers speed down Pomfret and West streets and parking is a serious problem during the eight months of the year that Dickinson College is in session, with neighbors saying they barely see an empty space during that time. Barnes pointed out that the church had about 500 people attending one of its three Sunday services each week. The church also hosted a day care and preschool with 100 children and 30 staff members as well as 18 community groups. "I can not fathom in my wildest imagination anything coming close to the usage Carlisle United Methodist Church had here — literally hundreds of people in this building every day of the week," he said. Jeffrey Swope, executive director of Bosler Memorial Library which sits across Church Avenue from the building, suggested there is potential, whichever way the zoning decision goes, to help with a dangerous situation at a narrow alley that sees plenty of traffic due to the parking lots for both the church and the library with a "disastrous" entrance onto West Street. "Is this an opportunity to fix a problem that we also know is in the community?" he asked. "Is this an opportunity to use a change in the way this space is developed or used as a way to address another area right next to it that's an issue?" DeBlasio pressed Tuckey to share more of his vision for the property. "You mentioned that you have ideas. I, for one, would love to hear some of those ideas even if they're not set in stone," she said. "I would love to know what your wildest dreams for this property would be to help us get on board with what might happen down the road."(tncms-asset)dbaec04e-b019-11e6-b252-00163ec2aa77[2](/tncms-asset) A vision
Tuckey said he wants the planning process to have as much input as possible from the community. He said he liked the restaurant idea and added that the space could be used for the community to bring in speakers or performers.
"I heard things tonight which I appreciate that hit very close to me because I could see that working," he said. "I have some ideas that I'd like to share, but it's premature."
For DeBlasio, the discussion over what happens at the former Grace United Methodist Church is part of a larger conversation the town should have about what happens to former churches.
"This is not the first church that has been sold and it's not going to be the last so do we need a new zoning for church property? What is our community vision for churches that are no longer churches? How do we preserve the architecture and community function without just cutting them up?" she said.
Barnes saw the potential of what could happen to a closed church up close.
After Carlisle United Methodist Church formed, Barnes was put in charge of the building committee. In that role, he was responsible not only for overseeing the process that led to the building of a new church, but also the sale of the former church buildings.
Allison wasn't such a hard sell. It sat on the Dickinson College campus and was purchased by the college after the congregation left.
First United Methodist's building at the corner of Bedford and North streets is another story.
Barnes said the congregation engaged a real estate agent to help with the sale, drawing interest from out-of-state developers whose plans for the building would have been detrimental to the community. Eventually, the building was sold to New Life Community Church, which uses it as a meeting space and office space for nonprofit organizations.
Given their experience with out-of-state developers, Barnes said the church chose not to put the Grace building on the market. In 2016, the Cumberland Area Economic Development Committee expressed interest in the building, with potential uses including a restaurant in the sanctuary space.
"They looked at it very long and hard and chose not to pursue it," Barnes said.
Another developer hoped to turn the church building into a boutique hotel with ties to Dickinson. The college was not interested so the developer moved on.
That led Barnes to Tuckey, whom he had known for a long time. Barnes knew of the history of Tuckey's development work in both Carlisle and Newville and thought it would be a good fit.
"Kenn wants to do what is best for this community and what is best for repurposing this building," he said.
"I think it's so critical to seek community feedback before it goes to a public hearing, especially during COVID where we're online and we're squares in Zoom."

— Alyssa DeBlasio, Carlisle resident