Standing on the deck overlooking the home farm for the LEAF Project, Heidi Witmer points to the program's interns working on various projects.
Out in the fields, the interns on different teams trellis tomatoes and pick produce. Inside, interns pack produce for delivery or help chop onions for meal prep.
Each of the teams are led by youths with experience in the program.
Witmer founded the LEAF Project, which stands for Leadership Education And Farming, to cultivate youth leaders from diverse backgrounds through meaningful work in the food system, as it says in the program's mission statement.
The whole enterprise has come a long way since its founding in 2013.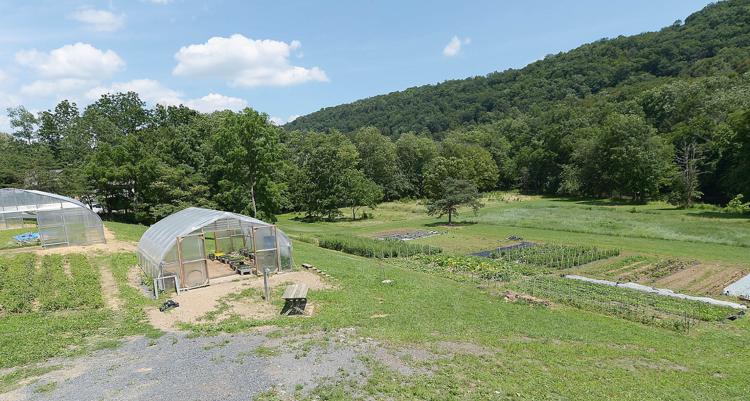 The LEAF Project now operates out of a 4-acre farm along the banks of Shermans Creek near Landisburg in Perry County. The facility includes a produce packing area and a full kitchen.
The program employs 22 youths. Of those, 12 are "level ones," or first-year crew members.
Five are level two crew, which means they have at least one year of experience. The remaining four youths are on the leadership team.
The program's growth has allowed it to not only include planting and maintaining crops, but also to engage in more post-harvest activities that bring locally sourced produce to more segments of the community.
New venture
The LEAF Kit is the newest venture for the program, coming alongside its community sustained agriculture shares and its frequent appearances at Farmers on the Square in Carlisle.
The meal kits developed out of a desire to solve a problem LEAF crew members discovered in the community. In surveys they conducted, the youths found that the primary obstacle families have when it comes to eating properly is time. This held true no matter where people lived or what their socioeconomic status was.
The crew then talked about what they could do to solve that problem while keeping a focus on local agriculture, eventually leading to the LEAF Kit. Each kit contains two locally sourced meals that require minimal preparation to go from box to table. One meal is designed by LEAF and the other by a local chef.
Ingredients in the kit come from the LEAF farm as well as its partner farms, including Talking Breads, Good Keeper Farm, Keswick Creamery, Three Springs Fruit Farm and North Mountain Pastures.
Witmer said the crew members developed the idea without knowing they had put their own spin on a marketable trend in meal delivery services.
"We were really just solving the problem here in south-central Pennsylvania," Witmer said.
There is one major difference between the LEAF Kit and products delivered by companies like Blue Apron or Hello Fresh. Those companies send ingredients and a recipe card which is then used to create the meal. The LEAF Kit contains a partially prepared meal.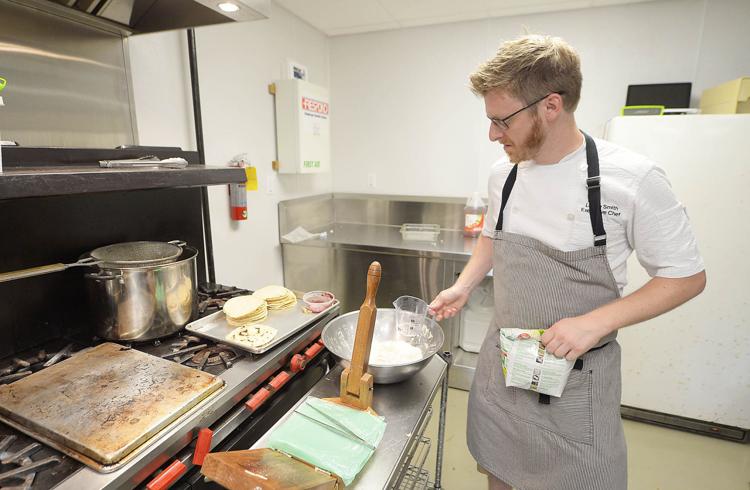 Making a meal
Lance Smith, executive chef at the Millworks in Harrisburg, is collaborating with LEAF on the kits this summer. The other kits essentially do the shopping for you, but you still have to take the time to cook it all, he said. The goal of the LEAF Kit is to create locally sourced, nutritious meals that won't take a long time to make.
"Let's get it on the table with minimal work, within 15 minutes," Smith said.
Take the meal he designed for this week's kit as an example — smoked chicken tacos with cherry salsa, vinegar slaw and chili roasted turnips. The chicken is already smoked and waiting to be reheated. The slaw ingredients are ready to be assembled, and the chili-roasted turnips are about 80 percent cooked so that they cook to perfection when reheated.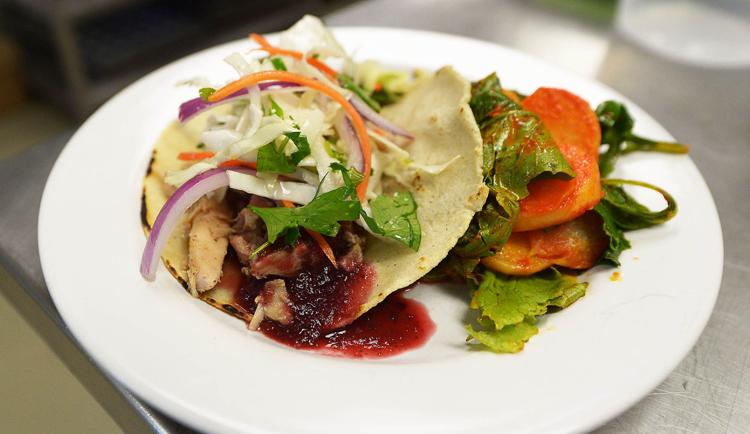 The meals use seasonal ingredients and are often designed to stretch the palate. Shane Kaplan, assistant director of LEAF, said this week's meal designed by the program is Thai pork lettuce wraps, which make good use of romaine lettuce. The wraps will be served alongside vermicelli noodles with carrots and cucumbers and fried potatoes with basil butter.
"Usually the meals will be a little bit out of the box, a little out of their comfort zone," Kaplan said.
True to its nature, the LEAF Project makes sure that not only its produce, but also its meal kits can be used by every sector of the community. Sales of the meal kits help subsidize kits for families in need, and 40 percent of its produce and canned products are donated to programs assisting those in need.
This fall, the kits will be used in a parenting program and in a youth obesity program in a public health partnership.
"I think it could be a game-changer for people who want to eat healthy," Kaplan said.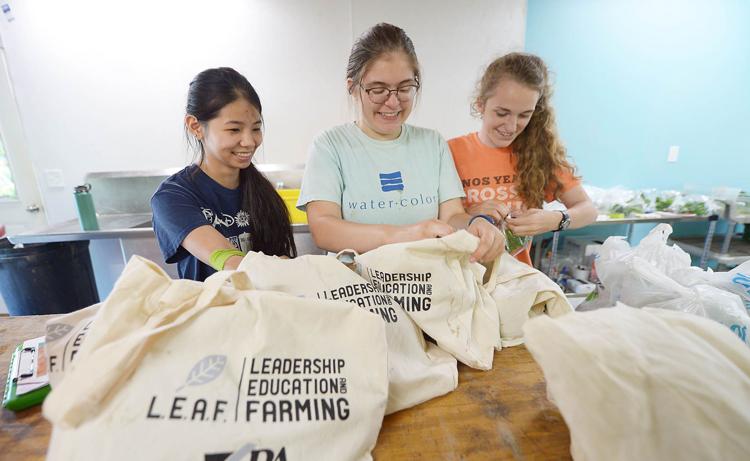 The kits, which may be ordered at leafprojectpa.org, could also be a game changer for LEAF itself.
"If it's successful, it will be a really valuable way to keep youth employed year round," Witmer said.
Skills
Meaningful work in the food system throughout the year builds self-respect and responsibility as the students learn how to relate to new groups of people. Now that LEAF has been in operation for a few years, Witmer has been able to see the growth in the youths who are progressing through the program.
Elizabeth Lynch was so soft-spoken in her initial interview that Witmer suggested that she wasn't ready for LEAF, and urged her to reapply the following year. She came back to that second interview "fierce and resolved," Witmer said.
Lynch served not only that summer, but also on the fall and spring crews. This summer, she has taken on the responsibility of post-harvest activities, which includes taking orders from restaurants like Piatto, Taqueria Laurita, Spoons and Andalusia and filling them as well as packing out the CSA share bags for delivery.
"She has just done a phenomenal job," Witmer said.
Lynch credits the program with teaching her how to lead a group, and she is now learning how to organize and to create systems to improve the packing process for the CSA shares. The skills she has learned about working with people she doesn't know will follow her to Penn State Harrisburg this fall.
"The great thing about the job is that I've learned so many things," she said.