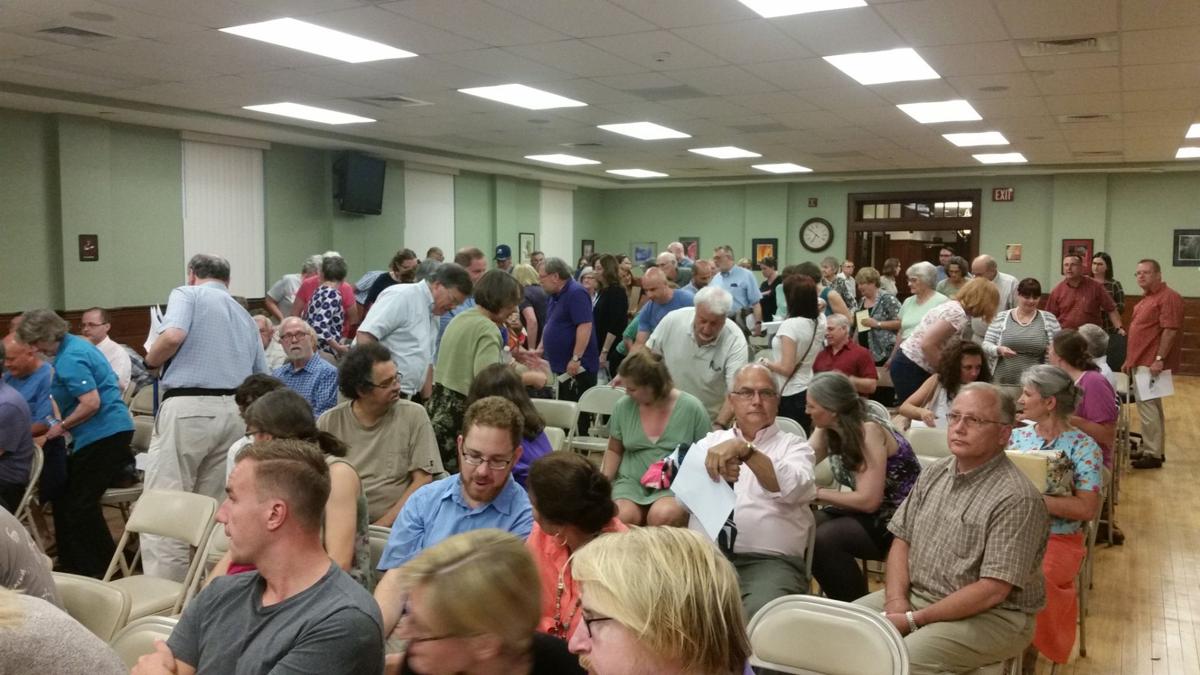 Carlisle residents in the LGBTQ community want to be afforded the same rights and assurances as everyone else in the borough. Those who hold closely their religious beliefs want the freedom to practice their faith and express themselves without bias.
At least this much was clear during Thursday night's Employee Relations and Citizen Participation Committee meeting at Carlisle Borough Hall.
Attendance was evenly stacked between those in favor and those against Carlisle's proposed anti-discrimination ordinance, which would create a borough commission to review allegations of discrimination based on sexuality or gender identity.
Carlisle Borough Councilman Sean Crampsie — who was largely responsible for renewing the push to pass the ordinance, first discussed by a previous council in 2007-2008 — began the meeting by reading a letter from Dickinson College Interim President Neil B. Weissman.
In the letter, Weissman shared his favorable thoughts on the effect the ordinance would have in improving the community and applauded the perseverance those in favor of the ordinance have shown.
Two additional voices were also formally included in the meeting, Miller Hoffman of the YWCA Carlisle, and Randall Wenger of the Independence Law Center in Harrisburg.
Hoffman, who described himself as "gender queer," stressed to those with reservations over the ordinance that he and other LGBTQ residents "pay property taxes, support schools here, patronize many of the local restaurants," the same way everyone else does.
"We're not looking for approval or kindness, opponents are free to withhold these from us," he said. "What we're asking for and what we deserve is the opportunity to live and work without discrimination."
Wenger praised those on the ERCP Commission for "considering the issue," but warned that "laudable goals don't always result in the policies we want in the end. Sometimes they bring harm."
Express beliefs
While supporting the LGBTQ community in general terms, Wenger — who is affiliated with the socially conservative Pennsylvania Family Institute — cautioned that the policy could reinforce attitudes against the ability of religious persons to express their beliefs.
"Gays and lesbians and our transgender friends need to know our community loves them just as we love everyone in our community, and it's an awful thing to feel that your community hates you, but I think we need to be careful when we look at legislative solutions punishing one group of people at the expense of another," Wenger said. "We're all going to disagree, but it's about whether we're going to give space to people in our community or treat them like bigots if we disagree with them."
Following Wenger's remarks, citizens queued up for public comment in a line that snaked around the room.
While previous meetings on the topic featured a heavy turnout against the proposal, Thursday's crowd measured a slight majority in favor of the ordinance.
Brad Wenger, owner of Wenger Meats & Ice Co. on East Louther Street in Carlisle, was one of the first to speak. The North Middleton Township resident cited Henry David Thoreau's critique of government overreach, and accused the commission of imposing "enforceable mandates on those of us who are conscious-bound to honor traditional mandates."
"The problem is, with the same moral code that defines love, respect and fairness and virtuousness, also clearly defines behavior that is acceptable," he said. "Homosexual behavior, not homosexuals, homosexual behavior is reprehensible."
That comment made the crowd bristle. But it was Wenger's following comment: "Has the Jerry Sandusky scandal taught us nothing?" that caused the night's shouting match to peak, with Crampsie trying to calm the room and restore order.
Discrimination
Following Wenger was Paul Richards, who called himself "one of the least qualified people to talk about discrimination" as a white man.
"Because you're not aware of discrimination doesn't mean it doesn't exist," he said. "This is an opportunity for us to take the lead and show others what is right. Carlisle is a great town and we definitely do have discrimination."
Richards went on to list instances in which he's heard racist and homophobic slurs at various locations within the borough.
Some residents, like Paul Reese, cited the nation's founding fathers in their arguments against the ordinance. Reese chose to read from George Washington's writings and asked the commission "Would this ordinance be considered by council 50 years ago?"
"I personally fear that if this ordinance I passed, Carlisle residents are going to witness mass discrimination," Reese said.
"Those who have spoken out in opposition to this ordinance are all incredibly lucky people," said Christina Kapp, a local community organizer. "They don't have to worry about walking down the street with their spouse, with their significant other. They don't have to worry about who might see them holding hands, who might catch them kissing, or sharing a tender moment,"
"We live every day with the fear that we can be denied access to employment, housing, health care, if the wrong person finds out who we really are," Kapp continued. "It's always there, bubbling under the surface."
For nearly three hours, commissioners listened to residents, business owners, and a significant number of Dickinson College students, thanking them for their input.
Many of the elected officials reiterated their positions, with Perry Heath citing impracticality and cost issues as to why he's against the ordinance.
Dawn Flower, Sean Shultz and Crampsie spoke on why they continue to be in favor. Robin Guido credited one resident, Jane Rigler, for her desire to support the "spirit of the ordinance," but having reservations about the legal language and potential execution of the policy itself.
Guido finished her comments by noting "it's been a long, hot meeting," to which many in attendance, on both sides of the issue, seemed to agree.
Tyler Miles is a news reporter for The Sentinel covering Carlisle. Follow him on Twitter @TylerTMiles or email him at tmiles@cumberlink.com.