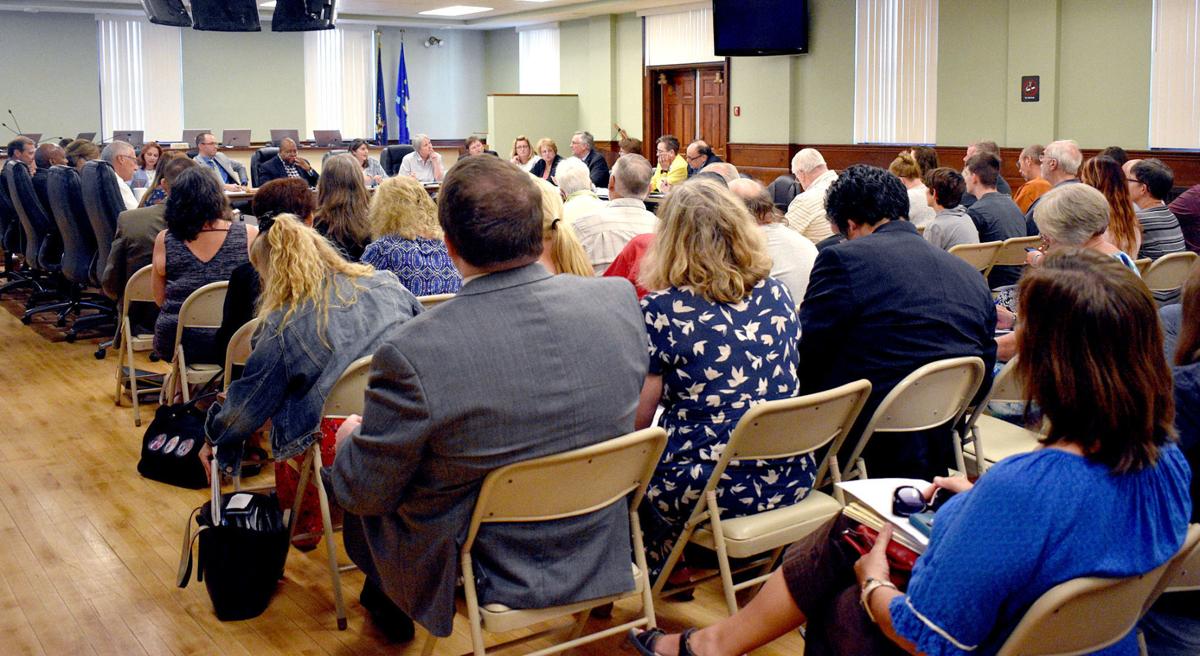 In January, Cumberland County's annual one-day count of homeless people determined there were 299 homeless people in the county.
On Wednesday, the day the borough held a public meeting with representatives of government agencies and nonprofits whose mission is to assist the homeless, 163 people had contacted the county about housing assistance through its coordinated entry system.
The change has more to do with the intricacies and challenges of counting homeless people than it does with the magnitude of the problem, which was described in some detail in a crowded meeting at Carlisle Borough Hall.
There is help available for Carlisle's unsheltered residents, but convincing them to accept it can difficult, experts say. 
The stats
Carlisle Borough Council announced the public meeting last week after the issue of camping or sleeping became the center of discussion on social media and in newspaper stories.
As of 3 p.m. on the day of the meeting, there were 102 households that had been assessed for coordinated entry, said Chris Kapp, coordinated entry system manager at Cumberland County Housing and Redevelopment Authorities.
The coordinated entry system is the starting point for those seeking assistance. People access the system by calling 211 or by stopping at an access point which, in Carlisle, is Community CARES. After an assessment of their needs, the system connects them with resources and puts them into the queue for housing assistance.
Those 102 households represent 163 people, 41 of whom are children, Kapp said. Four are veterans, 11 are fleeing domestic violence, 70 have a mental health diagnosis, 72 have chronic physical health issues and 55 have both physical and mental health issues.
With transportation options for Carlisle's working class limited, volunteers are stepping up to fill the void.
"Only 10 on that entire list struggle with substance abuse," Kapp said.
Those numbers differ from the January point in time count because in that count volunteers go into the community during a single 24-hour period to find homeless people wherever they may be — shelters, laundromats, truck stops and even Walmart.
Both methods of counting the homeless population use the definition of homelessness provided by the federal Department of Housing and Urban Development, which does not include families doubling up in a single house or people who are "couch surfing" by staying with friends and family since they have no home of their own, Kapp said.
Funding issue
For most of the hourlong meeting, representatives from Community CARES, Cumberland County Homeless Assistance, Cumberland County Housing Authority, Partnership for Better Health, Sadler Health Center and Safe Harbour described the problems and barriers they face while trying to provide services to the homeless.
Funding ranks near the top.
This week Sentinel Reporter Tammie Gitt takes a Closer Look at homelessness in Cumberland County, from what causes people to spiral into homel…
Safe Harbour faces a significant decrease in funding from the federal government that comes in the form of grants that are funneled through the Department of Community and Economic Development and then to the counties before reaching Safe Harbour, executive director Scott Shewell said.
In 2018, Safe Harbour received no funding for the first time in a 10-year period. Prior to that, the organization received $100,000 to $250,000 in an 18-month to two-year cycle.
"We rebounded in 2019 with about $63,000, but nowhere near what it takes to operate the facility to provide that crisis shelter for those who are in chaos and who need it," Shewell said.
Transportation emerged as a key issue in comments throughout the night.
Transportation
Beth Kempf, executive director of Community CARES, said about 85% of those using the organization's services do not drive, which complicates the shelter's work to help them find employment.
"If you're working at the warehouse at the other side of town and you get off work at 2 a.m., there's no service to take you, then, to your home/shelter," she said.
The result is men and women riding bicycles in the dark as they work to get themselves out of their circumstances, she said.
Art is a creative outlet that can be a decorative influence that brightens our lives. It also has the power to inspire and educate.
Kempf also said there are no resources in the community for people in "extreme physical need." She told the council that people in wheelchairs who were still wearing hospital gowns have been sent to them via Uber.
"There's little or next to nothing for them. Regular emergency shelter is difficult for them," she said.
"We're also, through the homeless assistance program, seeing a large increase in homeless seniors. This is a wave that's just starting to hit, and they are not appropriate for an overnight shelter," said Patrice Pickering of the Cumberland County Homeless Assistance Office.
They can't get on the floor to sleep and have medical needs that "often run back to back with homelessness," Pickering said. The emergency shelters also do not have staff that can assist with geriatric needs.
Poverty
Carlisle resident and homeless advocate Pat LaMarche said there's an "enormous problem for just straight, flat-out poverty" in which the working poor see a large portion of their income going for housing.
Shewell drew gasps from the crowd when he cited the 2019 "Out of Reach" study from the National Low Income Housing Coalition, which detailed how much it costs to live in the county.
It is estimated that anywhere from 25 to 50 percent of the homeless population in the United States has a history of incarceration, according …
"If you were to try to maintain a two-bedroom apartment in Cumberland County that is no more than 30% of your income, you need to make $19.35 an hour, according to this study," Shewell said.
Maggie Livelsberger, a Carlisle resident who attended the meeting as a representative of the United Way of Pennsylvania, said ALICE, a recent study from the United Way, looked at what it takes for employed people to run a household. A single adult needs about $21,000 to live in Cumberland County to support a bare minimum household.
"If you're looking at a family of four in Cumberland County, it's running about $67,000 — almost $68,000 — that that family needs to be making to be able to afford a bare minimum budget," she said.
Carlisle has the third highest percentage of people living below these thresholds in the county at 47%. Only Shippensburg and Newville have higher percentages, Livelsberger said.
The problem of affordable housing is compounded by a low rental housing vacancy rate, said Tim Whelan of the Cumberland County Housing Authority. People who receive housing choice vouchers can go out to look for an apartment with "literally money in hand" and not find something that meets their needs, he said.
That shortage sets up a backlog in the system.
System backlog
Shelters are not homes, they are places where people can transition to permanent housing with different organizations working together to move people through the programs, Pickering said.
"But again, we hit that roadblock that we just don't have accessible housing for them so the system gets clogged up. You'll get a lot of people that can't get into shelters and they end up on the streets," Pickering said.
Kapp said the biggest battle against homelessness may be fought in the court of public opinion. People are afraid to have shelters in their neighborhoods and make assumptions about homeless people.
"People who are experiencing homelessness are tried in the court of public opinion before anyone even knows their circumstances," she said.
Kapp cautioned the borough against the "criminalization" of homelessness through such ordinances as prohibiting camping in public, placing bans on sleeping outside, "sit and lie" laws, homeless sweeps in which a homeless person's belongings are confiscated as abandoned when they step away from them and others such laws.
"As long as we are trying to keep people invisible and criminalize them for doing things that are necessary to life, like sleeping, we are not going to solve the problem. We are going to make it worse," Kapp said.
Livelsberger said the best way to address homelessness is to prevent it from happening in the first place. Services like PA 2-1-1 can connect people who need assistance with the resources to help them. She also said the council should promote the Census 2020 count because "that's how you get dollars into your community."
Communities across the country are finding solutions, LaMarche said. One solution might be found in the borough's public parks, each of which has public restrooms that are typically locked.
"There's a place there where you could brush your teeth or use the bathroom and maybe have a little privacy," she said.
Understanding the fear of creating a homeless camp, LaMarche said a different bathroom could be opened each night. Homeless people would be safe because the police would know where they are, and ministries or nonprofit organizations that want to help them would know where to find them.
"We could acknowledge the fact that people live outside instead of wishing that they wouldn't have to do it where we can see them," LaMarche said.
To follow up on the information presented in the meeting, Mayor Tim Scott said he plans to recommend the formation of a task force or working group on the issue to the council.
"Whether that's expanding an existing group or creating something new, we'll have to wait and see once we digest all the comments from the organizations and the public," he said.