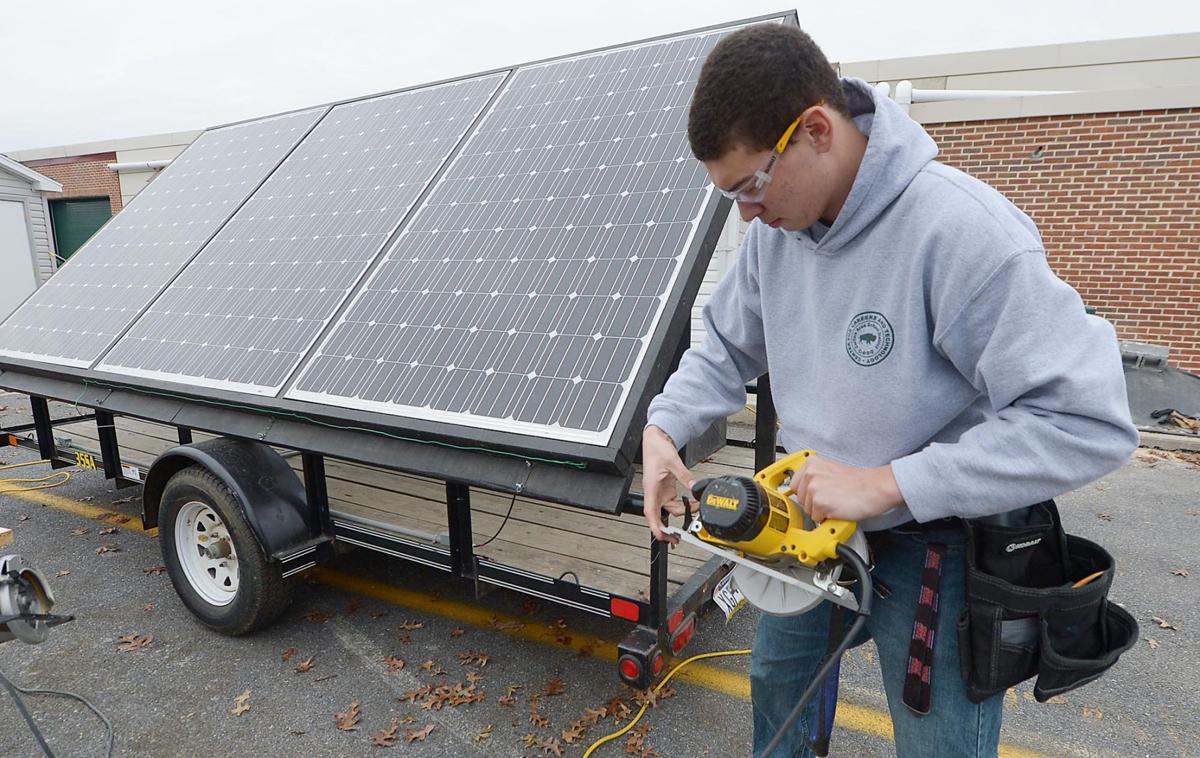 CARLISLE — The future of construction trades is at work today in a mobile solar power array designed and built by Carlisle High School students.
Renewable energy is becoming big in the world, and its use will expand in the future, said Matt Stum, 18, a senior from North Middleton Township.
"It is good in construction to keep up with the pace," he said. "We can become the people that push that forward."
Since school began in August, students in the carpentry program of the Center for Careers and Technology have made use of a special trailer to run their power tools without the need for a gas generator.
Stum was one of three students who assembled the array last spring. His job was to help install the wiring that connected together all the switches, breakers and three solar panels to the bank of deep cycle marine batteries that store the energy.
"It's kind of cool," Stum said. "It is really helpful when there is limited access to power."
Sean Allewelt teaches carpentry and the construction trades at the school. He came up with the idea of an array two years ago to teach students green technology while giving them the hands-on experience of building a mobile power source to use on projects around the high school campus.
Every year his students train outside using power tools to build 10 to 15 sheds, gazebos and garages mostly for nonprofit organizations, Allewelt said.
"We used the idea as a classroom project," he said. "The kids and I did a bunch of research."
They learned mobile arrays are in extensive use on Indian reservations, said Allewelt, explaining how his students took the research to prepare construction designs and a list of key components.
"They took it and ran with it," he added.
The mobile array was developed at no cost to the district, according to Michele Barrett, director of the Center for Careers and Technology. She added that PPG Industries in Carlisle donated the three specially made solar panels and gave the district a $5,830 grant to purchase the components for the mobile array trailer.
"It took a while for the panels to be made," Barrett said. "We did not get everything up and running until last spring."
Because it was completed late last school year, the array had limited use during the 2013-14 school year, Allewelt said. This school year, the trailer is being wheeled out of the carpentry shop every school day.
"Students use it on a daily basis to experience real-world use of solar power technology," Barrett said. "It relates back to the initiative to promote STEM (Science, Technology, Engineering and Math) education." There are plans to install fencing to keep the trailer outside.
Allewelt selected three students, who designed the mobile array in their sophomore year and built it near the end of their junior year. Now seniors, they are using it every day.
"It worked out well for them to see the entire progression," Allewelt said of Stum, Chad Goodhart and Bryce Kruse.
"I thought it was a good idea," said Goodhart, 18, of Mount Holly Springs, who built the wood frame and the box housing the electric components. He also helped to install the solar panels.
"We pretty much designed it all ourselves," he added, explaining that Allewelt only helped when the students got stuck. "He wanted us to make it ours."
Mobile arrays would make it easier for smaller construction companies to use their equipment in remote areas, Goodhart said.
"It helps to keep costs down for job sites because they don't have to pay for gas," he said.
The array would produce energy even if skies are overcast, said Allewelt, adding how it supplies power with no emissions, no noise and no fumes.
Be the first to know
Get local news delivered to your inbox!