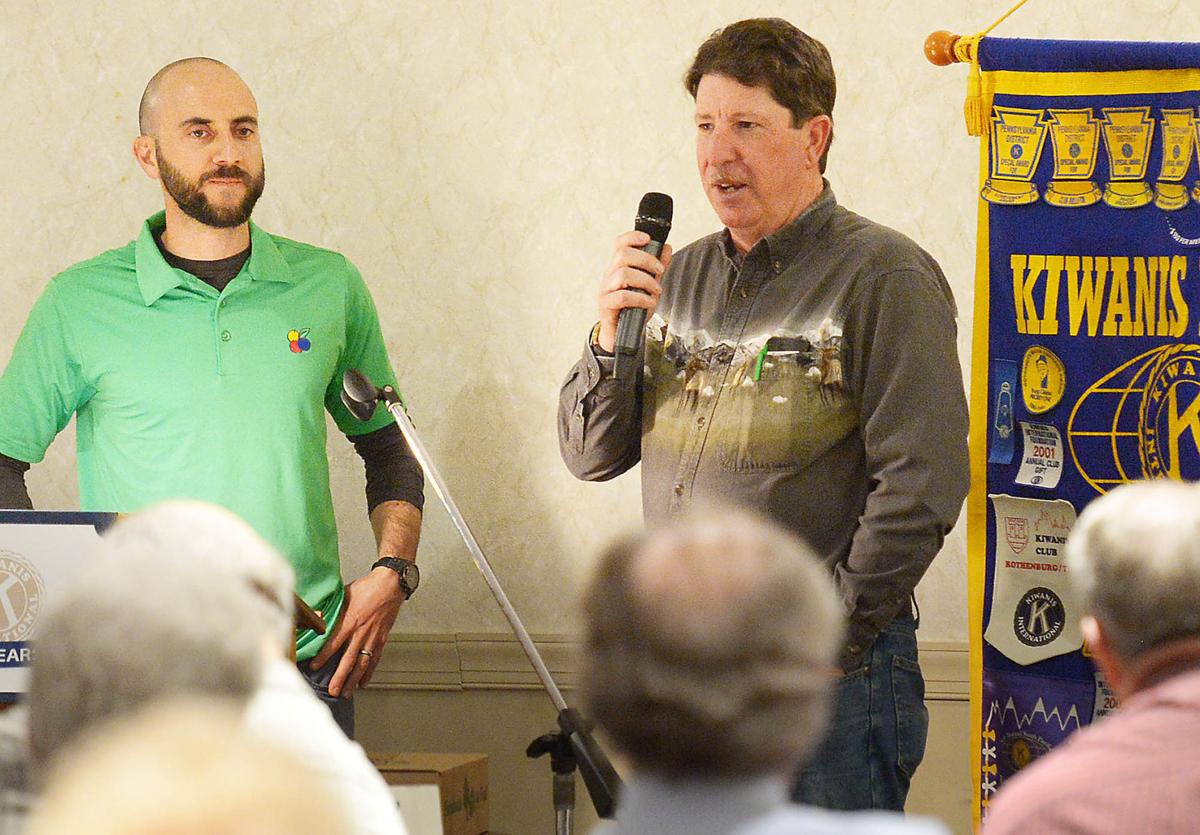 The Carlisle Kiwanis Club found out Tuesday where exactly their blueberries for their annual sale come from and how they get from the New Jersey fields to the hands of borough residents.
In the last five years under co-chair Steve Martson, the Kiwanis Club has sold approximately 150,000 pounds of the fruit loaded with antioxidants, resulting in a little over $132,000, according to the club's president Barrie Ann George.
But many members of the club didn't know before Tuesday how exactly the berries got to Carlisle; that's why club officials arranged for the grower of the berries they use for the fundraiser each year, Jeffrey Whalen of New Jersey-based Whalen Farms LLC, to speak at the weekly noon meeting and answer any questions those in attendance had.
Whalen was accompanied by Chad Puschel, special projects manager of Sunny Valley International, the produce wholesaler Whalen uses to sell his goods.
One of the first questions was whether the berries are organic or not.
"The berries are sprayed, a lot of people ask about being organic. The big thing about organics, is they are sprayed, but they are sprayed with organic compounds," Whalen explained. "We have scouts in the field and they're only sprayed when necessary. We spray them for disease, for insects—only spray when necessary."
Currently, Whalen Farms operates 185 acres of blueberries as well as 194 acres of cranberries. The lifelong farmer dished on how both fruits are raised and picked, even answering a question on whether or not the berries can be washed prior to eating them.
"You should wash all of your produce before consuming them, but personally, I just pop them right in," he joked.
The use of
migrant workers
After mentioning that the berries are handpicked by about 250 migrant workers, a firestorm of questions erupted, with Kiwanians curious about those who are the driving force behind getting the berries out of the fields and into their hands.
Whalen revealed that he provides housing for the 250 migrants each year for six weeks during harvesting season, referring to the setup as "a nightmare."
"We have a lot of state regulations we have to follow, the camps are all inspected, and even though they're in tip-top shape when the workers get there, they kind of destroy them," he said. "It's quite a chore."
According to Whalen, state and federal inspectors arrive at his property to ensure the living quarters are adequate, make sure all of the workers are adults and that they're receiving the correct payment for their work, which he said was minimum wage.
The blueberries are sold for $31 for a 10-pound box and can be purchased by contacting any Kiwanian by calling 243-6800 and leaving a message or by emailing carlisleblueberries@yahoo.com.
Blueberries can then be picked up at Project SHARE, 5 N. Orange St. in Carlisle, on or about July 6, according to the Kiwanis Club's website.
Tyler Miles is a news reporter for The Sentinel covering Carlisle. Follow him on Twitter @TylerTMiles or email him at tmiles@cumberlink.com.