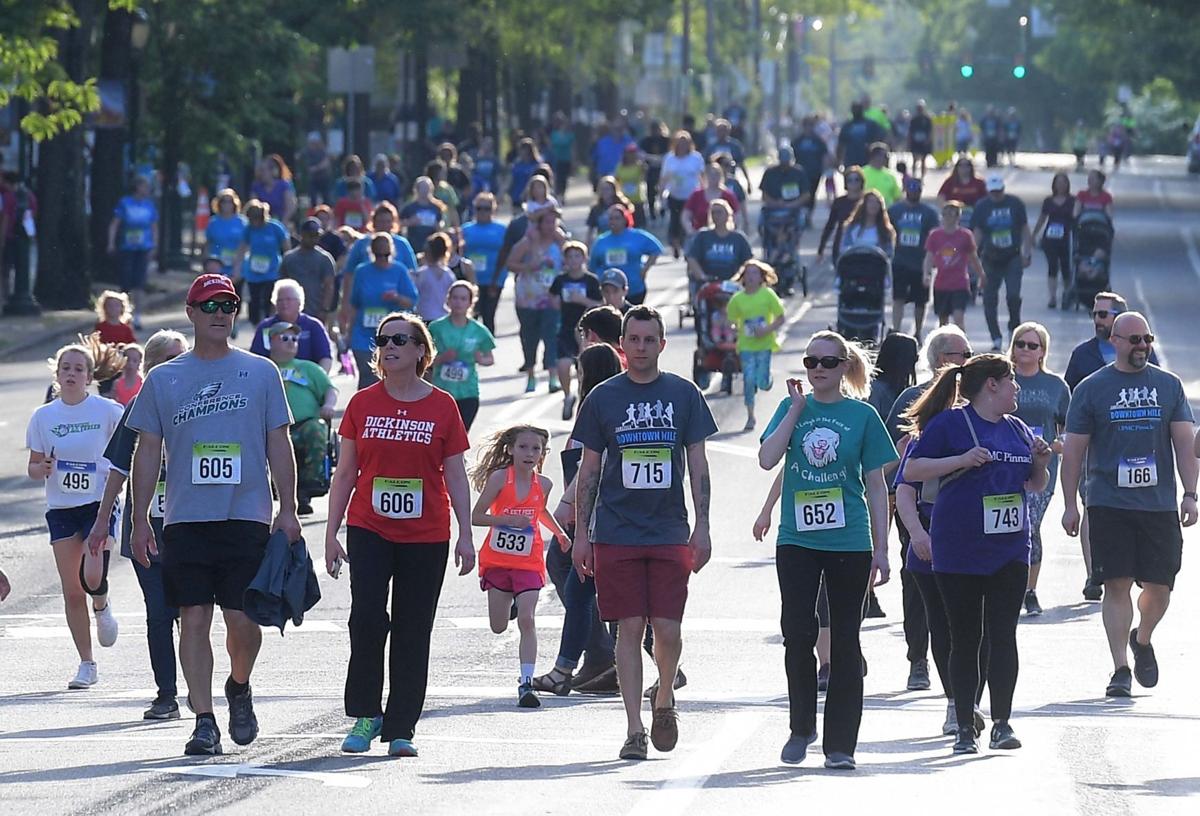 In only nine years, the Carlisle Downtown Mile has become a rite of spring, drawing hundreds to walk or run a route from the intersection of High and Orange streets to a point just west of the Square.
This year, COVID-19 put the brakes on the event that was originally scheduled for May 14.
"At that point, we were on record-setting pace for the number of participants," said Art Kunst, race director.
The annual race is a fundraiser for Employment Skills Center's adult education and training programs.
Initially, Kunst said they thought the best thing to do would be to postpone the race and then wait to see what would happen with the unfolding pandemic. A few months ago, organizers had a meeting discussing three options: cancellation, modification or holding a virtual race.
They settled on the virtual option.
"A lot of races were going that way. It just seemed the smart and sensible thing," Kunst said.
This year, then, the Carlisle Downtown Mile will be held over nine days from Aug. 1 to Aug. 9, marking the ninth annual event. Participants can walk, skip, run or jump for a mile wherever they are on whatever route they want during those nine days, Kunst said.
"It gives people the opportunity to do the downtown Carlisle virtual mile anywhere in the world," he said.
So far, people in four states have registered, and a prize will be given to the person who does the mile the furthest distance from Carlisle. Participants can also post photos online of their run or walk to be entered into daily drawings for raffle prizes and awards such as best costume or family picture.
Registration is still open. Those who registered by Monday are eligible to receive a special edition T-shirt by the time the event starts on Aug. 1. Participants can also print out special race bibs and finisher's certificates.
No awards will be given out this year, but participants may post their times on the race sign-up page to see how they stacked up against other participants.
"It's just bragging rights," Kunst said.
The event's popular beer garden will also go virtual on Aug. 6 from 5 to 8 p.m. Kunst said Market Cross Pub, Castlerigg Wine Shop, North Hanover Grille and Burd's Nest Brewing Co. have already confirmed participation. Those who registered for the race will be able to go to those locations wearing a T-shirt or showing their printed race bib to get discounts or special offers.
"We were hoping this would generate business for them," Kunst said.
So far, though, the virtual race only has about 175 registered participants, far less than the more than 700 who participated in last year's event.
Though race organizers have been living up to their motto, "life gave us lemons and we're making lemonade," they still look forward to next year's race.
"Next year is going to be our 10th anniversary so we're shooting for a big year next year," Kunst said.
UPMC is the premier sponsor of the race. Other sponsors are Members 1st, Carlisle Construction Materials, Giant, Appalachian Running Company, Orthopedic Institute of Pennsylvania, Subway Car Wash, Mountz Jewelers, Daily Express Lines, Vitro Architectural Glass, Visiting Angels or JFC Work Force.
Be the first to know
Get local news delivered to your inbox!