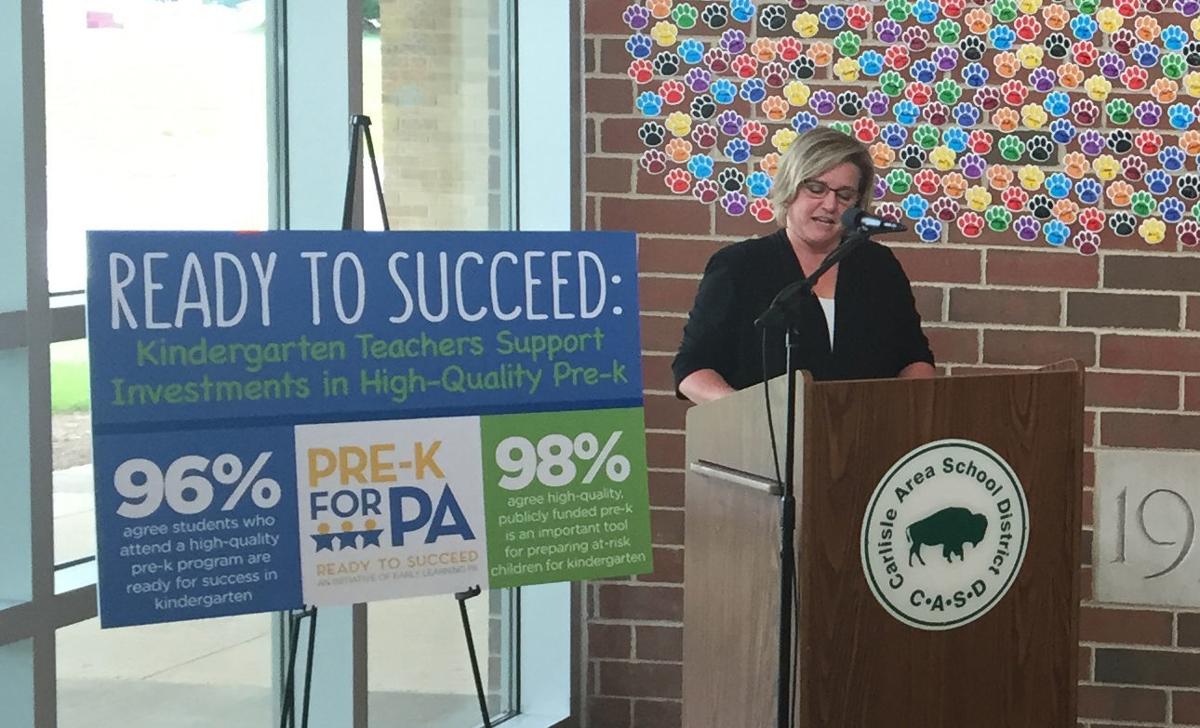 Education advocates were at Hamilton Elementary School in Carlisle Tuesday morning to push for more access to high-quality, publicly funded pre-kindergarten programs.
The Pre-K for PA Campaign released a report, "Ready for Success: Kindergarten Teachers Support Investments in High-Quality Pre-K," which was based on findings of a survey conducted by the Pennsylvania State Education Association.
Association treasurer Jeff Ney said the results of the report show that 96 percent of elementary school teachers agree that students who attend high-quality pre-K programs are "ready for success" in kindergarten, and that 98 percent agree that such programs are an important tool to help prepare at-risk children.
"Phrasing quality pre-K as 'an important tool' was intentional in this survey," Ney said. "Kindergarten teachers know and understand that a quality pre-K experience provides each child entering kindergarten with a growth mindset and a readiness to succeed. Their personal experiences mirror what researchers have uncovered: that children who attend high-quality pre-K have a solid foundation for learning, which promotes increased student growth and achievement."
The report also included responses from kindergarten teachers who were surveyed. They said the top three skills learned in early learning programs that were the most important for incoming students were physical well-being and motor development, emotional development and social development.
"Students who attend high-quality pre-K programs come into kindergarten ready to succeed," said Miranda Clash, a kindergarten teacher at Hamilton. "They have already practiced essential learning behaviors, know how to regulate their emotions, interact appropriately with peers, and have a solid foundation of language and background knowledge onto which they can add new learning. For students who have had a high-quality pre-K experience, I don't have to spend as much time teaching these prerequisites to academic learning."
Though almost all teachers agree pre-K is important, advocates said the funding isn't there. According to the campaign, about 56 percent of eligible 3- and 4-year-olds do not have access to pre-K programming, and the campaign is calling for a $50 million increase in the state budget — $40 million for Pre-K Counts and $10 million for Head Start Supplemental Assistance Program — which could provide access for an additional 5,500 children in the state.
"Investments in high-quality pre-K have a significant return on investment for our children, schools and communities. However, the state is not investing enough to ensure access for the children who need it the most," said Kari King, president and CEO of Pennsylvania Partnerships for Children and founding member of the Pre-K for PA Campaign.
The report said Pennsylvania ranks 18th of 30 states investing in high-quality pre-K, and Carlisle Area School District has 537 eligible children in its coverage area, but only 165 are enrolled. Pennsylvania Partnerships for Children said 19 pre-K classrooms — in addition to the 10 already in Carlisle — would be needed to cover all eligible children in the district.
Be the first to know
Get local news delivered to your inbox!