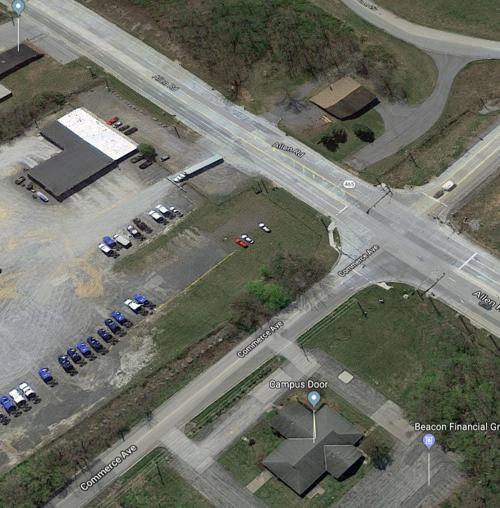 The South Middleton Township supervisors last week approved preliminary plans for a new hotel, restaurant and commercial center at Interstate 81 and Allen Road.
On May 30, township supervisors approved a conditional-use request from Nittany Engineering & Associates and Glenmark Holding LLC and Paradigm Architecture for a restaurant, hotel and commercial center. It would be built between Alexander Spring Road and the I-81 Exit 44 interchange at Allen Road.
A new hotel, restaurant and commercial center is a step closer to construction just off Interstate 81 in South Middleton Township directly acr…
A conditional-use was required because the project involves a multi-use commercial center. A regional commercial center plan fits into the area's I3 industrial/transportation zoning, but a township ordinance requires commercial centers to apply for a conditional-use for development.
Last Thursday night, supervisors approved plans for a preliminary subdivision development and a preliminary land development plan for the complex that subdivides two existing parcels on 5.5 acres into three new parcels. Of these, a hotel is proposed for a 2.46-acre southernmost lot that would comprise 106 rooms with 134 parking spaces.
Mark J. Nesselroad, chief operating officer and chief legal officer of Glenmark Holding, previously told the board that the hotel has been franchised as a Mainstays Suites and should serve "as kind of an anchor" for attracting other businesses to the development.
The project also involves a 120-seat restaurant with 41 parking spaces on a northernmost 1.10-acre lot, along with a regional commercial center with a potential for a business drive-thru that would be on a 1.99-acre parcel between the hotel and the restaurant. Supervisor chairman Bryan Gembusia said on Friday that developers haven't yet disclosed what businesses or franchises will occupy those spaces.
By all appearances, a long-vacant area by an Interstate 81 interchange in South Middleton Township won't remain empty for much longer.
Developers' next step is to submit a final development plan to the township, as well as applying for required permits from the NPEDS, or National Pollution Discharge Elimination, the state Department of Transportation, and other parties. Construction could start early next year and is expected to take around 12 months.
The planned hotel/restaurant/commercial center complex is directly across the street from a similar project that township supervisors initially reviewed last year.
In July 2018, supervisors approved a conditional use application submitted by Akash Patel & Associates for an 82-room Holiday Inn Express hotel and a separate, 3,300-square-foot fast-food restaurant with a drive-thru near Commerce Avenue and Allen Road. Township supervisors approved a preliminary/final land development plan for the project in June 2019, although developers said plans for the eatery were put on hold for the time being.
Dawood submitted a letter to township supervisors on Wednesday that included nine proposed steps in response to the residents' and officials' complaints. 
Also on Thursday, supervisors approved a final land development plan for adding a 4,300 square foot addition to the Keystone Aquatics facility on Midway Drive. Engineer Richard Hilboky previously said the addition would serve as an out-of-pool exercise area for swimmers.
Plans include the installation of a crosswalk that will provide additional parking at a skating rink located across the road. Both facilities are owned by Scott Zacharda, township officials said.
Finally, supervisors approved a final subdivision plan for the existing Forgedale Crossing development off Forge Road near Lindsey Road. The plan comprises 23 new dwelling lots on a 10.859-acre parcel. It is the 10th of Forgedale Crossing's 13 planned phases, township manager Cory Adams said on Friday.
Be the first to know
Get local news delivered to your inbox!