Amy Bream is the first person to tell you she's never considered herself athletic.
That makes it all the more "surreal," to use her words, that she's featured in a video for Nike's "Sport Changes Everything" campaign.
Growing up in Boiling Springs, Bream did not take part in sports and did not work out in local gyms. She was self-conscious when it came to physical activity because she had been born without her right leg.
"It took a lot for me to want to do any kind of physical activity or anything in front of people. When I moved to Nashville is when I found Title Boxing Club, and that really started to open me up and get me out of my shell," Bream said.
Going to Nashville
Music drew Bream to Nashville. For one semester of her junior year as a music major at Messiah College, she studied in the city, met a lot of people and made the decision to move there to take advantage of the opportunities it offered and enjoy the music scene she loved.
"I came out here thinking it would only be for music, and it turns out there's a whole lot more here," she said.
Somewhat to her surprise, the opportunities included boxing.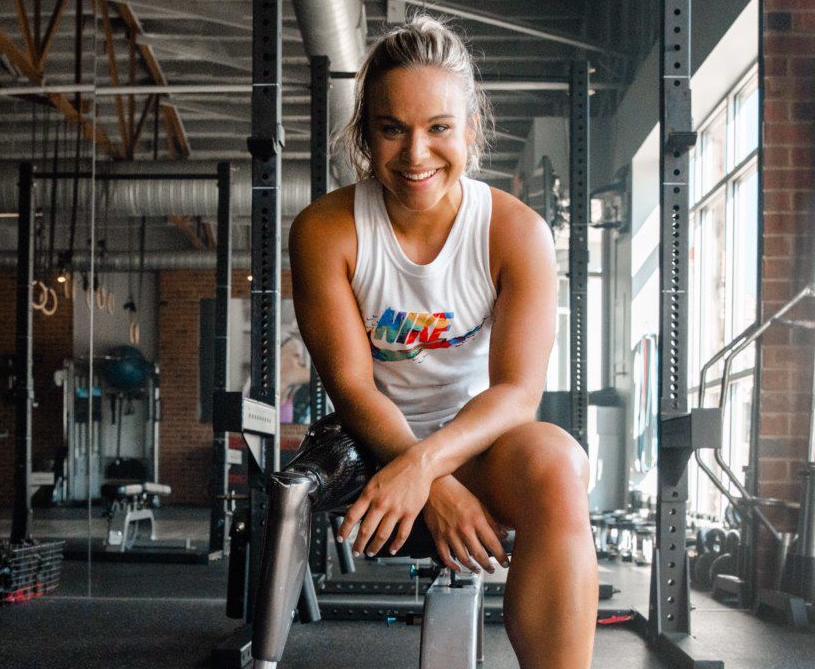 It started with a suggestion from a friend. Bream discovered boxing was "a really good workout," offered by trainers who were willing to help her, push her and adapt the exercise as needed.
"What really attracted me to it was that it was a great way for me to get a workout that I could actually participate in," she said.
Other sports require a specialized prosthetic like a running blade or a water leg. Those devices are expensive and aren't often covered by insurance, Bream said. A prosthetic leg for everyday use can cost about $50,000 without insurance, and a running blade can cost between $15,000 and $20,000.
"Legs are very expensive," Bream said.
As she progressed in her boxing skills, a trainer suggested adding in kicks. Bream had to learn how to negotiate the changes in balance that come with learning how to kick with a prosthesis, but she stuck with the sport and the gym, now working as its operations director.
Sport changes everything
As her confidence grew, Bream started sharing her story through an Instagram account with a name that showcases her wicked sense of humor, @onelegtostandon. She offers tips for those living with a prosthesis, such as not wearing long pants when flying so that airport security can see why you're setting off the alarm or how to feel comfortable wearing a skirt with one leg.
For the record, the steps are to put on a skirt, walk outside and wear it in public and then repeat the first two steps "until it becomes your new normal."
Sharing her story on social media has connected Bream with people who have experienced amputations. They thank her for the encouragement or pepper her with practical questions, especially questions that deal with confidence. It's something she said she wished she had seen more often while growing up.
"It's really exciting for me to be able to share what I've learned and be able to encourage in whatever way that I can even through a platform like Instagram," Bream said.
Her reach grew this fall through a connection with Nike.
Photographer Rachel Deeb used to work full-time at Title Boxing Club, and was there the first day Bream came in to take a class.
"She was confident and I was so impressed. I took photos of her that day because I felt so inspired," Deeb said.
Deeb is now a contracted photographer for Title, and had been in contact with Nike since January, looking for a way for them to work together. When she heard about the "Sport Changes Everything" campaign, she thought of Amy.
"Watching Amy train always reminds me of what hard work and commitment are all about. She won't give up until she finishes and does it correctly," Deeb said.
"They reached out for an interview, and it just kind of happened from there. I really wasn't expecting it, but it was really an awesome experience," Bream said.
Nike sent a crew to Nashville to film Bream in a one-day shoot. In the video, she tells her story while working out and walking in different areas of the city.
Deeb called the day of the shoot one of her favorite days. Bream had to do a lot of exercise moves that day, but she would repeat the moves even after Deeb got the shot just to make sure she did it correctly.
"She crushed the shoot and Nike's team were so awesome to work with," Deeb said.
Bream said the experience has been humbling for someone who never saw herself as athletic. People have reached out to tell her how inspiring she is, and people who have experienced an amputation or know someone with a recent amputation have been reaching out to tell her that they have been sharing her story to encourage others.
"That was probably the most rewarding. But, for me, personally on a selfish level, it made me take a step back and realize how far I've come in the last couple of years," she said.
One step at a time
The newfound attention doesn't seem to shake Bream, who is content to take things one day at a time. She wants to continue to do speaking engagements and develop partnerships with companies that would allow her to try out their products and share her experience with them.
"I'd like to continue to grow. I want to keep trying new things and be able to share what I've learned, practically, the equipment that I use and how amputees can get that equipment," she said.
The reality for an athlete with a prosthetic leg is that it costs more than not being active. The more active someone is the more it costs to maintain the prosthesis, Bream said.
"As far as insurance goes, it's not always the easiest thing to get a lot of equipment for not a lot of cost," she said.
Bream encourages amputees or those who, like her, were born without a limb to ask questions and advocate for themselves. Though her family and friends were supportive, she said she too often held herself back, accepting what was offered rather than asking what was possible.
So, she said, ask the questions and tell people what you want to do.
"The worst thing that can happen is they tell you, 'no.' But, the best thing that can happen is you live this entirely different life you didn't even know was possible because of what's available in technology now," she said.
Looking back on the times she let her self-consciousness hold her back, Bream also tells amputees not to care too much about what they look like because it really doesn't matter. It's OK for them to try something new even if they don't look like the person working out next to them.
"Try it anyway. It doesn't matter what you look like. Your life will change drastically. I know from experience," she said.