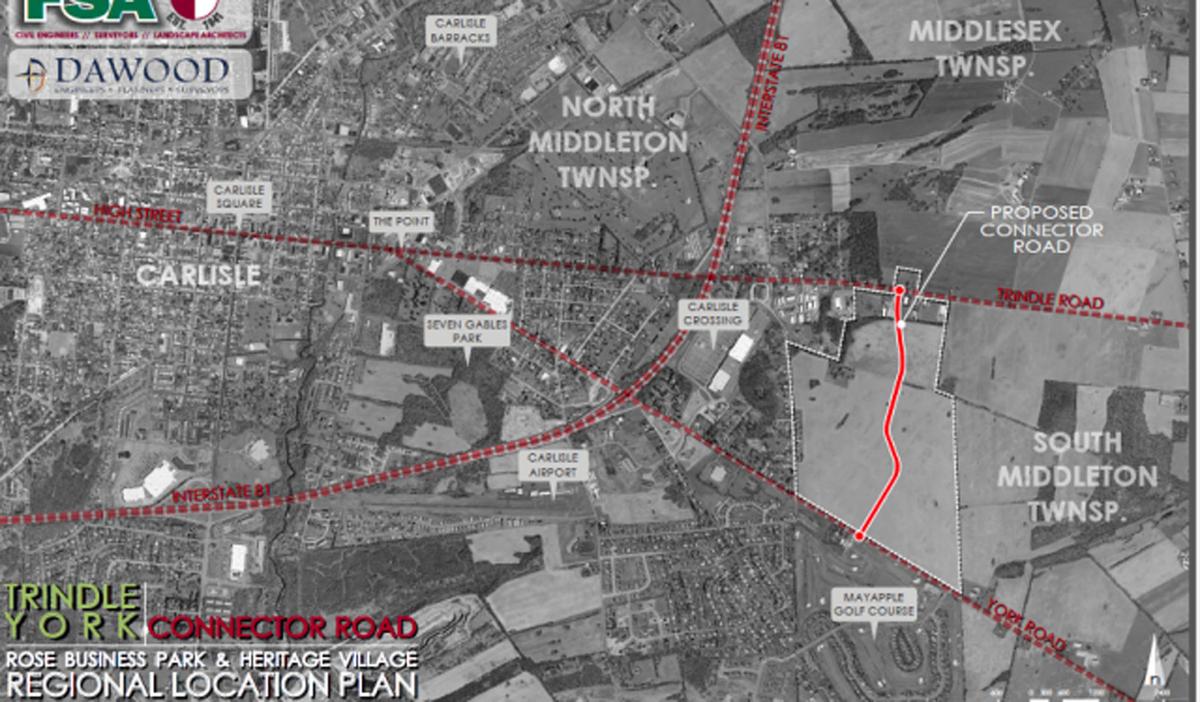 After more than a decade of delays, it appears that a connector road between York and Trindle roads in South Middleton Township could become a reality.
On Thursday night, South Middleton Township supervisors unanimously granted conditional approval for a preliminary subdivision plan of the York Road to Trindle Road Urban Connector Road submitted by Heritage Connector Road Inc.
The connector road is intended to serve as a byway between York and Trindle roads and provide easier access to Interstate 81. Since motorists in that area can only access I-81 north from Trindle Road and I-81 south from York Road, the connector road would cut down on travel time between the two access points.
The preliminary plan involves a mile-long road that would run through four industrial zone parcels, two large residential parcels and two commercial parcels, according to project manager Tim Diehl of Dawood Engineering.
Although developers eventually plan a residential development on the east side of the connector road's planned intersection with Lisburn Road, they agreed to township supervisors' stipulation that no other development take place there until the road is completed.
Supervisors also stipulated that four private driveways included in an earlier draft must be eliminated.
Details
As planned, the connector road would begin at Trindle Road east of Rose Metal Systems with five lanes as it traverses through an industrial zone. The road will taper to three lanes as it continues through residential and commercial zones before intersecting at York Road near the Mayapple Golf Course maintenance building and Cumberland Valley Tree Service.
Bony Dawood, owner of Dawood Engineering, said he hopes to submit a final subdivision plan for township review "within a month or a month and a half." For now, developers are awaiting results of a traffic study from the state Department of Transportation and necessary permits for the project.
"We hope to have all clearances for this by late summer," Dawood said.
Developers were awarded a $2.6 million state multimodal grant for the project, which is estimated to cost around $6.6 million. Developers have guaranteed that "all funding is in place," Dawood said.
Supervisor Tom Faley said on Thursday that a connector road has been in the works by various developers since 2005.
"We've never gotten to this phase we're at tonight," Faley said.
Be the first to know
Get local news delivered to your inbox!