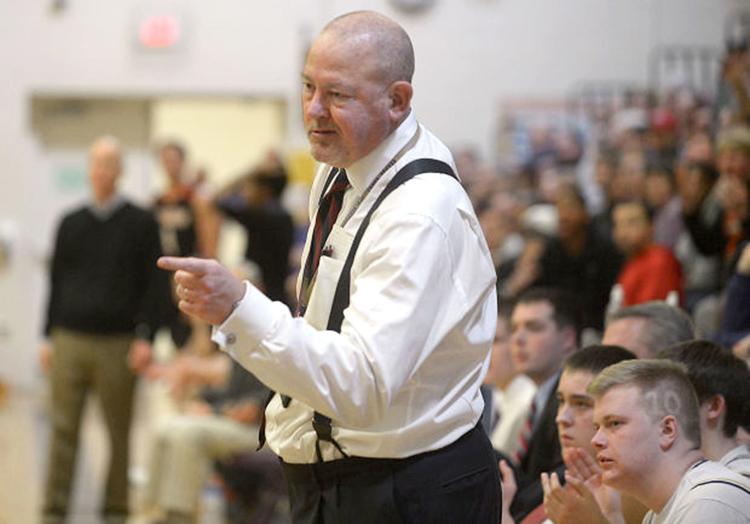 There likely isn't a Boiling Springs graduate who passed through one of Pat Dieter's classes who didn't at some point hear about the movie "It's a Wonderful Life."
In his early years, he showed the classic movie in psychology classes. By his later years, he developed an economics worksheet around the movie. All along Dieter could be counted on to throw out the occasional quote from the movie during class discussions.
In the week following Dieter's death at the age of 61 on Feb. 18, the Boiling Springs community is discovering the truth of one of those "It's a Wonderful Life" movie quotes:
"Strange, isn't it? Each man's life touches so many other lives. When he isn't around he leaves an awful hole, doesn't he?"
In the community
Dieter's was a life in which family, basketball and Boiling Springs intertwined. As he developed the boys basketball program at Boiling Springs his wife, Jen, daughter, Mamie, and son, Austin, were right there with him.
Mamie remembers the family helping with summer leagues, making brackets for the South Middleton Township Super Saturday tournaments, attending basketball camp and, of course, driving all over to watch basketball games. Their family vacations sometimes coincided with the locations of the Keystone State Games, whether that was Johnstown or Gettysburg or some other off-the-path destination.
The teacher in Dieter emerged on those trips when he launched into explanations, for example, of how the strategy of Pickett's Charge during the Battle of Gettysburg matched the strategy of a basketball game.
"Everything had a tie to Boiling Springs and to basketball," Mamie said.
Dieter loved to talk about how much he enjoyed going on vacation with his wife. But it wasn't just long trips spent together — he cherished the day-to-day time with Jen.
Boys basketball assistant coach Tyler Snyder said Dieter always looked forward to his wife's spaghetti, especially after a long day coaching and teaching.
"Depending on the situation, he would always make the comment of, 'Gosh, I can't wait to go home to Jen's spaghetti,'" Snyder said. "Based on the number of times he spoke about that, it must be some damn good spaghetti."
Dieter was a sports guy with an eye for the arts. He purchased paintings at the Carlisle Arts Learning Center auctions. He loved jazz, and Jen remembers the two of them going to concerts, especially at smaller venues, and art museums. One year when the National Association of Basketball Coaches convention took place in Manhattan, he suggested they go to a Broadway play.
There was never a doubt, though, which interest took precedence in Dieter's life.
"Believe me, if Duke was playing North Carolina and he could get tickets for that and we already had tickets to 'Hamilton,' he would tell me to find someone to go to 'Hamilton' with," Jen said.
And so, basketball became a path through which Dieter forged deep ties to the community.
"He's one of those people that really binds the community together across generations," said Fred Withum, who started working in the South Middleton School District at nearly the same time as Dieter and is now the superintendent for Cumberland Valley School District. "This created loyalties to the school district. It takes someone 30 years to build that kind of reputation, and you just can't fill that with someone coming behind him."
Dieter's coaching career began at Trinity High School where he served as the junior varsity basketball coach and an assistant football coach for nearly three years. He left Trinity to take over the Boiling Springs boys program in 1983.
The rest was most certainly history — 36 years and a career record of 477-390 with the Bubblers.
Through his long coaching career, Dieter coached fathers and sons.
"He has literally been in touch with four or five generations of Boiling Springs residents through his work — either they were spectators, or boosters, or players or alumni," Withum said. "He would never take credit for that."
Despite Dieter's out-sized personality and occasional antics on the court, Withum said the coach will be remembered most for his quiet impact on players.
"People will probably laugh when I say quiet, because he was a big personality when it came to basketball, but he was quiet when it came to helping others," he said. "He really made a huge impression on the lives of the young men who he coached."
The Dieter family knew he inspired students and players over the years. They discovered the extent of that inspiration in the past week by reading messages from his students from decades ago.
Dieter seemed to "touch most everyone in some way that they remembered," Austin said.
They discovered that Dieter was a bit of a pack rat, holding onto what they believe to be every practice schedule he ever made going back to 1983. His file cabinet contained notes on offenses and defenses from clinics going back to the 1980s.
"It goes back and forth between folders of those things and folders of letters from random players and students," Austin said. "He'd save all of them in folders as well."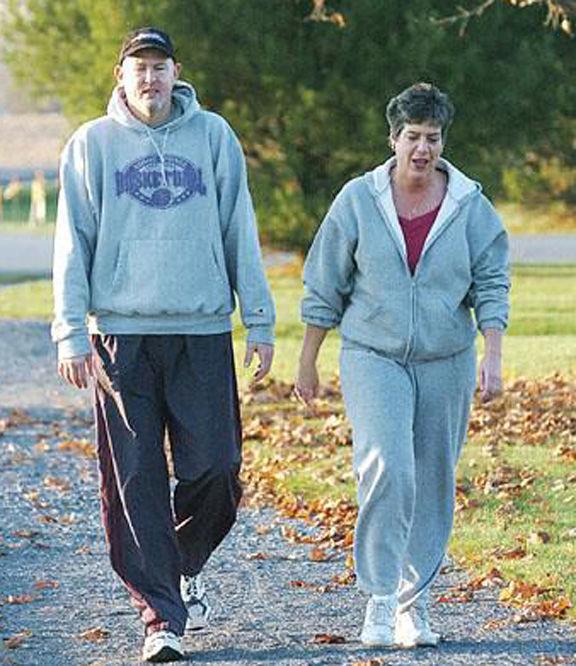 The player
A decade before Carlisle boys basketball went on its run of four straight PIAA Class 4A titles in the late 1980s, legendary head coach Gene Evans guided the Thundering Herd and fielded a roster that included Duane Coleman, Joe Stasyszyn (a future Herd coach) and Dieter.
The Thundering Herd won the South Central League championship during Dieter's senior year in 1976, Stasyszyn said.
"Hard worker" and "loyal" was how Stasyszyn and Wes James, who served as an assistant coach on those teams, described Dieter.
He was about 6-foot-4 and played center, capable of shooting with range in an era when big men didn't usually do that. He wasn't the most gifted athlete, but he outworked everyone and was a high-IQ player. It was enough to earn him a spot at Lycoming College where he played under head coach Clarence "Dutch" Burch before graduating in 1980 with a bachelor's degree in history and a secondary education certificate.
James and Stasyszyn said he was the consummate teammate, one who shunned personal stats and worked to get his teammates into a position to succeed.
The demeanor that eventually defined Dieter over nearly four decades of teaching and coaching was pretty apparent even as a teenager, according to Stasyszyn and James. Dieter wasn't always boisterous, but he worked tirelessly, was driven to succeed and wanted to learn as much as he could.
"He was what he came from," James said. "He wore that right on his sleeve: 'I have expectations for my student-athletes, but they also know that I've got their back.'"
"The kind of kid he was growing up, it doesn't really surprise me," Stasyszyn said. "Some of your best teachers, some of your best coaches, some of your best athletic directors are people who had to work really hard at their craft."
Like Evans, Stasyszyn said Dieter cared deeply about his players. He could scream at them one moment and put his arm around their shoulder the next. Evans drove players to camps and summer leagues, always looking out for them. James and Stasyszyn saw those same characteristics in Dieter during his 36-year coaching tenure.
"Gene was a very demanding, yet understanding person," James said. "I think Pat was really the same way."
"In coaching, we need more truth-tellers today. Pat told you the truth," Stasyszyn said. "He's gonna tell you what you need to hear."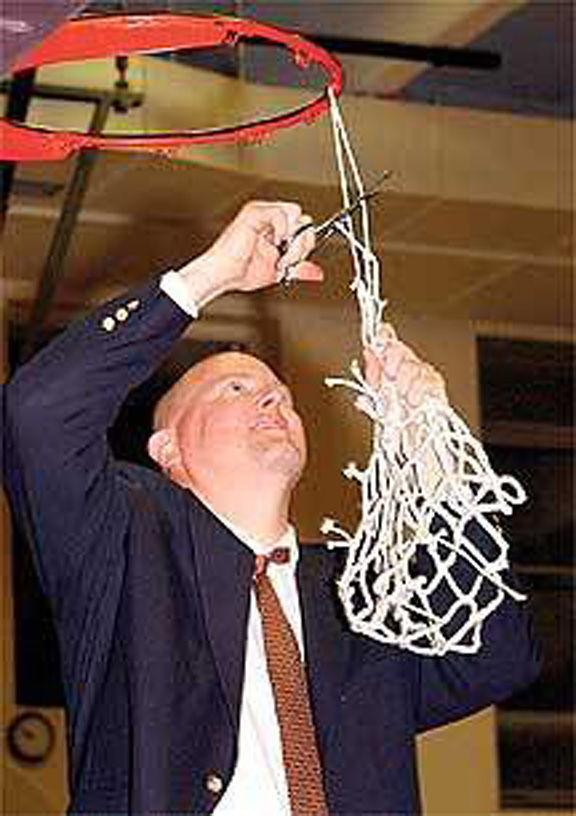 The teacher
The one word many of Dieter's former players and coaches used to describe him was fair.
Al Moyer, who coached several teams around District 3 and served as South Middleton School District's superintendent for four years in the mid-2010s, said Dieter worked diligently to make sure no one could accuse him of giving preferential treatment to his boys basketball team.
Dieter helped push for the addition of a girls soccer team at Boiling Springs in the 1990s. And when the squad won the District 3 title in 2017, it was one of his proudest moments as AD, he told The Sentinel in 2018.
"He would often take less for the basketball team, quietly, in the budget or in resources to allow other sports, particularly some of the newer ones that were just starting out, the opportunity to get the things they needed to get going," Withum said.
It has been a little more than two months since Pat Dieter retired as the Boiling Springs at…
Saying Dieter was "so fair to a fault," Moyer speculated that his passion for fairness might have come from teaching government and economics.
"He was a good coach, but he was equally as good a teacher," Withum said. "He was passionate about social studies. He was passionate about government. He always stayed well-informed. Whether you were an athlete or not an athlete, you all had the ability to be a star in his classroom."
Dieter twice served as athletic director for the school district, the last term running from 2012 to 2018. The first stint lasted from 1990 to 1999 and ended only because he missed the classroom, Jen said.
"He thinks of coaching as teaching, and that's what he really was," Jen said. "It just happened that he was lucky enough to have the sport that he loved the most be also a teaching experience."
Dieter initially arrived at Boiling Springs as a coach, but accepted a teaching position after three years. That's where he found his niche teaching mostly seniors — the age he most enjoyed. Austin said a big part of why Dieter liked that age was the players were in a time of life when as students they face major decisions that affect the course of their life.
You have free articles remaining.
Dieter prided himself on helping his students make good decisions.
"He gave them tons of advice on what sorts of options they had," Austin said.
"One of his attributes is not only could he teach, he could challenge," longtime assistant coach Joel Martin said. "He could motivate kids."
Among those who benefited directly from Dieter's sage advice was Chad Jumper, who played alongside 1,000-point scorer Mark Lay and also Brad Stoltz, from 1988 to 1992.
A child of divorce, Jumper became the first in his family to attend college. He said Dieter was instrumental in him getting there.
"He had a way of gently guiding us in the right direction during school and even after school," Jumper said.
"I think I kind of turned to him for guidance. … He always kept us out of trouble in a way. He always seemed to know what we were up to even more than our parents sometimes."
Jumper attended Penn State and worked his way through medical school. He now serves as a family physician in Boiling Springs, where he also served as Dieter's primary physician.
"It was interesting having little 5-foot-7 me telling him what to do," Jumper said, calling it "full circle."
Snyder met Dieter in eighth grade when he didn't make the cut for the junior high boys basketball team. He also sat in Dieter's government class in high school. He doesn't remember specific assignments or lessons, but he did remember two overarching themes: Dieter always quoted "It's a Wonderful Life," and he excelled at letting classroom discussion guide his teaching.
"I really think that is how he taught us about government and about social issues," Snyder said. "He would have an open conversation about [current events] in the classroom."
Dieter also valued everyone's right to vote. No matter a student's political leanings, Dieter would engage in thoughtful conversation. All he wanted was for people to come to an informed opinion, Snyder said.
He was careful, though, not to use his position to influence his students as they developed their own political philosophy.
"He prided himself that students never knew his political persuasion," Jen said.
His efforts were successful except for the time he was accidentally elected as a committeeman in Mount Holly Springs because Mamie wrote him in as a candidate. That election ended in a tie with each candidate holding one vote. He ended up winning a tiebreaker he didn't attend.
His opponent, who was a former student, was more excited than he was. Dieter told Mamie that he spent his career keeping his political affiliation secret "and then you elect me with one vote."
"Which is a true story of democracy," Austin concluded.
Snyder also said he knew of times where Dieter would take students to a voting booth or would help them get registered.
"He was always big on getting kids out to vote," Snyder said. "Whether you voted one way or the other, as long as you voted with facts, as long as you did your homework ahead of time, he was going to be happy."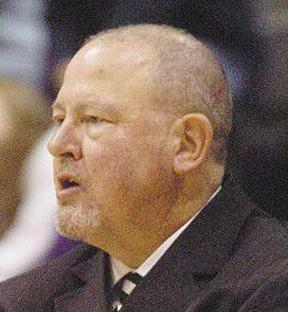 The coach
When Snyder got cut from the junior high basketball team he said he wanted to stay involved and asked to serve as a team manager.
A few days later Dieter reached out to have a meeting, instead inviting Snyder to serve as the high school team manager. Snyder kept that role for five years, until graduation. After serving as a team manager for the Temple men's basketball team, Snyder returned to Boiling Springs, where he has been an assistant coach for four years.
"He would yell at you if you weren't getting that thing done … if he felt like you were capable of doing it," Snyder said. "He would then appreciate you and give you a 'thank you' once you did get that done. … At the end of the road, for the lack of a better way to put it, there is a reward. And the reward is you're gonna feel good because you did things the right way."
In high school, Snyder said he occasionally questioned why he stuck with Dieter because it was tough to get yelled at.
"He wasn't gonna necessarily hold your hand and baby you through it, but he was going to put you on the right path," Snyder said. "For me, personally, in hindsight, I loved every second with him."
One of Jumper's favorite memories was when Dieter created the "Jumper layup drill," a drill where Jumper ran back and forth on the court shooting layups until he "couldn't move" because he was admittedly bad at them.
"The day after he made me do that drill I had my highest-scoring game ever [19 points], which was a big deal for me," Jumper said.
Stoltz, a 2,000-point scorer for the Bubblers who committed to The United States Military Academy at West Point but broke his foot as a freshman with Army, said Dieter's standards were high and he challenged his players. But he was fair to everyone.
"There was a scrimmage — I took the ball and it was a fast break, one-on-two, and I was bigger and faster than the kids," said Stoltz, who said he got fouled on the play and made both free throws. "He got frustrated with me [for not making the right play: pulling the ball back out and going into half-court offense]. ... It goes back to the comments about the system and the rules at Boiling Springs and the way we played."
It was Dieter's program, and the dream of building that program is what made Boiling Springs his final destination rather than a stepping stone to a larger school or even to a college position, a goal he had early in his coaching career.
"There came a time early on that he realized this was the opportunity to make his own program," Jen said. "Eventually, everybody who passed through played for him."
Martin served with Dieter for much of his 36 years of coaching. He first met him in the spring of 1983 as a 16-year-old. Several months later, Dieter took over as the Bubblers head coach and Martin served as his first senior captain.
Martin then went on to college, then came back and served eight years as a varsity assistant and JV head coach. Dieter then helped him prepare for and land the head coaching job at Newport in 1995, Martin said. After three years there and nine more leading Big Spring, Martin came back to assist Dieter.
It was Martin who coached Boiling Springs in its District 3 playoff game Feb. 18 as Dieter underwent surgery in a hospital in Philadelphia. The two men were so close that Dieter served as Martin's best man at his wedding.
There are lasting memories for Martin, like 1-on-1 games between the coaching staff for hours after practices. Or when Dieter dug up old files from a summer basketball league in Shiremanstown, bragging to Martin that he averaged more points (18.5) than Martin (15.5) in 1987. (Carlisle's Billy Owens dwarfed them both with nearly 45 points a game, Martin said.)
"I would say first he was an educator. Bottom line, he cared about kids," Martin said. "He was about the kids and doing the right thing for them."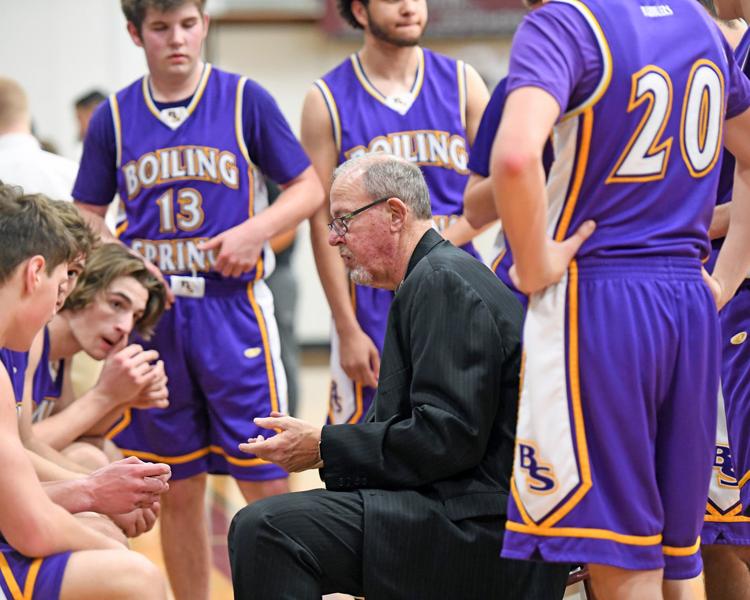 The last game
Behind the scenes during his dedication to the classroom and coaching, Dieter faced "incredible health issues," Jen said. Those issues, largely kept private through the years, became public in 2006 when Bubbler alum, good friend and former player and coach Kevin Roher donated a kidney to Dieter, giving him almost another 13 years with his family.
Through it all, Dieter remained dedicated to the school and to his family.
"He did it with a decent amount of challenges that never stopped him from putting in time that he needed to do," Jen said.
He carried that dedication into what turned out to be his final hospitalization. Even during stays at multiple hospitals, Dieter talked with his coaches almost daily, Snyder said. He wanted them watching film and getting the right notes in the scouting report ahead of their first-round playoff game Feb. 18 with Octorara, the same night as his surgery.
"He was concerned they wouldn't notice that there were two people who were left-handed on the team," Mamie said.
That morning, the family knew Dieter faced a sudden critical heart surgery and there were no guarantees it would be successful.
But, Jen said, he was sitting up in a chair, laughing and talking with the family, and remained alert right up until he was taken into surgery.
In retrospect, that time became a blessing for the family.
"It was obviously good for us to be able to know that he didn't suffer a long, growing, painful thing," Jen said.
The coaching staff learned of their coach's death right before they got back to their locker room at the high school following the 76-60 loss. The staff decided to tell the players there, in what was an admittedly tough moment for everyone.
"Probably the hardest thing I've ever had to do was tell the kids their head coach had passed away," Martin said.
On the afternoon of March 10, the Boiling Springs community will gather in the Boiling Springs High School gymnasium, a gym adorned with the bubbles Dieter himself designed, to celebrate a life each remembers in their own way.
For many, it will be a time of appreciation for the classroom teacher, coach, athletic director and most importantly, proud father and loving husband.
"I want to personally say a 'thank you' to the Dieter family for sharing him with us for so long," Snyder said. "I'm sure that they would've liked to see him more."