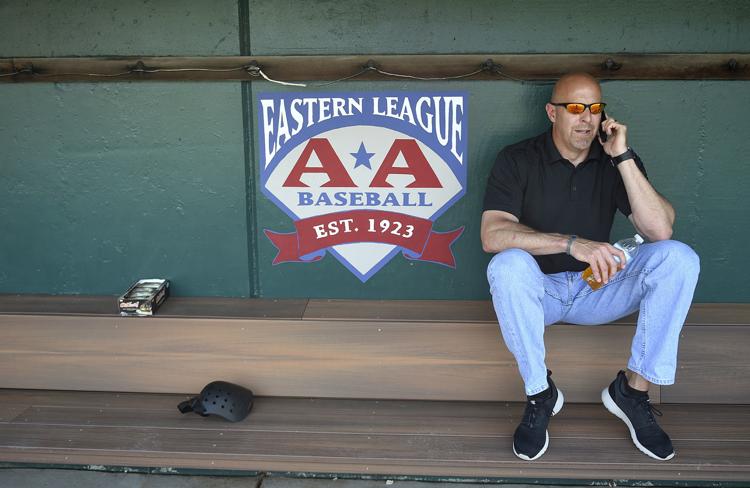 That's the question Dr. Rick Rigsby repeatedly asked near the end of a commencement address he gave at the California State University Maritime Academy in April 2017. Video of the speech went viral as it popped up all over Facebook feeds and Twitter timelines shortly after Rigsby delivered his words of wisdom to the graduating class.
Doug Harris can't take credit for the millions of views the clip has racked up since, but the 1987 Carlisle High School graduate has watched the video and shared it with others too many times to count. The message hits home both personally and professionally for the current assistant general manager and vice president of the Washington Nationals.
"That applies in baseball. That applies in life," Harris said. "For our young men, it's not just about teaching them how to get a bunt down or throw a breaking ball. When you're done at the end of the day, it's also about whether you've done it the right way."
No one would know this better than Harris.
Raised by excellence
Born and raised in Carlisle to parents Ron and Letitia, Harris was indoctrinated into the culture of winning at a very early age by a community that seemed to excel in every sport every season during the mid-1980s.
"Growing up here in Carlisle at a time when the athletics at high school were very, very competitive, I was blessed to be a part of a group of people that were highly competitive," Harris said. "We were blessed with a lot of success. Not just in the sports that I played, but in the sports that were going on around me, so the bar was set high on a regular basis. There was a pursuit of excellence that was part of that culture. It preceded me and stayed with the school after I was done. It was great to be a part of that."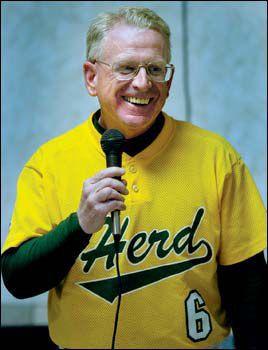 Harris was a standout on the baseball diamond for legendary coach Harry Mundorff in high school and American Legion baseball. During his senior season, the 6-foot-4 Harris played second base for the Thundering Herd and hit .304 while going 3-1 in five pitching appearances.
Later that summer, alongside teammate and fellow James Madison recruit Dwight Rowe, Harris led Legion Post 101 to its fourth straight Cumberland County League championship, eventually finishing fifth in the state Legion tournament.
"He built a foundation not only about how you go about your business but about the fundamentals of the game," Harris said of Mundorff, who coached 31 seasons at Carlisle. "Along with that, he expected you to present yourself in a mature fashion. I told my kids the other night at the dinner table, if you showed up at one of his practices and your shoes weren't acceptable, or you had whiskers, you were not going to be a part of that practice. It wasn't because of the whiskers or the shoes. He was instilling discipline in us. There are a lot of things that still go through my mind today how it relates to our players that Coach Mundorff instilled in me a long, long time ago."
Harris also shined on the gridiron for football coach Ray Erney at safety for the 1985 District 3-AAAA champions and as the starting quarterback his senior season when the Herd fell just short of back-to-back titles.
"Ray's approach was different," Harris said. "But there was a toughness that came from his program I think was also as influential as the detail, the preparation and the discipline. They went hand in hand, and it was a very good balance."
From fielder to pitcher
Although James Madison University recruited him as an infielder with no intentions of using him as a pitcher, Harris worked his way on to the Dukes' pitching staff by his junior season. He says his inability to hit a breaking ball precipitated the change, but the JMU coaching staff saw potential in his strong right arm.
Harris rewarded the confidence shown by Dukes' head coach Ray Heatwole by going 7-4 in 15 games with a 2.21 ERA in 1990. That success and an uptick in velocity put Harris on the radar of many Major League scouts. The Kansas City Royals eventually drafted him in the fourth round that June.
The 20-year-old couldn't pass up the opportunity. He packed his bags for his first stop in Eugene, Oregon, with the Class A affiliate of Kansas City.
Harris pitched solidly in his first taste of professional ball, but he blossomed during the following season pitching for the Appleton Foxes and Baseball City Royals, where he combined to go 12-8 with a 2.39 ERA and 1.05 WHIP in 1991.
For his efforts, Harris was named the Royals' minor league player of the year and vaulted to the No. 3-ranked prospect for the Kansas City organization according to Baseball America.
But a shoulder injury the next season and subsequent surgery sent a promising trajectory crashing down.
"I went a long time before I had the surgery," he said. "We went through many doctors and many diagnoses. Ultimately, the surgery I had that year was really just hoping that it would fix the problem. Regardless of whatever success I had prior to that, the chances of coming back from that were very remote."
Harris threw 30 innings that season, all on rehab assignment. The recovery didn't come around as quickly as he would have liked. Two underwhelming seasons followed with Double-A Memphis that foreshadowed Harris's release at the end of spring training before the 1995 season.
"There were times where I was comparable to where I was before, but I couldn't sustain it for more than six to eight weeks at a time. It was just a battle for the next five years to pitch pain-free and replicate any type of stuff I had before."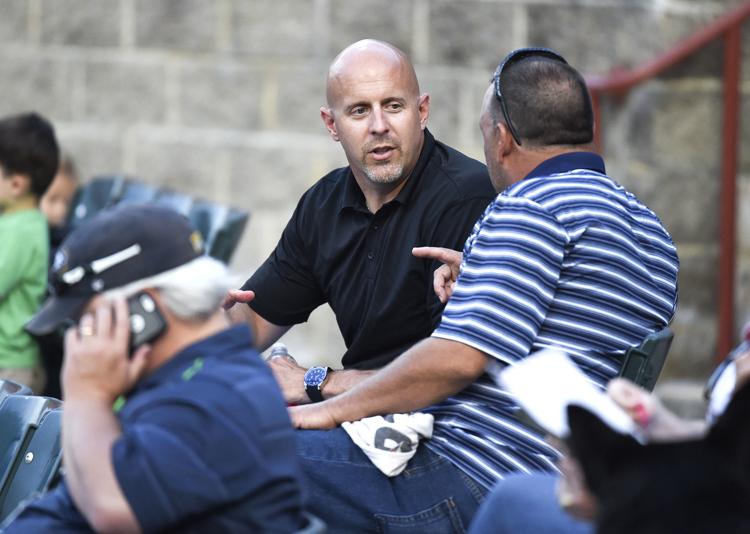 Transition to front office
Despite the poor results, Harris developed a reputation as a hard worker who went about his business the right way. That would be significant after the Royals released him and he searched for another organization to take a chance on him.
Steve Boros, the Baltimore Orioles' dugout coach at the time, was on the Major League coaching staff in Kansas City during Harris's tenure there. Boros never really had a relationship with Harris, but he did know about his work ethic, and he knew how he carried himself. That was good enough for Boros to recommend Baltimore sign Harris to a minor league deal.
The next time Harris was in need of a job, his reputation throughout the game once again came into play.
A lot of Royals' front office staff moved onto the Florida Marlins' organization, including his manager during his best minor league season, Carlos Tosca, who was now the manager of the Double-A Portland Sea Dogs.
"Livan Hernandez was in Portland at the time," Harris said. "He was a young, highly invested player and they wanted somebody who was going to set a good example and go about their business properly."
By this time, Harris knew his playing career was on its last legs.
At the end of the season, he made the difficult decision to retire and enter the next phase of his life in baseball. Just months after hanging up the cleats, he got a job as a scout with the Texas Rangers under scouting director Chuck McMichael, who had been the national crosschecker with the Royals when Harris was drafted.
"He not only hired me. He gave me the opportunity to learn and grow from the ground up," Harris said.
Harris stayed with the Rangers for 12 years before moving onto the Cleveland Indians for a year. Washington GM Mike Rizzo plucked him to rebuild the Nationals' farm system before the 2010 season as the director of player development.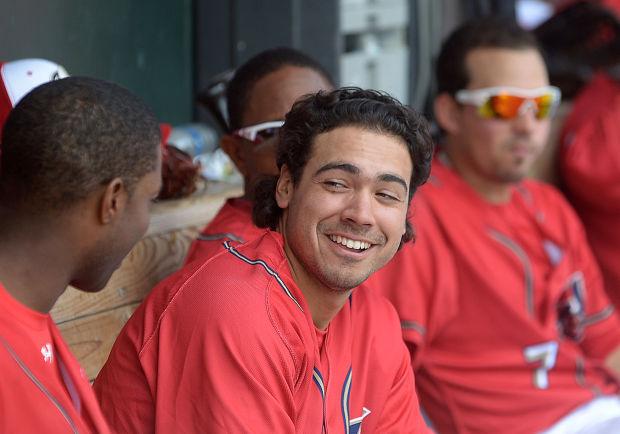 Homegrown stars Bryce Harper and Stephen Strasburg will deservedly get most of the headlines, but it's the development in the minor leagues of players like Tanner Roark, Steven Souza Jr. and Anthony Rendon that have helped sustain the Nationals' rise from perennial cellar dwellers to front-runners in the National League East in recent seasons.
"It's difficult at times in the minor leagues," Harris said. "There are a lot of factors that control the product that goes on the field, but you can still create that competitive mindset. That is something we really wanted to do and create that winning culture. When we got here nine years ago, there hadn't been a lot of success."
Rizzo was so impressed with Harris' work with the Nationals that he recommended his right-hand man for the Atlanta Braves GM job last fall, according to the Washington Post.
One of those who has seen the sea change in the organization is the director of player development, Mark Scialabba, who has worked for the Nationals since 2006. He has nothing but high praise for the impact his mentor and friend has made not only with the players but with the staff as well.
"He's been a tremendous leader," Scialabba said. "He's someone who sets the bar extremely high and expects excellence in everything you do. Really, he's someone that you want to emulate. He makes each person the best version of themselves."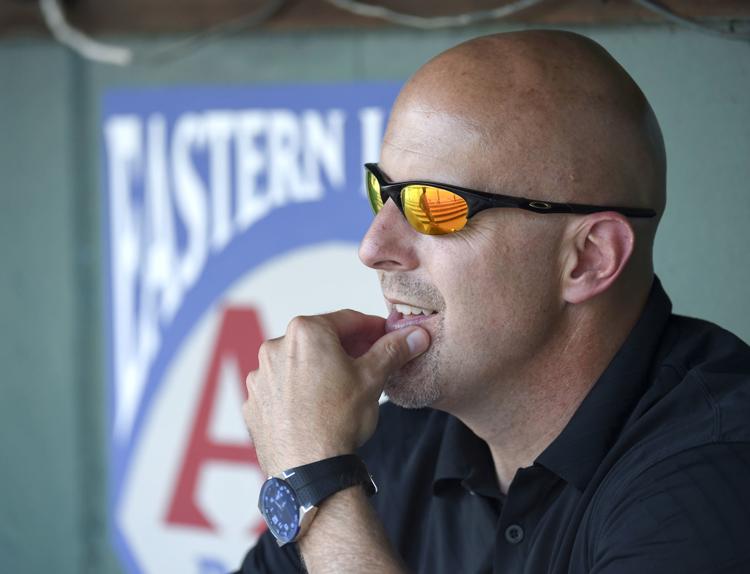 A new fight
But while the Nationals thrived the last couple of years, Harris and his family quietly waged their own battles.
His wife, Lisa, struggled through and survived a battle with breast cancer. Doug had his own health scare when he received a diagnosis of chronic myeloid leukemia in late 2015.
While he was originally able to mitigate the effects of the disease with a pill a day, early in the 2016 season Harris needed more drastic treatment.
He required rounds of chemotherapy and a hematopoietic stem cell transplant, commonly referred to as a bone marrow transplant, culled from a match in a national marrow donor program that he received Oct. 4, 2016.
But in his time of need, those relationships he forged delivered an overwhelming show of support.
"I had four different stints where I had to stay at Hershey," Harris said. "I don't think there was a day that went by that somebody didn't come."
Minor league players and coaching staff members stopped to visit. Front office personnel and coordinators made the trek to the Midstate to sit with their friend while he received treatment.
"It's very humbling," Harris said. "It's a difficult process for anybody to go through, but I was very blessed with my faith and my family and friends."
Making the most of it
When spring training rolled around in 2017 five months after his transplant, Harris desperately wanted to be there. Just as he had been the previous seven seasons for the Nationals and just as he had been there almost every year of his adult life since he went to his first one as a 21-year-old.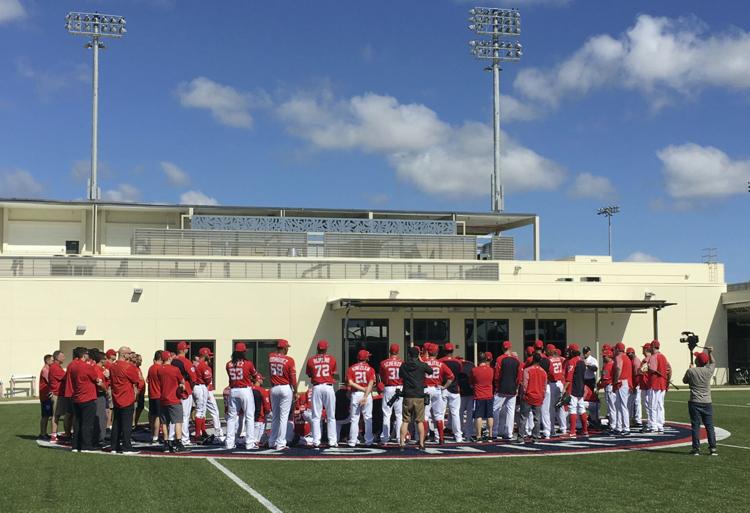 But he hadn't regained enough strength, and his doctors wouldn't allow him to be there when the players, his players, arrived at camp.
So he stayed in contact with staff and players as much as he could from a little over 1,000 miles away.
He texted, he FaceTimed. But none of it satisfied that desire to be there for those early morning meetings, surveying the backfields and constructing the minor league rosters.
By the end of March, with only about a week left in spring training, he finally made his first appearance when he slipped into the daily 7:15 a.m. meeting, greeted by a standing ovation that has remained with him almost a year later.
It marked the culmination of a 16-month journey since his diagnosis and the start of not only a new baseball season but a new chapter in his life as a cancer survivor. It's a book Harris writes each day, whether it's seated behind home plate at FNB Field on City Island, or with the sun on his face under the grandstand in Hagerstown, Maryland, or in his office at Nationals Park.
One year later, he's still helping the Nationals as they make another attempt at the World Series. He was tied to the Atlanta Braves GM opening as a candidate in the winter, according to The Washington Post, but the NL East rival went with former Toronto general manager Alex Anthopoulos in November.
At the end of Rigsby's commencement speech, he implored the students that if they're going to do something to do it the right way. That it's never wrong to do the right thing. That's how they will make an impact and honor all those who have gone before and invested in them.
Harris knows the answer, and he's willing to share it: "Make the most of every day."
Be the first to know
Get local news delivered to your inbox!