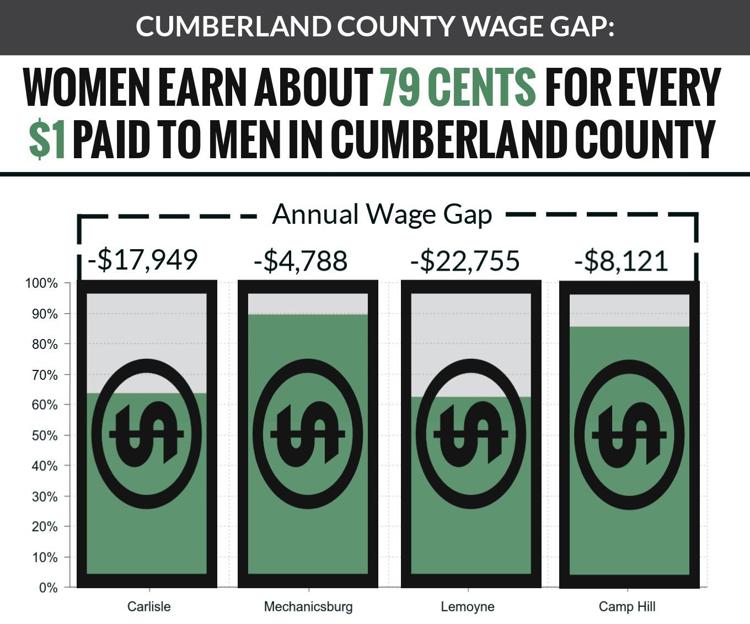 From 1998 to 2004, Pat LaMarche and her male counterpart co-hosted an award-winning radio show that was top rated in the nation for its market size.
"For every one of those years, he made $10,000 more than I did," she said. "My children and I had at least $60,000 less to live on than my co-host and his family had."
Never one to shy away from speaking up, she decided to fight the inequity in solidarity with another radio host and an entertainment attorney at their side, only to be denied new contracts during the dispute.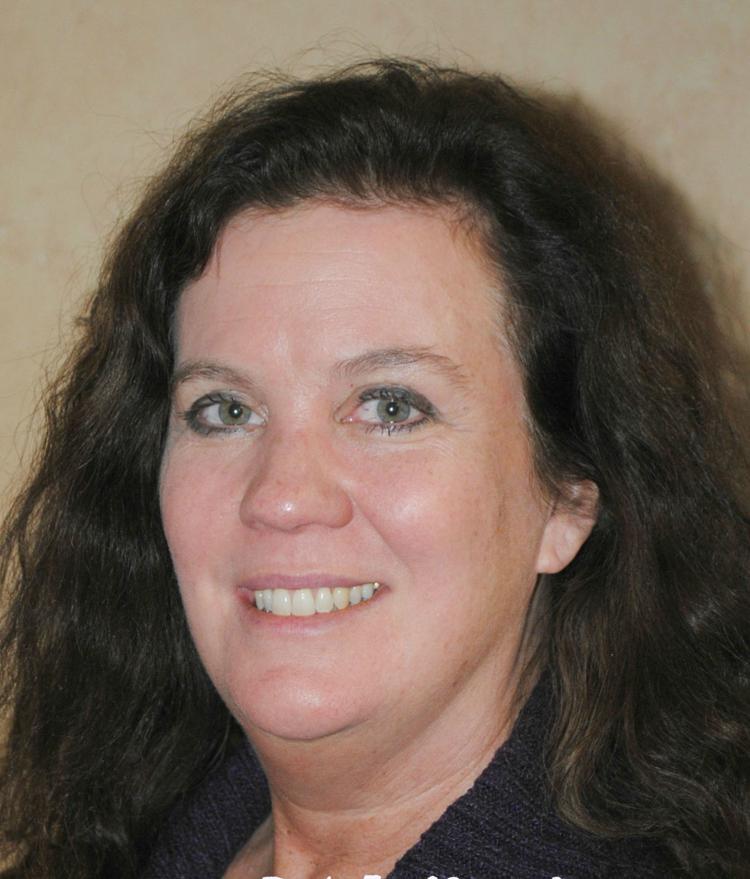 LaMarche shared her story at a forum hosted by the YWCA of Carlisle that called on women to not only learn about the pay wage gap, but also to work to end it.
The numbers
Donna Bickford, director of Women's and Gender Resource Center at Dickinson College, said women, on average, are paid 80 percent of what men are paid.
Women working full-time, year-round in Pennsylvania make 79 cents on the dollar of what men make, giving it a rank of 29th out of 50 for pay disparity.
"We see this gap between Latino men and Latinas. We see this gap between black men and black women," she said.
Black men and black women come the closest to equity, with black women making 90 percent of what a black man earns. Hispanic or Latina women make 87 percent of what their male counterparts earn, and white women make 77 percent of what white men earn, according to data from the U.S. Census Bureau compiled by the American Association of University Women.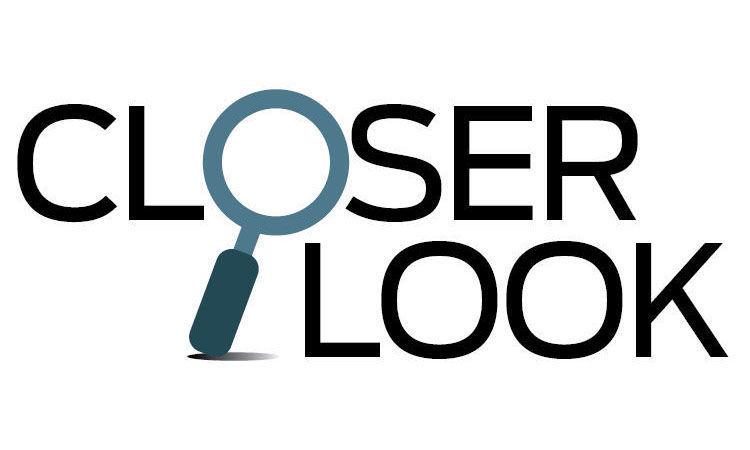 Bickford also said transgender women who have transitioned from male to female tend to experience a drop in pay post-transition, while a transgender man sees no difference or even a small increase in pay after transitioning from female to male.
This, she said, adds to the evidence that the pay gap is gender-based.
On a weekly basis, it takes a woman until Tuesday of the following week to earn what a man earns in a single week, Bickford said.
Taking that to a yearly example, women caught up to men's earnings from 2017 on April 10, 2018. Next year, they will catch up to men's 2018 earnings on April 2, 2019.
The date stretches out further for black and Latina women who make even less when compared to their white, male counterparts.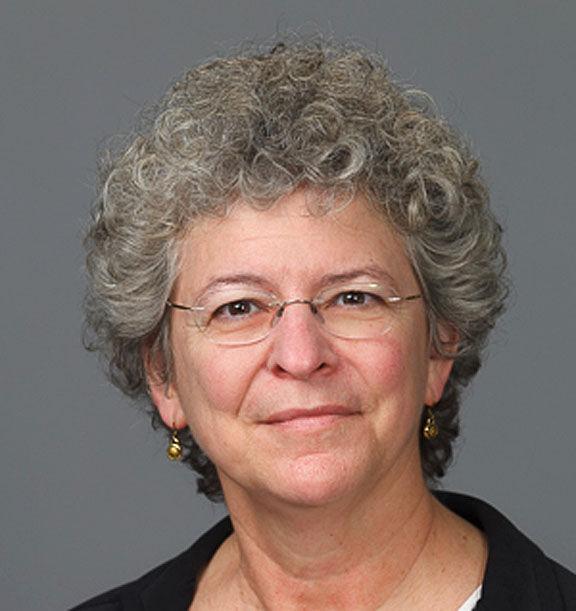 "African-American women would not have to wait until Aug. 7 to make what men made last year, and Latina women would not have to wait until Nov. 1," said Barbara Price, AAUW Public Policy co-chair, on the impact of eliminating the gender pay gap at a news conference earlier this year.
Higher levels of education may mean a higher weekly paycheck, but it comes with a greater gender pay gap. Women with less than a high school diploma have a median weekly income of $423 compared to the $551 earned by their male counterparts. At the other end of the scale, women with an advanced degree earn a median income of $1,257 compared to the $1,707 of their male counterparts.
To look at the numbers in percentages, women who have not graduated from high school make 77 percent of what men who have not graduated from high school make, and women who have advanced degrees make 74 percent of what their male counterparts make.
"The gender wage gap is the highest at the top of the educational attainment ladder. Women with the most education have the largest wage gap," Bickford said.
Causes
Merit-based pay structures are acceptable. A surgeon should earn more than a grocery clerk. However, there's no place in society for gaps based on skin color and gender, LaMarche said.
"Without economic justice, there is no justice. As long a gender and race are determining factors in how a person is paid, our economy and our justice system falters," she said.
So, how does gender become a factor in pay rates?
There isn't a single explanation or cause; rather a number of factors come together in different proportions to create the overall pay gap.
One factor is what Bickford called "occupational segregation," or the concept that careers are predominantly male or female.
Statistics from the 2017 American Community Survey for Cumberland County show the top occupations for men are transportation, which is 100 percent male; installation, maintenance and repair occupations, which are 96.4 percent male; and construction and extraction operations, which are 96.2 percent male. The top occupations for women are health care support occupations, which are 91.3 percent female; health technologists and technicians, which are 71.2 percent female; and office and administrative support occupations, which are 68.6 percent female.
The corresponding median earnings for male-dominated occupations are $51,452 in transportation, $47,640 for installation, maintenance and repair occupations and $41,524 for construction and extraction operations.
The corresponding median earnings for female-dominated occupations are $35,117 for health care support occupations, $38,591 for health technologists and technicians and $36,372 for office and administrative support occupations.
"Not surprisingly, female careers generally have a lower salary," Bickford said.
Women are also affected more by becoming a parent than men. Most families make choices on which, if any, parent will stay home with children based on who makes more money. So, gender pay gap would play into that decision as well, Bickford said.
Mothers also experience what has been called a "motherhood penalty' in that employers are less likely to hire mothers and will offer mothers lower salaries than they do other women, according to A Simple Truth.
"Fatherhood is bonus for men. Often, fathers receive higher wages after their children are born," Bickford said.
The future
"Equal pay is one of our signature issues. So we're involved at the national level and also at the state level to enact legislation," said Ann Pehle, president of both the Carlisle chapter and the Pennsylvania AAUW.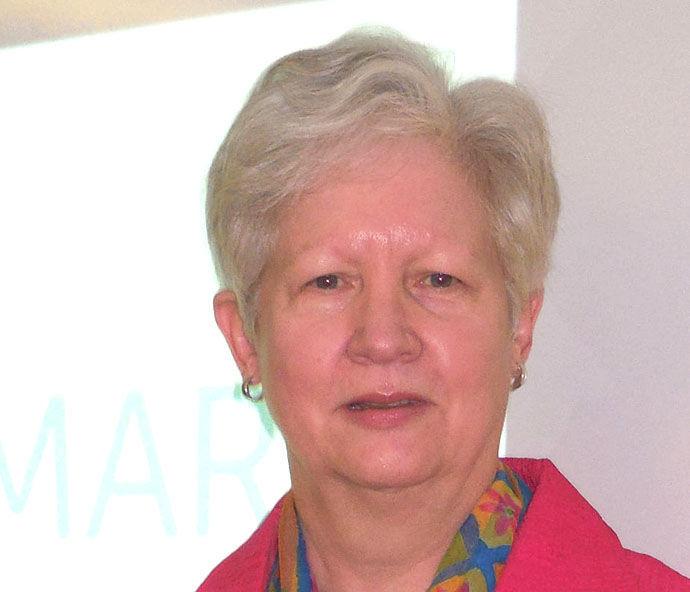 Though Pennsylvania passed an equal pay law in 1959, it does not prohibit questions about salary history and it does not prohibit the use of gender as the reason for discrimination, she said.
Salary history becomes a key factor in the gender pay gap because employers use the information to set salaries assuming, often incorrectly, that the woman was paid fairly and equitably for their work.
In June, Gov. Tom Wolf signed an executive order that no longer asks an applicant for their salary history during the hiring process for state jobs. It also requires salaries to be based on job responsibilities, position pay ranges and the applicant's knowledge and skills. The pay range must also be clearly explained on job postings.
In signing the order, Wolf also called on the Legislature to pass similar measures to cover all working women in Pennsylvania.
"It's (salary history) assuming that you were paid correctly all in the past. It just compounds a bias that we know is happening," he said.
Speaking at the signing ceremony for the executive order, Price spoke about how the gender pay gap affects women and families, saying the high poverty rate for working single mothers would be reduced nearly by half and two-thirds of working women would receive a pay increase if the gap were eliminated.
Retirement earnings for women would not be 33 percent less than that of men, and fewer senior women would be in poverty, she said. Working women would be able to purchase an average of 14 months more child care. Black women could pay 19 months more rent, and Latinas could pay for 1.6 years of tuition and fees at a four-year public university.
"Women would be able to pay off student debt sooner, incurring less interest with fewer debt defaults. And this is significant since women hold almost two-thirds of the $1.5 trillion in student debt in this country," Price said.
Pehle said several bills had been introduced to address the gender pay gap during the current session of the state's General Assembly, but the session is coming to a close with the upcoming election, and these bills will need to be reintroduced in January. Calling representatives at this point isn't as helpful as registering to vote, voting and making the gender pay gap an issue in the campaign.
"Every campaign forum that you go to, ask the question. Contact every campaign and tell them that equal pay is an issue that's important to you," she said.
She also said it was important for women to share their stories.
"Right now, our advocacy is all around the statistics. We need to tell how these stories are impacting women," she said.
Advocates for equal pay should also understand the compensation practices where they work and talk to their employers about the inequalities they see.
"Many times they don't really realize that the structure they put in place is causing the wage gap," she said.
Women also have to ask for more than a seat at the table, said Robin Scaer, executive director of the YWCA. They have to be willing to take a seat at the front of the room, and to almost be an agitator to say that it isn't enough just to get the invitation so that others can feel they have done enough.
"If you're going to be at the table, you're there because you need to use your voice," she said.
LaMarche, for example, pointed to the Kiwanis Club and the Rotary. Both clubs are key to networking in business, but only allowed women as members in 1987 for the Kiwanis and 1989 for the Rotary. Allowing women shows that women were recognized as good business owners and members of the community.
She said she wasn't calling out those groups, but using them to show that women have had a seat at the table for 30 years and there has been no change in the gender wage gap.
"Just being in the room isn't enough. It takes more. It takes a lot more," she said.