On Aug. 6, 2014, Walmart opened its doors in Lower Allen Township, the newest location in Cumberland County. Within a day of opening, Lower Allen Township Police made a retail theft arrest at the location.
"That's when we knew," Lower Allen Township Police Lt. Gregory Thomas said and chuckled.
Officers were about to spend a lot of time — and the township more money — to address theft issues at the big box store.
Within six months of Walmart opening near the Capital City Mall, charged incidents of retail theft more than tripled in the township, according to an analysis of court records conducted by The Sentinel. Retail theft cases have remained consistently two to three times higher since the opening of Walmart than they were before it opened, according to court records.
In fact, prior to Walmart opening, Lower Allen Township was on pace to see slightly fewer retail theft incidents in 2014 compared to a year earlier, The Sentinel found.
The year ended more than 40 percent above 2013 levels, with the entire increase coming after Walmart opened, according to court records.
"Crime happens at Walmart that doesn't happen at other stores, and I can't tell you why," Thomas said. "Or else Walmart is better at detecting it than other stores."
The vast majority of retail theft incidents in Lower Allen Township occur at the Walmart, according to court records. Nearly 80 percent of retail thefts in the township occurred at Walmart in 2017. The next closest location was the Capital City Mall, which accounted for roughly 13 percent of charged retail thefts, The Sentinel found.
All other stores and retailers in the township made up less than 8 percent of cases.
Locations
Lower Allen Township is one of four municipalities in Cumberland County to host a Walmart. In each of those municipalities, the major retailer was the No. 1 location for charged retail thefts in 2017, The Sentinel found.
Other stores are in Carlisle, Silver Spring Township and Shippensburg Township. In each of those municipalities, retail theft accounted for at least 10 percent of all new cases filed in 2017.
Camp Hill was the only municipality in Cumberland County where retail thefts exceeded 10 percent of all criminal cases in 2017. Roughly 20 percent of new criminal cases in the borough included a retail theft charge, with most occurring at Boscov's, according to court records.
A typical retail theft case in Lower Allen Township uses about six hours of time for an officer between taking the initial report, arresting the suspect, transporting them to booking in Carlisle, filing paperwork and attending court hearings, Thomas said.
Based on payroll data from the township's annual budget, each arrest costs the county roughly $250.
That means retail theft arrests at Walmart alone in 2017 came with an estimated price tag to the township of more than $17,000. That is more money than Walmart pays in property taxes to the township, based on Walmart's assessed value and the current township millage rate.
This does not include calls for other crimes at Walmart or calls to Walmart that did not result in an arrest.
"With the benefits [of having a Walmart] comes a cost," Thomas said. "A lot of people go there from all classes, all generations, all ethnicities, and sometimes they are an easy victim for certain kinds of crimes and that's not necessarily Walmart's fault."
Cases
The cost to Lower Allen Township in increased retail theft cases may have come as a benefit to nearby Silver Spring Township.
Retail theft cases began falling in Silver Spring Township around the time the Walmart opened in Lower Allen Township, according to court records. Criminal case filings involving a retail theft charge in 2014 were nearly 40 percent above 2013 levels in Silver Spring Township prior to the Walmart in Lower Allen Township opening, The Sentinel found.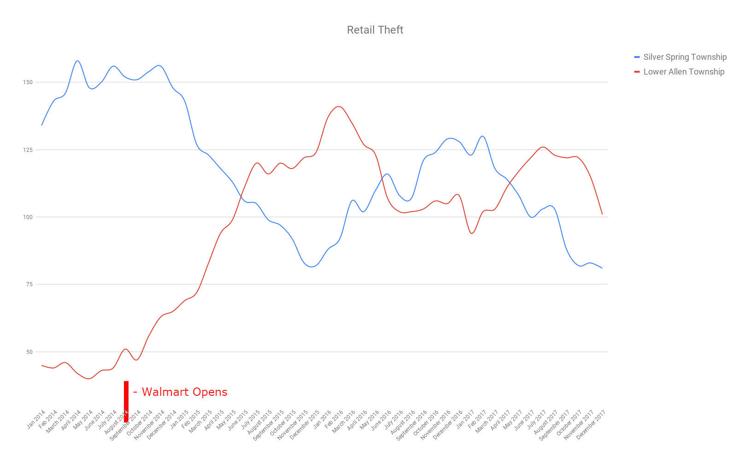 The remaining five months after the Walmart opened saw a more than 10 percent decrease compared to a year earlier, according to The Sentinel's analysis. Overall retail thefts are down roughly 40 percent in Silver Spring Township compared to 2013, court records show.
Retail theft cases countywide did not increase in connection to the opening, according to court records.
Lower Allen Township Police have added about two new officers since the Walmart opened, Thomas said.
He said this was not directly related to the Walmart opening but a response to a rise in criminal cases, which Walmart has contributed to.
"Because of the resources we have, we are not able to do things that we probably would because we are at Walmart," Thomas said. "I don't know if it's detrimental to other things ... because the people who are getting arrested at Walmart may be getting arrested other places doing other things if we're not dealing with them there."
Despite all of this, Thomas and Carlisle Police Sgt. David Miller said their respective organizations have a solid relationship with Walmart.
Both men commended the retailer for the quality of their video systems and their loss prevention staff.
"If they have a good loss protection and they know what to look for and they contact us, we can solve a lot of crime," Thomas said. "In essence that makes us busy, but we're arresting people who are going to commit crimes anyway. We don't mind if we're the people arresting them. It just keeps us busy."
Thomas said when it is possible, Walmart is responsive to concerns that Lower Allen Township Police have and makes changes when police provide suggestions to better deter or prevent crime.
Walmart spokesman Casey Staheli said the company has recently invested more money into crime deterrence, including hiring more than 10,000 hosts nationwide to work near the entrances of stores and investing in new crime prevention and detection technology.
"We want to be good members of the community because our employees work there and our suppliers are there," Staheli said. "That's why we're big proponents of giving back to the community and supporting local organizations."
Staheli said Walmart gave roughly $30 million to local organizations across Pennsylvania in 2017.