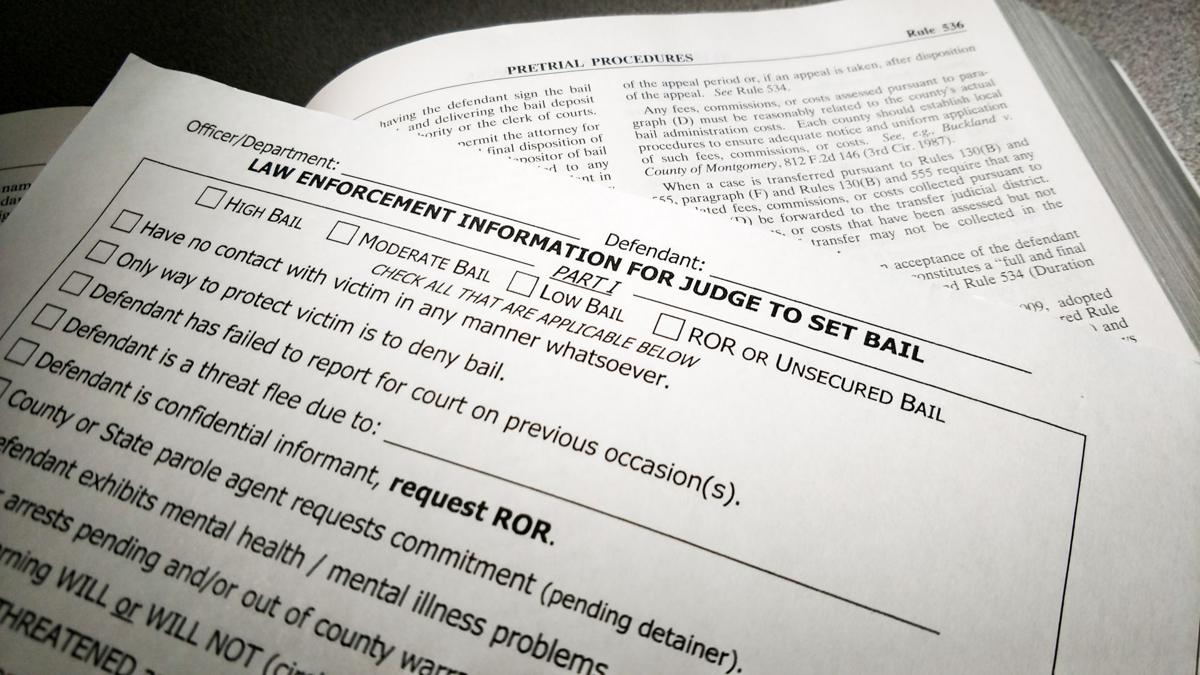 Setting bail has consequences.
For a defendant, the consequence can be the difference between going home or sitting in jail.
Even a short stay in jail can cost an individual their job or even their home.
Defendants who are unable to post bail are more likely to be sentenced to jail or prison and serve longer sentences than those who are released, according to the Laura and John Arnold Foundation.
For society, releasing a person who is likely to flee means they may not come back. Releasing a person who is a threat to others means an increased chance someone could get hurt or worse.
But holding the wrong people can also cost society and local government beyond just the dollars and cents of incarceration.
Low-risk defendants held for even two to three days become roughly 40 percent more likely to commit a new crime than those held less than 24 hours, according to a study conducted by the Arnold Foundation.
An investigation by The Sentinel in June found defendants with monetary bail imposed were less likely than similar defendants without monetary bail to pay restitution and other court imposed debts.
All of this is to say there is incentive for everyone to get these decisions right at the earliest possible point.
"Everybody makes mistakes. A lot of us do dumb things, and then there's evil-doers," Magisterial District Judge Charles Clement said. "The first two categories, you figure out a way to be as reasonable as possible, and the evil-doer category, you've really got to protect the community. How you decipher who's who isn't always the easiest thing."
In 2014, more than a quarter of all defendants in Cumberland County who had monetary bail imposed had their bail reduced and were later released without having to put up any cash, according to an analysis of court records conducted by The Sentinel.
More than 70 percent of those defendants returned to court as directed without issue, according to the analysis.
For some, the time between when bail was set and when they were released without monetary conditions was the only time they spent in prison.
Between 2013 and 2014, more than 120 defendants combined to spend roughly seven years in Cumberland County Prison because they could not post bail only to appear as directed when released without having to post cash and receive a non-prison sentence, according to the analysis.
A growing trend in criminal justice is the use of algorithms, known as risk assessments, to help quantify the decision-making process.
A recent study by the Arnold Foundation found a county in Ohio was able to reduce its pretrial crime, increase its court appearances while doubling the number of people released without cash bail after implementing a risk assessment tool developed by the foundation.
What risk assessments are
"It's basically having any guideline where the characteristics of the individual, or the case, will help define what the consequences or whether person is detained," University of Virginia Assistant Professor of Public Policy and Economics Jennifer Doleac said. "The alternative is just giving the judge … complete discretion. They kind of hear the case and whatever feels right to them is what happens."
Pennsylvania largely operates under the latter. Aside some of the most serious offenses like criminal homicide, judges have wide discretion in choosing the type and amount of bail.
Risk assessments are generally short surveys about things like the defendant's prior criminal history, previous failure to appear for court proceedings, employment history and any substance use issues.
The questions are based on factors that have been researched and determined to be highly connected to the risk the average defendant has of failing to appear or committing a new crime.
The answers are weighted and a score correlating to a risk category is provided at the end.
For example, the Ohio Risk Assessment System Pretrial Tool uses seven questions and provides three categories of risk: low, moderate or high.
"If the only factors that go into it are things that we think directly affect someone's likelihood of failure to appear, or committing another crime or whatever it is we are trying to avoid, than whatever the risk assessment says … should remove the kind of individual level idiosyncratic biases that individual judges would have," Doleac said.
What they aren't
"Ultimately we want to just know what the person's true risk level is," Doleac said. "Unfortunately, that is impossible."
Risk assessments to do not eliminate all risk or provide absolute certainty of the outcome of individual cases.
In the case of the Ohio Risk Assessment, roughly 5 percent of low risk defendants will likely fail to appear for court as directed if released.
However, under the current system, roughly 17 percent of defendants in the Court of Common Pleas between 2010 and 2015 failed to appear as directed when released, according to an analysis of court records conducted by The Sentinel.
Roughly 90 defendants charged in 2015 with a misdemeanor as their highest charge combined to spend more than 2,600 days in Cumberland County Prison pretrial before being sentenced to probation, according to court records.
Doleac also said risk assessments do not necessarily eliminate racial or other biases in the system.
If minority defendants are more likely to be arrested at younger ages or have more interactions with the criminal justice system because of structural biases, a question about the age the defendant was when he or she was first arrested will not eliminate that bias.
"If you are deciding whether or not someone is a risk to fail to appear … and you know the person is unemployed and has no family, we know those things seem like they would be very plausibly causal factors to show back up in court," Doleac said. "It's just easier for you to take off if you don't have any ties.
"But, we also know that black men are more likely to be unemployed, marriage rates are lower and those types of factors are going to be correlated with race," she said. "You have to draw a line somewhere."
For Doleac, that line is whether the factors going into the risk assessment have an independent connection to the risk of failing to appear or committing a new crime.
"What would concern me in an algorithm is if two people with identical observable characteristics, employment status, criminal history whatever — one black, one white — if they wound up with different scores," she said. "This is an important conversation to be having."
Be the first to know
Get local news delivered to your inbox!