On any given day, men sit and receive dialysis treatment in a medical facility past the razor wire fence and through numerous steel bar doors that buzz and clank as they open and shut at SCI Laurel Highlands.
On any given day at the state prison in Somerset County, men restricted to using wheelchairs because of old age or infirmity roll up to a window to receive their medication.
From the outside, SCI Laurel Highlands looks like many other prisons, but the inside tells a different story.
SCI Laurel Highlands was formerly a state mental hospital that closed in 1995 and reopened as a prison with specialized care for medically compromised inmates, said Annette Kowalewski, corrections health care administrator.
The facility housed 20 inmates at its opening and has since grown to roughly 1,600 inmates—about 300 of whom are at the prison for medical care.
For many, SCI Laurel Highlands is the last place where these men will live.
"Being in prison would be a low point for any man or woman, but when you see the other people that are in a bed and they can't move, or they can't do something as simple as getting up to go to the bathroom ... by you being there for that particular individual, it helps you deal with the stress of your own situation," said Antoine, an inmate in the general population who volunteers in the prison's hospice care unit.
The Pennsylvania Department of Corrections provided The Sentinel access to SCI Laurel Highlands to photograph and interview inmates under the condition that last names of inmates would not be used and the circumstances around those inmate's crimes would not be discussed.
Helping fellow inmates
"When I first started volunteering, I would come visit this one guy and help him eat every day," Antoine said.
Antoine spent most days just helping the man go through a daily routine like helping him eat, bathe and get dressed.
"I was doing this for about two years," he said. "It came to about month before he was supposed to go home, but his health was declining so fast, he had to go to the hospital. When he came back, he got worse. When he passed away it bothered me a lot. ... That really hurt a lot."
When an inmate appears to be nearing the end of their life, volunteers will take turns sitting with that person around the clock, making sure they don't die alone.
"It's a helpless feeling when you can't do anything but comfort or assist," another inmate named Jerry said. "I can't do anything more than this, but I'm going to put everything I have into this so that person knows I'm there."
Antoine and Jerry spoke while sitting next to four mortuary cabinets that staff said were empty at the time.
"The other realities is, I still have to get up and I'm still in prison," Jerry said. "We all use each other for strength. We call on each other, but we keep moving because at any given moment the nurses could call us and say 'we need you again.'"
Prison increases
At the end of 2000, about 330 inmates in the state system were 65 years old or older, according to an annual report from the state Department of Corrections. Of those, about 75 people were serving life without parole sentences, according to the report.
There has been a more than 400 percent increase of older inmates since that time.
"It's a cumulative process," said Daniel Nagin, professor of public policy and statistics at Carnegie Mellon University. "While there's comparatively few admissions for these lengthy times, over time they accumulate, because people aren't released."
More than 1,600 inmates in state prison at the end of 2017 were 65 years old or older, and roughly 650 were serving life without the possibility of parole, according to Department of Corrections annual reports.
During the same time, new sentences of life without parole dropped by roughly 27 percent.
"I was stunned when I walked through [SCI Laurel Highlands] for the first time," Pennsylvania Secretary of Corrections John Wetzel said. "It was hard for me to wrap my head around why we can't just get [these men] out. Clearly, those folks are incapacitated and will always be incapacitated. ... The answer on everyone I checked was they were a lifer or a sex offender serving a bunch of time."
Housing these inmates for lengthy prison terms is expensive and may provide limited public safety benefits.
According to a report done by the Connecticut Office of Legislative Research, the average annual cost for housing inmates in long-term care in SCI Laurel Highlands was nearly double that of an inmate in general population at other facilities in the state.
Kowalewski said the increase is a result of the added medical care needed for those inmates, nearly all of which is borne by the state.
Federal law bars the use of Medicaid or Medicare to pay for medical expenses in nearly all circumstances while a person is incarcerated.
Aging and crime
"There is an enormous body of work that as people age their criminal involvement – no matter how you measure criminal involvement starts declining," Nagin said.
Nagin said part of the explanation for the decline is that people tend to become involved in significant relationships and find steady employment as they get older.
"Part of it is simply getting older," he said. "As you get older in various ways you slow down. Just the aging process is a significant contributing factor" in people aging out of crime.
A 1983 article in the American Journal of Sociology found this aging out effect cuts across all demographics, and The Sentinel found a similar effect in Pennsylvania.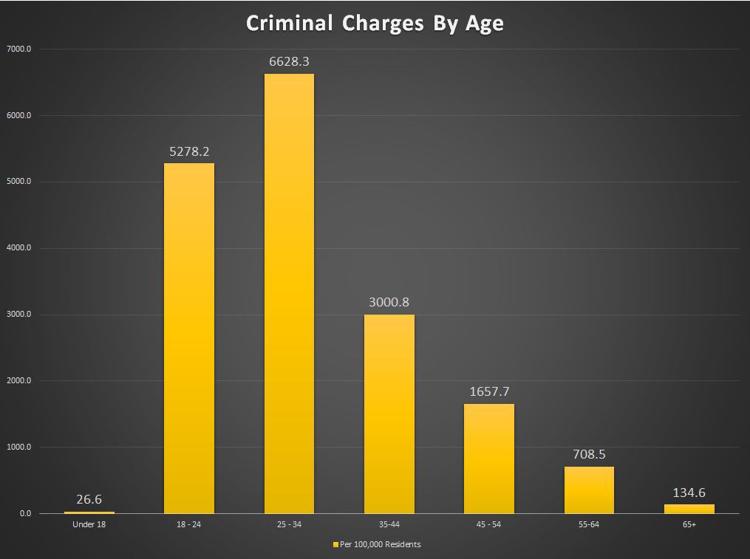 The Sentinel reviewed more than 240,000 criminal dockets filed in the state in 2016 to determine the age the defendant was at the time the alleged crime occurred. Similar to the abundance of research before it, this review showed a sharp drop off of criminal offenses when people reached about 30 to 35 years old.
People age 65 or older were roughly 97 percent less likely to be charged with a criminal offense in the state than someone between 25 and 34 years old, according to The Sentinel's review.
This held even for violent crimes like aggravated assault.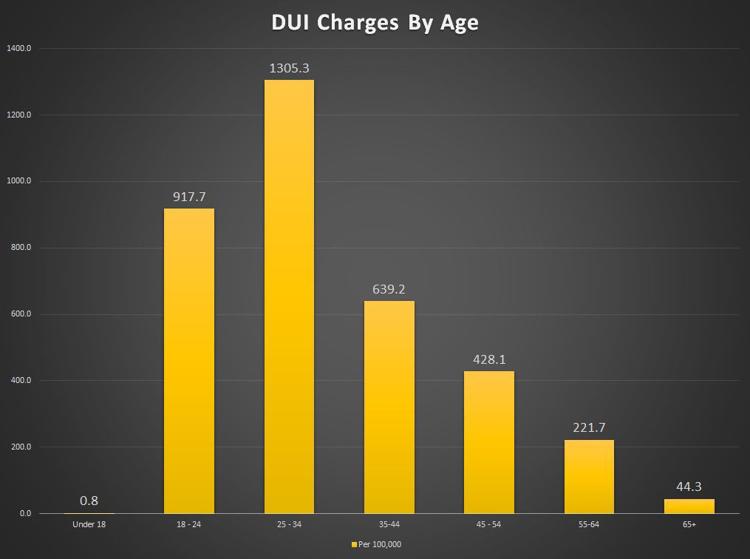 "Even those gentlemen who've committed murder or rape, some of them have found redemption," Kowalewski said. "Some of them have been educated. Some of them have been rehabilitated, but it's a long road to go.
"I think it's best for us to realize that they are human beings first, and we have to look past the crime and do what is best for them while they're incarcerated," she said.
"I think it's best for us to realize that they are human beings first, and we have to look past the crime and do what is best for them while they're incarcerated." Annette Kowaleski, correction health administrator
In Focus This week The Sentinel takes a Closer Look at aging into crime: Today Pennsylvania deals with aging prison population Monday A look at elderly criminal defendants Tuesday Elderly are more likely to be victims than offenders