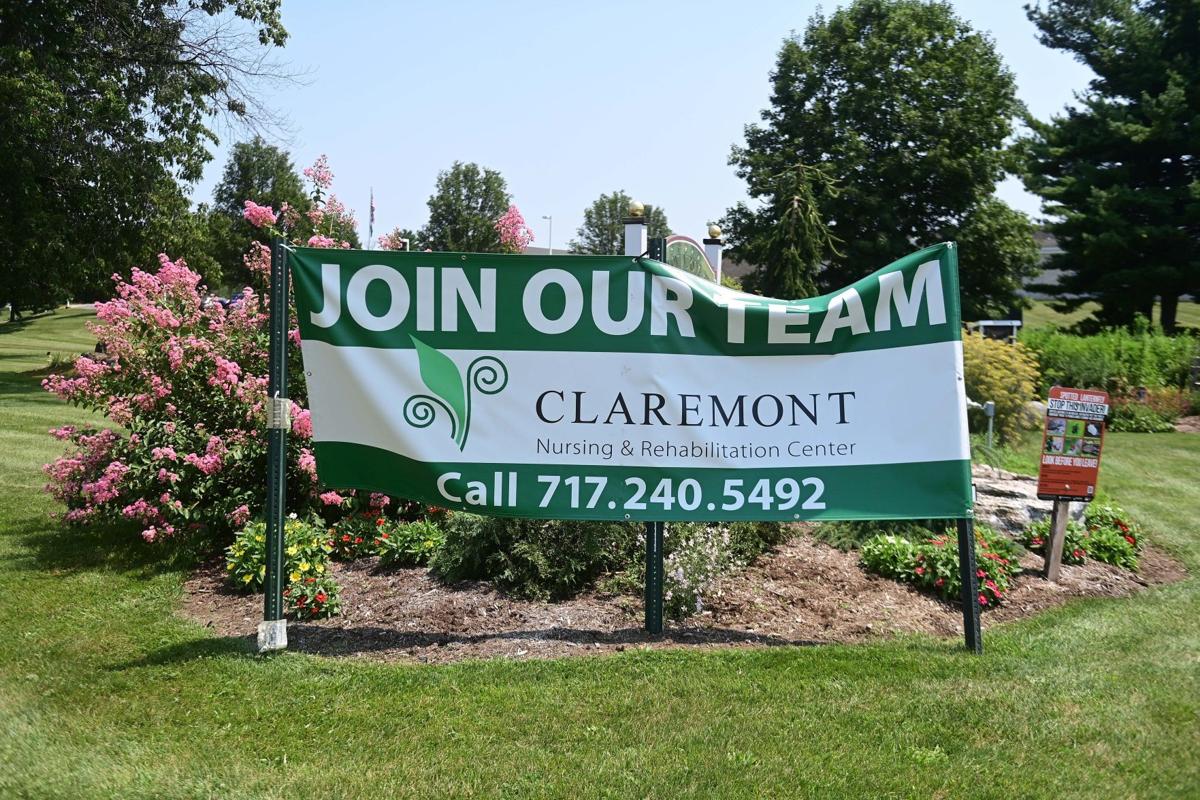 As Cumberland County's anticipated sale of Claremont Nursing and Rehabilitation Center winds on, residents at the home say the county's situation has created a self-fulfilling prophecy, as staffing shortages and a lack of communication cause them to fear how sustainable the facility is under public or private ownership.
While residents interviewed by The Sentinel indicated that Claremont has always faced organizational and staffing challenges, turnover has become much more acute in recent months due to the stresses of the COVID-19 pandemic and the county's stated intention to privatize the facility — an assertion about turnover that is backed up by the county's own information.
That same group of six residents said communication, beyond an initial meeting with the county's sales consultant last fall, has been limited, leaving the residents to question how the county is negotiating a sale for a facility whose financial and staffing slide is ongoing.
"We're scared," resident Sherry Clifford said. "We've had [nursing staff] who were solid, who we thought would stick with us through thick and thin and were here through COVID, and then we found next week, 'she's gone.'"
Cumberland County is negotiating a sale deal with Allaire Health Services, the nursing home chain that is the sole remaining active bidder for Claremont. The county announced Tuesday that it had scheduled votes for Wednesday relating to the Claremont sale, which would be the first public votes on the matter in many months.
The nursing home's account balance, which has been declining for years, began to accelerate its losses last year, and is now $2.1 million in the red as of the county's April 2021 financial report, requiring subsidy from the county's general tax fund to continue operations. This has prompted commissioners Gary Eichelberger and Vince DiFilippo to support a sale to private, for-profit entity they believe can turn Claremont around; Commissioner Jean Foschi has said the county has failed to vet all of its options for the nursing home.
That financial decline is driven by a drop in resident count that began last spring as the COVID-19 pandemic arrived. But as the situation with the virus eased into this year, the county has been unable to rebuild Claremont's census, which in April averaged 146 residents for a 282-bed facility.
The primary driver of this, according to Claremont's recent board presentations at county meetings, is a lack of staff to provide adequate care for a full complement of residents.
Claremont has 201 employees and 153 vacancies, according the county's most recent count this month. The county is still aggressively advertising jobs, and has continued its Walk-in Wednesday program for on-the-spot hires. The county will also help uncertified staff pay for nurses' aide training at HACC, according to county Communications Director Samantha Krepps.
The situation comes at a time when the state is putting additional scrutiny on nursing home staffing. Last week, the Pennsylvania Department of Health announced that it would increase the minimum direct care hours for nursing homes as part of a regulatory overhaul by Gov. Tom Wolf's administration.
All of this leaves residents skeptical as to Claremont's fate if and when the sale process concludes.
"It seems like maybe we'll just drag this on for a while longer and maybe a few more people will die and a few more will quit," said resident Kim Fuhrer, at which point, he feared, the county would be in a fire-sale situation.
Fuhrer, Clifford and other residents described staffing turnover that keeps residents on their toes. New nurses and aides are unfamiliar with residents' medication, and turnaround times can be long when residents point out that they aren't getting the right thing.
"'I'll have to give it to you later,' or 'I have to call to see if it's the right medicine,'" are now common refrains, resident Richard Detwiler said.
The second and third floors of Claremont's multistory wing were closed some months ago, residents said, and occupants were consolidated in the remaining space to make care easier with limited nursing staff. Even then, wait-times are growing for residents who need physical assistance in getting out of bed or to activities.
As of February, according to Claremont's board meeting records, the facility's third floor had been shut down and second floor occupancy had been cut by 50 percent.
Residents said they don't blame the care staff themselves, but rather the chaos created from the county's lack of communication during the pandemic and the extended sale process.
"We have staff members who are excellent at their jobs," resident Eileen Sandors said. "But these individuals are not being treated properly. ... It all started when we were told it was going to be sold."
The stress of COVID then stacked on top of this, residents said. The pandemic's impact on Claremont was limited during the spring and summer of 2020, but case counts and eventually deaths began to accelerate over the fall and winter. State data now shows 137 COVID-19 cases and 39 deaths from the virus among Claremont residents.
"[Staff] would come back on a Monday and four of the people they took care of on Friday had passed," Fuhrer said, a situation that certainly contributed to staff attrition.
"I said 'honey, if you can't take this, get another job,'" resident Joel Millar recalled telling one staff member. "'I'm not running you into the ground — you have to take care of yourself.'"
Claremont's staffing reports, presented to the county commissioners at monthly board meetings, indicate that the problem has become more acute on the timeline residents have suggested.
The facility had a banner month for hiring in July 2020, gaining 11 full-time staff members and losing only eight. But since then, the turnover has been consistently negative. In the nine months ending in April 2021, the last available report, the county lost 63 full-time staff members and gained 11, and the math for part-time and per-diem jobs is no better.
Claremont staff, according to the minutes of the county's recruitment and retention meetings, point to a combination of COVID and sale fears as the main barrier.
In April, for instance, staff said that "a lot of people are having a lot of anxiety about what is going to happen with the sale of the nursing home" and that "we are fighting [a] pretty tough battle with the sale and COVID," according to the monthly meeting report.
Claremont's experience isn't necessarily unusual; job openings in the health care and social assistance sector, as reported by the Bureau of Labor Statistics, have been accelerating since late last year and were pegged at a record-high 1.48 million openings nationwide in May.
The proposed regulation that the Department of Health rolled out Wednesday would increase the minimum direct-care staffing hours per resident per day from the current 2.7 hours to 4.1 hours, a standard that has been endorsed in recent studies of long-term care facilities.
A study of federal data from the Centers for Medicare and Medicaid Services conducted last year by Spotlight PA, an investigative news outlet affiliated with the Philadelphia Inquirer, found that most nursing homes in Pennsylvania exceeded the 2.7 hour legal minimum but did not hit the 4.1 hour practical minimum.
The most recent CMS data set, compiled last year, pegs Claremont with 3.77 hours of direct-care staffing per resident-day.
Two of Allaire's New Jersey facilities had slightly lower direct-care staffing levels relative to Claremont, according to CMS. The company's other New Jersey facility had a slightly higher level than Claremont, and Allaire's Pennsylvania facility was one of the few to come in above the new proposed minimum, with 4.16 hours of direct-care staffing per resident-day, according to CMS data.
(Allaire purchased a fifth facility near Bennington, Vermont, last month, according to the Bennington Banner).
According to residents, the county's sale consultant gave a presentation to groups of residents last fall, shortly after the divestment inquiry was announced. But since then, residents have relied on media reports to find out how the sale has progressed.
Fuhrer, who has served as the head of Claremont's residents' council, said he would welcome a meeting with the county commissioners to discuss the environment at the facility, but has so far been unsuccessful in gaining one.
"We would tell them, any time they want to come, they're welcome," he said. "A lot of the [staff], they say the commissioners are running the place into the ground. They want to get off the ship."