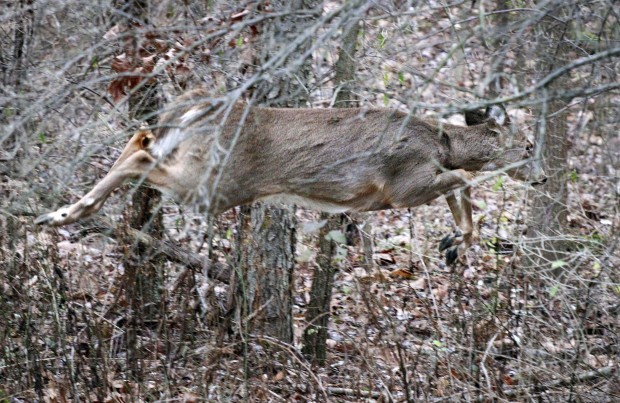 Some liquor stores are now open on Sundays. Organized sporting events could not be held on Sundays up until 1931. And don't expect that new car at the end of the weekend because car dealerships are closed on Sundays.
These are some of examples of blue laws that existed, or still exist, in Pennsylvania. The state's founder, William Penn, and the Quakers established such laws in accordance with their traditional beliefs.
One blue law in particular has divided hunters statewide and is an ongoing issue — hunting on Sundays.
Pennsylvania law regulates that deer hunting on Sundays is illegal. However, fox and coyote hunting, along with checking and resetting traps, remains legal. For many, the law prohibiting deer hunting is a relic of the past.
"I really don't understand it," said Jeff Giles, a hunter out of Carlisle. "It sucks, for a lack of better words."
Giles, who has hunted in Pennsylvania and neighboring states, said that other states have successful deer programs, and he does not understand why Pennsylvania still disallows hunting on Sunday. Having children that are involved at school and in sports, Sunday would be a perfect opportunity for them to get out in the field, he said.
Along with recruiting a stronger base of younger hunters, Giles said that the extra day would be an opportunity to bring back hunters that have given up the sport.
Gregg Webber, a hunter out of Carlisle, agreed.
"It's just another way that I think Pennsylvania is behind the times, especially with the revenue that it would produce," Webber said.
He said he knows of neighboring states that enable Sunday hunting without having any issues, and that Pennsylvania would capitalize on the money that hunters would otherwise use to hunt out of the state.
But a local store owner is not enthusiastic about Sunday hunting. Brad Wenger, owner of Wenger Meats and Ice in Carlisle, said he believes the additional day of hunting would interfere with a day that is used as a day of rest. Wenger's store, at 511 E. Louther St., offers game processing, and he vowed to continue to accommodate hunters who take deer after hours or on off days. Opening the store on Sundays, however, is out of the question.
"Fifty years ago, stores and shops were closed and people didn't do anything on Sunday but go to church," Wenger said. "The minute you do allow for hunting, a lot of people will have to work as a result for it."
Harold Hamilton, owner of Hamilton's Gunsmith Shop at 74 Clugston Road in Newville, was not sure how Sunday hunting would affect his business, and said that time would be the determining factor. The effect on hunters, Hamilton said, also would be hard to determine.
Other than a few more people hitting the field, he did not see the addition of Sunday hunting as something that would lead to a dramatic change in the number of hunters.
"Myself? I don't know how much hunting I would do on Sunday," Hamilton said.
One of the arguments against Sunday hunting is the possible negative effect on the deer population.
Webber said lifting the ban would result in a "win-win situation" — working men with children would have an extra day in the field and hunters would be able to help keep the herd numbers under control.
Giles, however, did not think that everyone would take advantage of the additional day, which would result in the deer population not being in jeopardy, although he said that the herd in the area was less-than-ideal in numbers.
"I still think there's going to be enough people that are old-school. . .and I don't think it will affect the deer herd," Giles said.
Pennsylvania Game Commission spokesman Jerry Feaser said he doesn't believe the additional day would result in an impact on the deer population. But he stressed the issue would need to be handled properly by the commission's board.
"The way that would be best would be to give the ability to the board to implement Sunday hunting when and where appropriate instead of throwing open the door," Feaser said. "That would be the best case so that wildlife managements could be reflected in that change."
The deer population, according to State Rep. Stephen Bloom, R-199, is not an issue about which he has heard concerns.
In a four-to-one margin, Bloom said that most individuals he has heard from, ranging from hunters, landowners and even members of the National Rifle Association, want the ban kept in place due to property concerns. With the additional day of hunting, the fear is that more and more property will prohibit hunting to keep hunters off private land.
The result would be less land for hunters to hunt on, regardless of the day.
"That's a serious concern for both hunters and landowners," Bloom said.
The solution is easy, according to Webber, who said that farmers and owners of property who let hunters on their property only need to be vocal if they don't want their property hunted on during Sundays.
Being vocal, according to Mike Coyle, a hunter out of Carlisle, would not deter blatant disrespect of law and farmers' land.
"I think that's the biggest problems with farmers," Coyle said. "They allow people on their land, expect them to respect it, and they don't."
While an extra day of hunting is appealing to many hunters, Feaser warns that the issue is more complex than just changing the law. Rifle season in Pennsylvania is two weeks long, but Feaser said a change in the Sunday ban could mean additional changes to the sport. He explained that season lengths and bag limits are determined by current participation expectations, and that adding Sunday into the equation could complicate things.
"If you add a potential high-participation day, such as a Sunday, you may see shortening of season lengths or reductions of bag limits to offset that increased participation," Feaser said.
The game commission has expressed interest not only in lifting the ban on Sunday hunting, but also taking the responsibility in implementing it. On June 28, 2011, the commissioners approved a resolution to support lifting the ban on Sunday hunting. In the text of the resolution, it said that Sunday hunting would enable the doubling of number of hunting days for youth during the school year, keep hunters in Pennsylvania and serve as an "effective means of recruiting new hunters and retaining current hunters by increasing the value of the hunting license through offering additional opportunities to spend time in the field."
The state legislature did not act on the resolution.
"It's up to the General Assembly," Feaser said. "There is nothing the game commission can do,"
Although the law that prohibits Sunday deer hunting has been a hot topic among hunters for years, Bloom said that there was nothing on the table to change the law during the 2011-2012 legislative sessions.
"It may be something we would want to look at changing on the state game lands, but it's clear that private property owners and hunters that hunt on private land do not want Sunday hunting," Bloom said.