Victor Barrick just wants his farm to be like it used to be, before the small river of bright yellow mud began to make its way across his field, through his neighbor's property, and over the road into a tributary of the Yellow Breeches Creek.
But it hasn't happened. In fact, it's gotten worse with the recent months of wet weather. Rainwater pools in the warehouse construction site adjacent to his farm in Penn Township, contained by a ridge of clay soil created by the backhoes that are leveling the land in preparation for building.
The apparent solution to this was for the developer to install a concrete drainage culvert into the retention bank, which directs the muck into a pipe running beneath Gettle Road and straight into Barrick's farm.
"The first thing they did was put this clay wall up, and it filled with water back there so they took a backhoe and 'whoosh,'" Barrick said, gesturing as to how the water, heavy with bright yellow clay sediment, flowed over his field.
"I'm assuming we lost four acres," he said. "I did have wheat here, but it drowned it all out."
Barrick's plight might be uncommon, but it's not unheard of, and it might be getting worse, depending on your politics.
Package of bills
Republican legislators in Harrisburg are advancing a package of bills on regulatory statutes, including one that will shorten the timelines for permits to be reviewed and require agencies to use third-party reviewers if permit decisions are not issued on time.
Proponents say the bills will clear up the "paralysis by permit," in the words of Hampden Township Rep. Greg Rothman, which he says inhibits business growth in the state.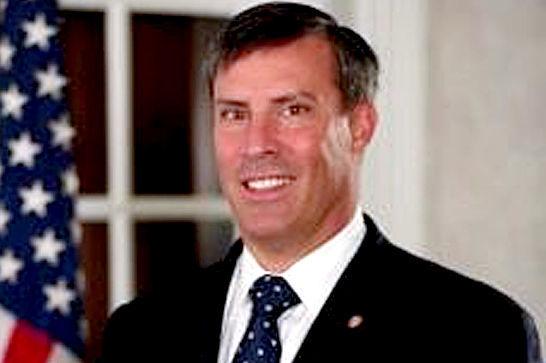 But the local agencies tasked with addressing erosion and runoff fear that Rothman's bill would shorten the timeline for their most in-depth permit reviews from 47 days to just 20, making it more difficult to keep tabs on developments like the one adjacent to Barrick.
"Cutting that [time frame] by half could cause impacts on our ability to protect our resources," said Matt Stough, the chief permitting inspector for the Cumberland County Conservation District.
Like many areas across the state, the Pennsylvania Department of Environmental Protection has delegated powers down to the local conservation cooperative. But these small agencies not only have to review water protection plans on paper, they have to enforce them as well, which means going out and doing inspections.
If the state shortens the timeline to review permit applications, that may mean more staff time spent in the office checking paperwork, and less time spent in the field, said Carl Goshorn, director of the county conservation district.
Cumberland County's Comprehensive Plan is now a lot slimmer, but hopefully a lot more useful.
"By reducing these time frames, we're going to be stuck in the office a little more, and like Carl said, if we're not out, you can have the best plan on paper, but if it's not being implemented, then it's not protecting water quality," Stough said. "That field presence on these sites is very important, and hopefully we don't lose that capacity."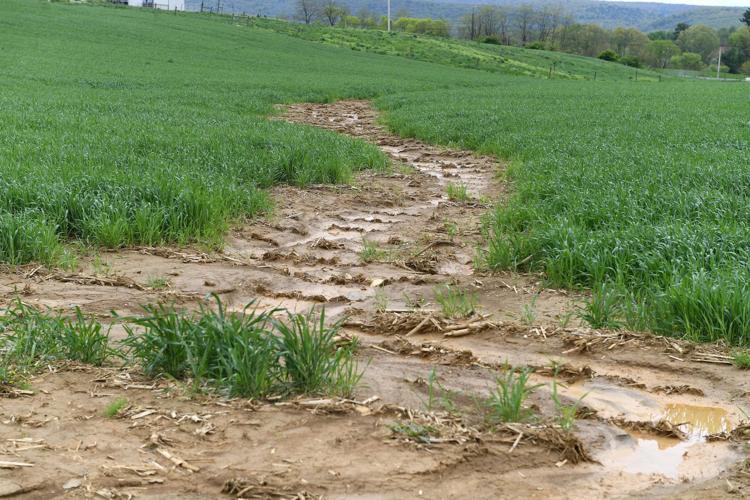 Development
This is Barrick's quandary, the seemingly lopsided enforcement relative to farmers and developers.
The warehouse site abutting Barrick's farm is the Penn Commerce Center, a 2.2 million-square-foot project on the east side of Centerville Road, just south of the Newville exit on Interstate 81. Barrick's main farm fronts Walnut Bottom Road, with fields stretching north, parallel to the warehouse site and separated only by Gettle Road, a stone track that, while owned by Penn Township, is rarely used by through traffic.
Penn Township's planning commission voted Monday night against recommending approval — at least of the current plans — for the Penn Commerce w…
Over the last 20 years, Barrick estimates he's done a half-million dollars of improvements for so-called "best management practices," such as adding vegetation buffers, redirecting drainage and other methods to control farm runoff.
Roughly half of this has been the farm's own money, Barrick said, with the rest coming from state and federal grant programs intended to help Pennsylvania's struggle to meet its requirements for reducing pollution in the Chesapeake Bay.
"The farms get quite a bit of blame for the bay and probably deserve some of it, but we're doing all our best management practices," Barrick said.
"I've got a storm water management plan this thick," he said, gesturing with his fingers, but when a big developer comes in, it all goes out the window. "The inspectors say they're concerned, but their hands are tied because DEP issued the permit."
Routing water across Barrick's property is technically allowed by DEP regulations, according to Goshorn and Stough. There's nothing that says the water has to stay on the construction site.
"The permit conditions do say that the discharge should not cause a downstream nuisance or damage, so to that point, the main problem with the Penn Commerce site has been the weather," Stough said.
In October last year, the conservation district cited Penn Commerce, which is owned by Ridge Development, for failing to implement its erosion and sediment control plan. This included a fine of $3,500 under DEP guidelines, Goshorn said.
Penn Township's planning commission is expected to meet Monday night to discuss the findings of a report regarding the use of injection wells …
Under a consent agreement, the developer was required to put in two retention basins on the site that feature skimmers — a device, Stough explained, that skims and strains the cleaner water from the top of the pond, while letting the clay sediment settle to the bottom.
Only one of these basins was installed before the winter rainy season stopped work, Stough said, and the second should be installed imminently.
"They should be working on that now," Stough said of the second sediment basin.
But until then, Barrick would seem to be left in the lurch. Getting any compensation for the damage already done to his farm would be a civil court matter, with the odds of a win for a family farm being quite slim.
Ridge Development is owned by the Transwestern Development Co., a national real estate investment group. While the company's total value does not appear to be disclosed, its last SEC filing in 2018 showed the company was in the process of issuing an additional $32 million in securities, both equity and debt, far more capital than any farmer east of the Mississippi could hope to acquire.
"If the farmer's ornery enough and has $100,000 in the bank, he might be able to take them on and get something," Barrick said.
Barrick said his appeals to the DEP for some sort of alternative solution have gone unheeded, as have inquiries made on his behalf by Penn Township. As long as the warehouse is making progress toward a sediment control plan that meets what's on the books, there's nothing to be done.
"They have gone out and looked at it and said it's OK, even though about three miles down the road it goes into the Yellow Breeches," Penn Township Supervisor Gary Martin said.
"DEP has been no help," Martin said. "There's no mechanism to modify these environmental plans when they don't work. That's my whole problem with DEP, they're not flexible on this stuff. They see a problem and say 'welp, the farmer's got to suffer.'"
The DEP did not respond to inquiries as of this edition.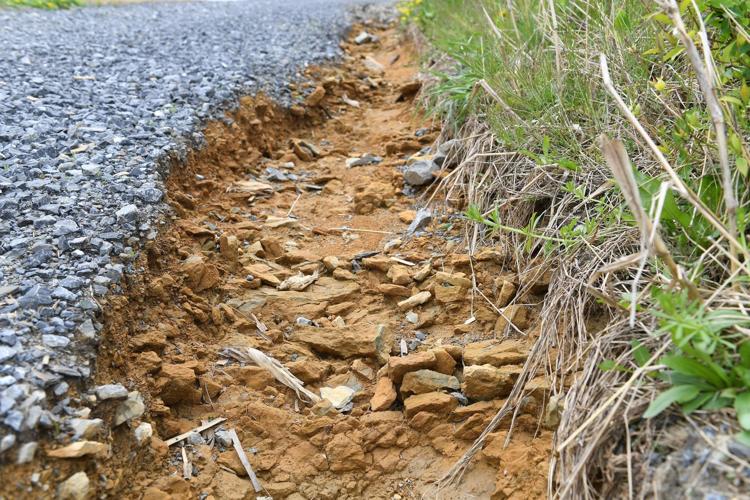 You have free articles remaining.
Keep reading for FREE!
Enjoy more articles by signing up or logging in. No credit card required.
Regulations and bills
The regulatory stubbornness in Pennsylvania is something that state legislators, primarily Republicans, have hoped to address through a package of "regulatory reform" bills working their way through Harrisburg.
But regulators and environmental activists, as well as most Democrats, fear the bills will actually make things worse.
Of interest to the situation with Barrick's farm is House Bill 509, for which Rothman is the primary sponsor.
One function of the bill is to mandate that regulatory departments set up systems to verify third-party, private inspectors to review permits and recommend approval if the departments' own staff cannot issue decisions in a given time. This includes DEP permits as well traffic impact permits from PennDOT, building safety permits, and others.
"If they can't do it on time, then we're authorizing these departments to use third-party reviewers," Rothman said. "If we can rely on third-party inspectors to make sure our cars are OK, why can't we have a third-party engineer or geologist or environmental scientist?"
Democratic legislators have argued that this will allow large development companies to commission inspectors who are sympathetic to them, allowing developers to skirt regulations.
But Rothman, who is a real estate developer himself, rejects this, saying that the permits would still be issued by state agencies, just with the footwork done by a reviewer of the applicant's choice.
"I don't buy that, I think that's cynical. And I think the economic incentive is the opposite, you don't want to screw up," Rothman said, adding it's in the same way that a bartender goes to great lengths to not serve anyone younger than 21, lest the state find out and de-certify them from doing their job.
This week The Sentinel takes a Closer Look at the struggle to maintain, preserve and develop farmland in Cumberland County.
Another provision of HB 509 could complicate that further.
According to Stough and Goshorn, their agency currently has 15 business days to determine that an application is complete, and 22 days after that complete a technical review and make sure the proposal meets requirements under the National Pollutant Discharge Elimination System, the federal guidelines that control most states' environmental duties under the 1972 Clean Water Act.
However, some NPDES permits are subject to individualized criteria based on the project's placement within a watershed deemed "high quality" or "exceptional value" by state and federal statute. This includes the Penn Commerce site, which is in the Yellow Breeches watershed. The DEP gives itself more time to make a decision on these permits, and gives local conservation districts 47 days for their technical review, according to Stough and Goshorn.
House Bill 509 would shorten that timeline, Goshorn said, by stipulating that any incompleteness in an application be conveyed to the applicant in 10 days, and any technical deficiencies be found within 20 days of the completeness review.
The combination of these provisions has opponents crying foul that legislators are shortening timelines to ensure that permitting work is pushed to private reviewers, and justifying the move with a problem that they helped create by cutting regulatory agencies' budgets.
"For example, the Department of Environmental Protection has suffered from longstanding budget cuts and staffing shortages that have hampered the agency's ability to process permit applications," a coalition of environmental groups, including the Chesapeake Bay Foundation, wrote in a letter criticizing the regulatory bills.
The letter cited figures that the DEP's budget has been cut about 40 percent in the last 14 years, and has lost 22 percent of its staff in the past 16 years.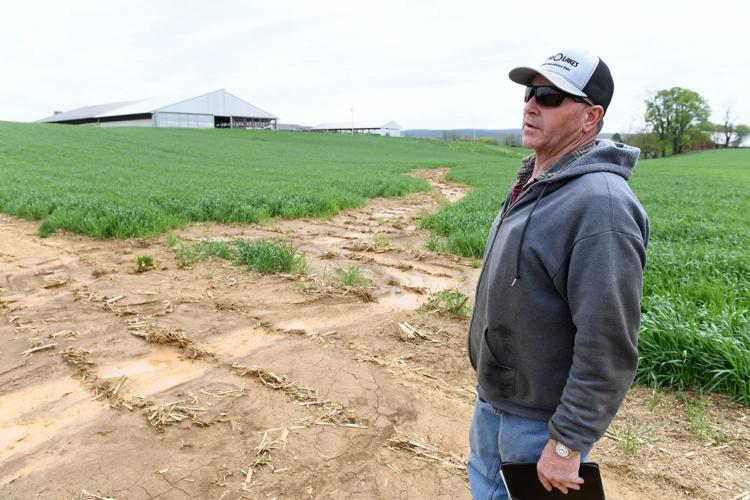 Local impact
While legislation in the statehouse aims to speed up the issuing of permits with third-party reviewers, there's no additional funding or resources for regular inspections by local agencies post-permitting.
Goshorn said that the Cumberland County Conservation District's number of field inspections improved threefold when Stough was brought on a few years ago. But under the new legislation, Stough and other technicians could be spending more time in the office in order to meet shorter timelines and to verify the reviews of third-party inspectors, instead of out in the field making sure the permits are being followed — field inspections such as the one last fall that found Penn Commerce had not done what it said it would.
"We saw that we were getting the reviews done on time but we were not getting out on site," Goshorn said. "It can say whatever it says on the plan but if it's not implemented properly, that's where some of our problems are."
Stough said he has 15 permits on his desk for completeness review, one to be done per day to meet current deadline, in addition to technical reviews and field inspections. The conservation district does 40 to 50 general and 15-20 individualized NPDES permits per year, he estimated, although the agency also does permitting for municipal and other requirements that are not part of the NPDES.
That came to 156 total permits and plans for erosion and pollution control last year. Thus far in 2019, the district has done 67.
Rothman says that his bill will actually make monitoring easier, since more permits will be done by outside parties.
"If you were running a business and having trouble doing your job, you might find someone who can sub out or find a third party," Rothman said. "The critical role is to protect our water and environment by monitoring, not by permitting review."
While Chesapeake Bay pollution is generally attributed to runoff from farms and urban storm water systems, the growing impact of large construction projects can't be discounted, according to Harry Campbell, executive director for the Pennsylvania office of the Chesapeake Bay Foundation.
"The impact is certainly not something to be dismissed by any stretch of the imagination, especially in terms of the local impact," Campbell said.
Most of the mud and sediment from construction settles out in local waterways well before it reaches the bay, Campbell said, making the danger primarily to the Yellow Breeches.
"You're stripping the natural topsoil that allows for the infiltration of water back into the ground," Campbell said of lot-leveling projects like warehouses, "so that soil then becomes like an impervious surface in and of itself."
"Research indicates that once a watershed gets to about 10 percent converted to impervious surfaces, you can see measurable changes in the stream," Campbell said.
The problem with large projects is that while they may meet the legal requirements when individually permitted, the combination of projects together can increase the problem beyond what regulations can deal with, Campbell said.
"Individually they may all be meeting the letter of the law but they are incrementally changing that watershed to the point where it can be impaired," Campbell said.
If anything is an example of this, it's the Penn Commerce site, which has another warehouse complex across the street. The Key Logistics Park was built on the west side of Centerville Road several years ago.
According to Martin, an installation of an additional warehouse on the west side of Centerville Road is in the works, which will disrupt the drainage from the warehouse that houses Unilever. The solution to this is to transfer the water across the Penn Commerce site in large pipes, which are visible on the construction site from Barrick's property.
The Unilever site was built long ago enough that it is grandfathered to a regulatory framework that doesn't require it to keep water on its property, even after construction is finished, Martin said.
Thus, any runoff that ends up on the Unilever site will be piped across the adjacent warehouse sites and released onto Barrick's property, meaning he may never be fully rid of the runoff that has drowned out his fields.
"That water will pass through their property, go onto the current construction site, be piped down to the eastern end, then released, according to the DEP regulations at that time for the Unilever building, onto Vic's property," Martin said. "I don't know that it'll cause as much erosion as it will keep the ground soggy."