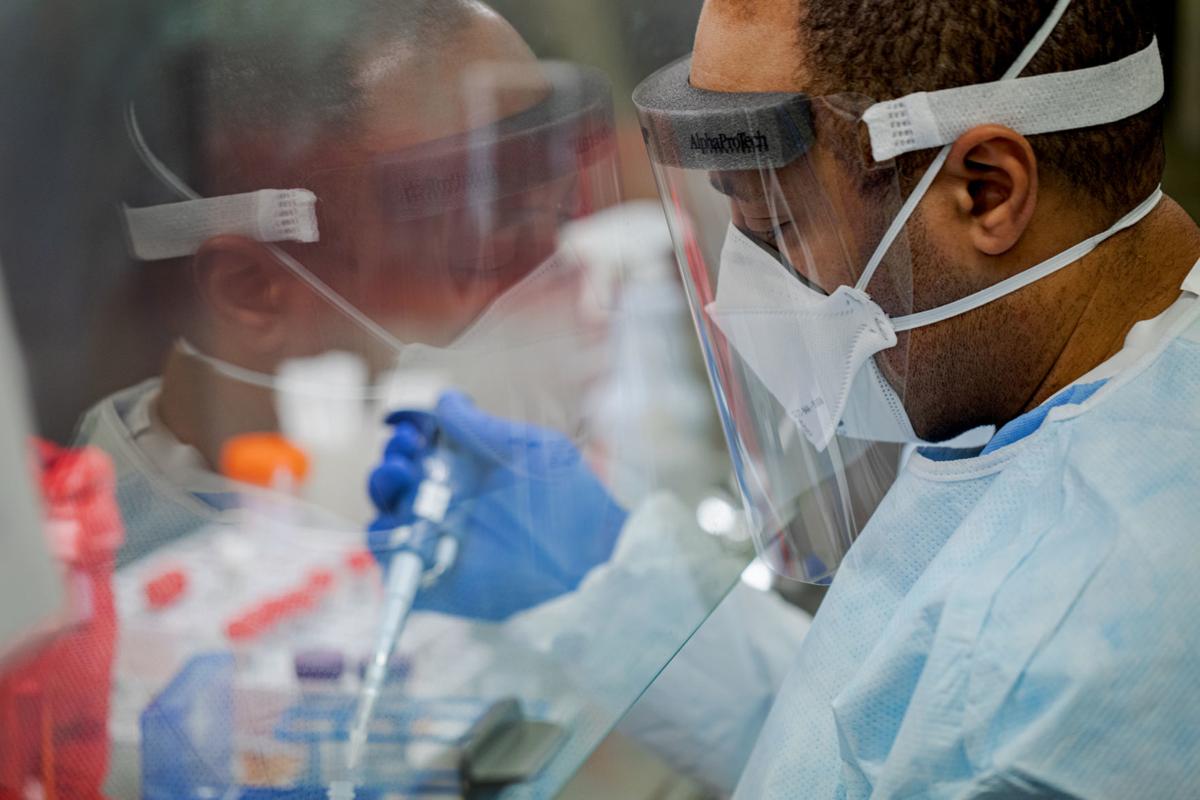 An influx of probable cases pushed up the number of COVID-19 cases in Cumberland County by 30 over the weekend, according to the state Department of Health's COVID-19 dashboard.
Though the department won't officially update its weekend numbers until Mondays - a change from the past months due to the slowing number of cases - the dashboard's latest data showed that the county saw 27 new probable cases and three new confirmed cases of COVID-19, collectively on Saturday and Sunday. There was no immediate information as to why so many probable cases were reported over the weekend.
It caused the county to see the second highest increase of COVID-19 cases in the southcentral region, with York County again seeing the largest increase with 38 new cases. Unlike Cumberland County, the majority of those cases (30) were confirmed cases in York County.
Most other counties in the region saw 15 or fewer cases over the weekend, with Franklin County seeing 15 and Dauphin County seeing 14. Dauphin County did see two new deaths associated with COVID-19, while one new death was reported each in Adams, Huntingdon, Lebanon and York counties.
Because the new cases in Cumberland County were mostly probable cases, the percentage of tests coming back confirmed positive remained low despite the data increase. Based on the number of confirmed cases (3) and the number of negative tests reported (167), the county only saw 1.76% of its tests come back confirmed positive.
The county is seeing encouraging drops in hospitalizations this past week. After the number of hospitalized adults with COVID-19 dropped by nine in Friday's report, the weekend data showed another drop of three patients. The number of adults in the ICU remained at one with four other patients still on ventilators at hospitals in the county.
County numbers in the southcentral region (for June 5 and 6, combined):
Adams County (pop. 103,009): 6 new cases; 9,597 total cases (7,934 confirmed, 1,663 probable); 36,618 negatives; 186 deaths (+1)
Bedford County (pop. 47,888): 11 new cases; 4,669 total cases (3,255 confirmed, 1,414 probable); 10,305 negatives; 138 deaths
Blair County (pop. 121,829): 12 new cases; 13,480 total cases (10,589 confirmed, 2,891 probable); 40,007 negatives; 339 deaths
Cumberland County (pop. 253,370): 30 new cases; 20,491 total cases (16,488 confirmed, 4,003 probable); 81,645 negatives; 524 deaths
Dauphin County (pop. 278,299): 14 new cases; 26,016 total cases (22,673 confirmed, 3,343 probable); 106,621 negatives; 554 deaths (+2)
Franklin County (pop. 155,027): 15 new cases; 15,372 total cases (13,020 confirmed, 2,352 probable); 53,553 negatives; 371 deaths
Fulton County (pop. 14,530): 1 new case; 1,360 total cases (758 confirmed, 602 probable); 4,023 negatives; 15 deaths
Huntingdon County (pop. 45,144): 11 new cases; 5,126 total cases (4,290 confirmed, 836 probable); 16,340 negatives; 133 deaths (+1)
Juniata County (pop. 24,763): 1 new case; 2,135 total cases (1,930 confirmed, 205 probable); 5,346 negatives; 87 deaths
Lebanon County (pop. 141,793): 7 new case; 16,142 total cases (13,969 confirmed, 2,173 probable); 52,459 negatives; 292 deaths (+1)
Mifflin County (pop. 46,138): 4 new cases; 5,407 total cases (5,104 confirmed, 303 probable); 14,761 negatives; 178 deaths
Perry County (pop. 46,272): 1 new case; 3,839 total cases (2,985 confirmed, 854 probable); 10,886 negatives; 100 deaths
York County (pop. 449,058): 38 new cases; 46,554 total cases (38,070 confirmed, 8,484 probable); 158,565 negatives; 816 deaths (+1)
ZIP code-level counts (updated June 6):
17013: 2,418 positives, 12,187 negatives - +7 since May 28
17015: 1,514 positives, 6,111 negatives - +5 since May 28
17050: 2,418 positives, 12,281 negatives - +6 since May 28
17055: 2,786 positives, 15,359 negatives - +8 since May 28
17011: 2,603 positives, 12,722 negatives - +10 since May 28
17007: 364 positives, 1,545 negatives - +1 since May 28
17065: 252 positives, 1,101 negatives - +0 since May 28
17324: 244 positives, 1,154 negatives - +0 since May 28
17241: 647 positives, 2,930 negatives - +3 since May 28
17257: 1,743 positives, 5,981 negatives - +12 since May 28
17240: 155 positives, 555 negatives - +0 since May 28
17025: 1,087 positives, 4,873 negatives - +4 since May 28
17070: 1,082 positives, 4,759 negatives - +9 since May 28
17043: 369 positives, 1,801 negatives - +1 since May 28
17019: 1,213 positives, 4,899 negatives - +6 since May 28
17266: 19 positives, 105 negatives - +0 since May 28
COVID-19 Early Warning Monitoring System Dashboard (May 28-June 3):
(Counties with a percent positivity above 5% in a week go on the Department of Health's watch list)
Pennsylvania:

Percent Positivity - 2.9% last 7 days (3.7% previous 7 days)
Incidence Rate per 100,000 people last 7 days - 22.6 (39.1 previous 7 days)

Adams County:

Percent Positivity - 3.7% last 7 days (4.1% previous 7 days)
Incidence Rate per 100,000 people last 7 days - 27.2 (36.9 previous 7 days)

Cumberland County:

Percent Positivity - 2.6% last 7 days (3.7% previous 7 days)
Incidence Rate per 100,000 people last 7 days - 15.8 (28.8 previous 7 days)

Dauphin County:

Percent Positivity - 3.0% last 7 days (4.3% previous 7 days)
Incidence Rate per 100,000 people last 7 days - 21.9 (33.8 previous 7 days)

Franklin County:

Percent Positivity - 3.1% last 7 days (3.9% previous 7 days)
Incidence Rate per 100,000 people last 7 days - 30.3 (45.2 previous 7 days)

Lebanon County:

Percent Positivity - 3.1% last 7 days (4.8% previous 7 days)
Incidence Rate per 100,000 people last 7 days - 23.3 (53.6 previous 7 days)

Perry County:

Percent Positivity - 7.1% last 7 days (5.8% previous 7 days)
Incidence Rate per 100,000 people last 7 days - 28.1 (30.3 previous 7 days)

York County:

Percent Positivity - 4.2% last 7 days (5.3% previous 7 days)
Incidence Rate per 100,000 people last 7 days - 35.6 (50.8 previous 7 days)