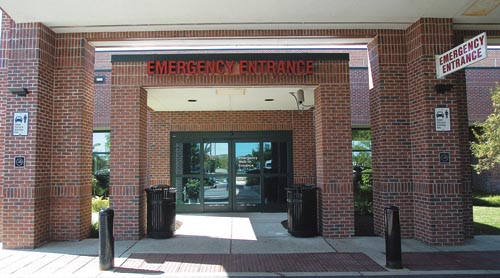 For those that work in the emergency departments at area hospitals, every day is different.
One day, it's relatively slow, with mostly minor injuries or illnesses, and the next day, there are more critical patients demanding treatment. It's those kinds of daily changes that makes handling emergency rooms difficult and puts plenty of extra pressure and tension on the staff.
"It's unpredictable work," said Lisa Lewis, vice president and chief nursing officer at Holy Spirit Hospital in Camp Hill. "You don't know what kind of patients are coming in or how many of them will be in. That's part of the work that people in the ER kind of like, but it is tough. You just can't predict it."
That may be doubly problematic if there isn't enough staff to handle the surprise emergency cases during the week.
Carlisle Regional Medical Center recently came under fire from the state Department of Health, which released a report indicating that the hospital was working with a short-staffed emergency department when two patients died in the first full week of June.
CRMC CEO John Kristel disputes that the two were related and is working with the Department of Health to institute a plan of action, which DOH will approve and post to its website, as it did with the initial report.
Kristel said in an interview with The Sentinel Thursday that staffing for nurses in general has been something of a challenge over the last few years.
"Obviously there's a challenge with nursing shortage that our country and state have faced for some time," he said. "What we're able to get is qualified people.
"We just hired an ED nurse director, Matthew Stapleton, who will start in September. We're excited about bringing him in. We have both nurses and physicians who are covering the Emergency Room 24/7. It's staffed by qualified personnel. It's a 365-day operation."
Kristel didn't have a breakdown of how many physicians and nurses are staffed at what times, but the DOH report says there are often four registered nurses on staff during the evening shift, though usually anywhere from one to three nurses may be off that shift with no other employee to fill the vacancy.
Holy Spirit has also felt the effects of the nursing shortage, but staff members say they've been able to retain a good number and haven't had to hire too many to fill vacant positions over the last few years.
"We do very well with our nursing staff," Lewis said. "There is a national nursing shortage that's been talked about for years. But we've been able to hire good nurses and retain our staff. There are, of course, people who get married or have children and leave, and we do have to replace them, but we've had very good luck."
"We have very, very talented people and flexible nurses," added Rick Shaffner, chief operating officer at Holy Spirit. "When we're really in a bind, they immediately respond and come in. I've never seen more dedicated nurses than the ones we have here."
Dr. Dana Kellis, senior vice president of medical affairs and chief medical officer at PinnacleHealth, attributed some of the staffing difficulties to the fact that ER nurses are generally hard to replace.
"What does come up is that it takes several weeks to turn a general nurse into an ER nurse," he said. "That makes it difficult to replace ER nurses."
"There is more training involved specifically for the emergency department," Lewis explained. "They have a whole lot of general knowledge. When you have nurses in the operating room, they have a very specific set of things they know. In the emergency department, nurses have to have a lot of knowledge about a wide variety of things."
No matter what the shortage is, however, the hospitals have goals to make sure all patients are treated in a timely manner.
In 2009, Penn State Hershey Medical Center completed Phase 1 of its redesigned emergency department, and by doing so, it created a no-waiting arrival area where physicians and nurses triage patients - an evaluation the determines the urgency of the case - in various areas according to the severity of their injuries.
With that model, between 2009 and 2010 the number of left-without-treatment patients had dropped to less than one-half of 1 percent, according to Hershey Medical Center.
Though other area hospitals still require a longer wait for the majority of patients, some of them are trying to get to that zero waiting time.
"Patients walk in and they're brought right to the back," Lewis said. "They're put in triage and we initiate care. There's some paperwork, but that doesn't happen right up front. Usually a clinical person sees them first.
"I'm looking at our data from our most recent days in July," he said last week, "and the average waiting time was 1.4 minutes. We try to help every patient once they arrive."
Kellis explained that because of the unpredictability of the emergency department, it's not always possible to get patients out of the waiting room at their goal time of 15 minutes.
What they do have, though, is a way to make sure that no one is staying over two hours.
"If it gets to two hours, we call an emergency room alert, where the vice president and the managers get on a conference call and talk about the situation and how they can take the pressure off so people can be seen more quickly," he said. "It's a two-hour self-imposed limit that works in real time whenever it happens."
Part of making sure that people are treated as soon as possible is to see that the proper amount of people are staffed at the right times. Though there are quite a number of question marks when it comes to what physicians and nurses will see in a day, hospital officials know what times of the day are the most important to keep an emergency department well staffed.
"There are days and times that are busier than others," Kellis said. "Usually the day after the holiday is very busy, maybe because people tend to indulge in more risky behavior - like overeating - that catches up with them. Mondays are busy just because of the weekend activities. When there's a major event, that generates a bit more patients than normal.
"We try to match physicians' schedules to different times of the day," he continued. "We're usually busiest during the 3-to-11 shift, when most people are getting off of work. We have up to four physicians in the emergency room at that time. Between 7 to 9 a.m., there aren't a lot of people, so we'll only have one physician.
"Our nursing complements our physician staff. I don't have exact numbers on hand, but we have a number of nurses staffed in the ER. We also have mid-level physician assistants in addition to the physicians."
Holy Spirit and CRMC also see very similar situations at their own emergency departments.
"Based on how it is historically, there's not a lot of people there earlier in the morning," Lewis said. "We have three physicians in the afternoon. There's not a lot of variation on days of the week, but the afternoon time is usually busy. It starts up around 9 to 10 to 11 o'clock.
"That's how it's worked everywhere I've ever worked," he added. "Usually it's people coming in after work or who are up in the daytime, which is when accidents and emergencies happen."
"The evening hours tend to be the busiest," Kristel agreed. "Folks are coming back from work or coming home from school, and some primary care physician offices are not available in the evening hours. So if they feel like the need to seek medical care, they come to the ER."
The busier times may get busier, too, when ambulances from across the region start calling in with critically ill and injured patients. Those who are waiting in the waiting room may be forced to wait even longer when an emergency case is called in.
"The most critically injured or ill patient in the ER will have the highest priority," Kristel said. "The less severe problems will have to wait. I don't mean to say that they're less important. A sore throat in a child can be a problem and parents should seek medical treatment, but when we have someone with a myocardial infarction, that takes a higher priority."
Whatever plans hospitals have in place to keep the waiting time down and the staffing up, they do note that there will always be a challenge with emergency departments because of the way it meets and treats patients.
"There are a lot of variables with the emergency department," Kristel said. "It's an ER, not a physician's office. There are all kinds of variables that drive those (patient) numbers."
"Like any ER, the job can get overwhelming," Kellis said. "There are 10 ambulances, and we get a lot of walk-ins. It's a challenge not knowing what will come in."