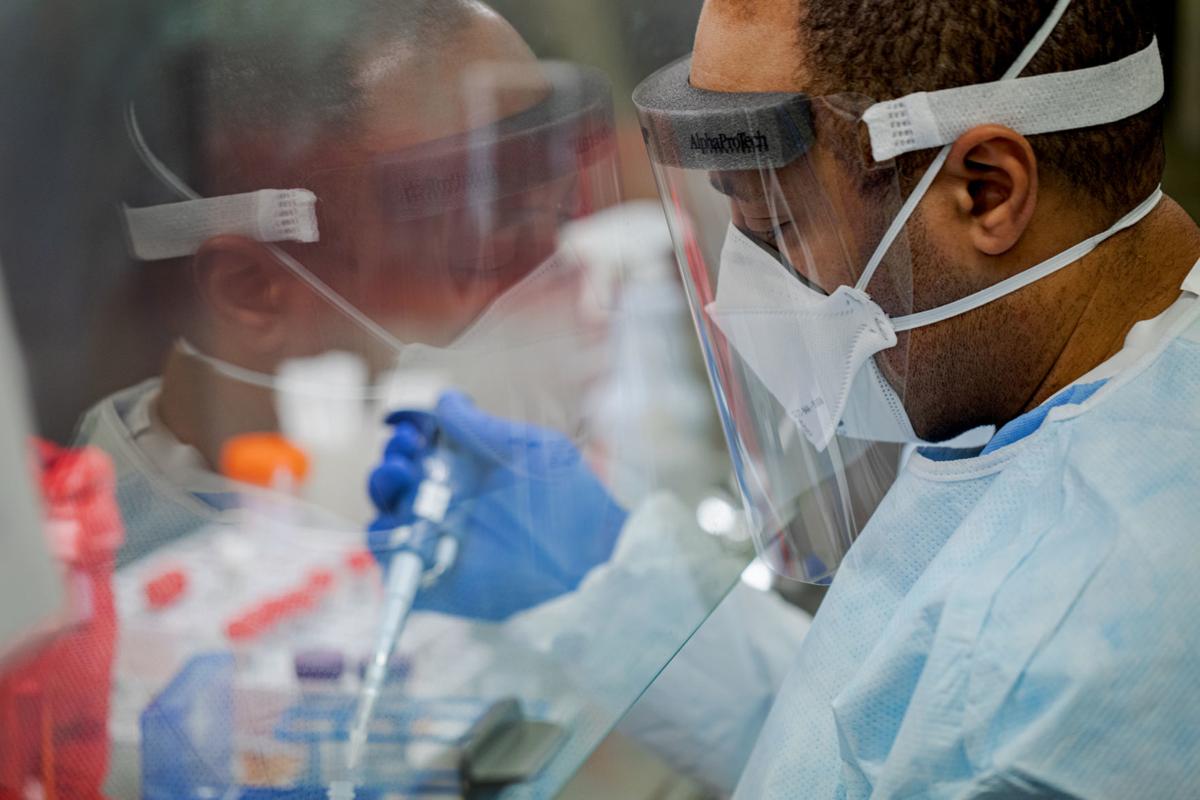 The southcentral region may have seen a brief respite of newly reported COVID-19 cases, but the holiday is over, and with it, the drop in new infections.
Cumberland County only saw a moderate uptick of eight new COVID-19 cases reported by the state Department of Health Tuesday, which includes data collected on Monday. However, Dauphin and York counties are back to surges in the double-digits.
Dauphin County's tally rose by 22 new cases, and the county also saw two more deaths in the latest numbers.
York County, however, rose more severely, with 41 new cases and one new death. While Cumberland and Dauphin counties' long-term care facility data has largely stayed the same or seen only a slight increase in cases, York County has steadily been growing, with Tuesday's report seeing an increase of five resident cases, one staff cases and two deaths.
Due to the way the Department of Health calculates deaths, some of those who die in nursing homes are counted toward their county of residence, which may not be where the long-term care facility is located.
Outside of the Dauphin and York counties that have reported the highest increases in the region for weeks, Lebanon and Adams counties only grew by six new cases each, while Franklin County had a sudden spike of 12 new cases.
Overall across the state, the number of new cases was nearly more than double the day before. The state Department of Health reported that there were 995 new cases, the highest since May 10. It's possible the sudden increase is due to a lack of reporting from the Fourth of July holiday, though cases reported over the weekend were still higher than the numbers reported three weeks ago in the state.
County numbers in the southcentral region (through July 7):
Adams County (pop. 103,009): 6 new cases; 358 total cases (343 confirmed, 15 probable); 5,492 negatives; 13 deaths
Bedford County (pop. 47,888): 1 new case; 90 total cases (83 confirmed, 7 probable); 1,713 negatives; 4 deaths
Blair County (pop. 121,829): 2 new cases; 89 total cases (78 confirmed, 11 probable); 6,435 negatives; 1 death
Cumberland County (pop. 253,370): 8 new cases; 902 total cases (860 confirmed, 42 probable); 12,428 negatives; 64 deaths
Dauphin County (pop. 278,299): 22 new cases; 2,220 total cases (2,159 confirmed, 61 probable); 19,227 negatives; 142 deaths
Franklin County (pop. 155,027): 12 new cases; 970 total cases (941 confirmed, 29 probable); 9,090 negatives; 44 deaths
Fulton County (pop. 14,530): 0 new cases; 18 total cases (16 confirmed, 2 probable); 545 negatives; 1 death
Huntingdon County (pop. 45,144): 0 new cases; 254 total cases (247 confirmed, 7 probable); 1,753 negatives; 4 deaths
Juniata County (pop. 24,763): 1 new case; 114 total cases (107 confirmed, 7 probable); 934 negatives; 6 deaths
Lebanon County (pop. 141,793): 6 new cases; 1,389 total cases (1,331 confirmed, 58 probable); 9,123 negatives; 45 deaths
Mifflin County (pop. 46,138): 1 new case; 66 total cases (62 confirmed, 4 probable); 2,633 negatives; 1 death
Perry County (pop. 46,272): 2 new cases; 88 total cases (81 confirmed, 7 probable); 1,803 negatives; 5 deaths
York County (pop. 449,058): 41 new cases; 1,654 total cases (1,605 confirmed, 49 probable); 24,000 negatives; 55 deaths
Long-term care facilities and personal care homes in Cumberland County (through June 30):
Artis Senior Living of West Shore: fewer than 5 resident cases; 0 staff cases; fewer than 5 deaths
Bethany Village Retirement Center: 0 resident cases; fewer than 5 staff cases; 0 deaths
Chapel Point: 0 resident cases; fewer than 5 staff cases; 0 deaths
Claremont Nursing & Rehabilitation Center: 0 resident cases; fewer than 5 staff cases; 0 deaths
Country Meadows of West Shore: fewer than 5 resident cases; fewer than 5 staff cases; 0 deaths
Cumberland Crossings: fewer than 5 resident cases; 0 staff cases; 0 deaths
Gardens at Camp Hill: 47 resident cases; 21 staff cases; 8 deaths
Gardens at West Shore: 82 resident cases; 26 staff cases; 19 deaths (no June 30 data was available; numbers are from June 10)
Manorcare Health Center Carlisle: 9 resident cases; 0 staff cases; 0 deaths (no June 30 data was available; numbers are from June 10)
Messiah Lifeways: 0 cases; fewer than 5 staff cases; 0 deaths
Sarah A. Todd Memorial Home: 58 resident cases; 28 staff cases; 11 deaths
Shippensburg Health Care Center: 91 resident cases; 27 staff cases; 31 deaths
Thornwald Home: fewer than 5 resident cases; fewer than 5 staff cases; 0 deaths
Vibra Rehabilitation Center: 0 resident cases; fewer than 5 staff cases; 0 deaths
ZIP code-level counts (through July 7):
17013: 133 positives, 2,127 negatives - +2 since July 3
17015: 48 positives, 866 negatives - +1 since July 4
17050: 110 positives, 1,384 negatives - +10 since July 3
17055: 103 positives, 1,757 negatives - +6 since July 3
17011: 170 positives, 2,690 negatives - +1 since July 4
17007: 5 positives, 215 negatives
17065: 11 positives, 139 negatives
17324: Less than 4 positives, 171 negatives
17241: 33 positives, 737 negatives
17257: 183 positives, 660 negatives - +6 since July 4
17240: 12 positives, 77 negatives - +1 since July 4
17025: 39 positives, 651 negatives - +1 since July 4
17070: 45 positives, 709 negatives - +1 since July 3
17043: 11 positives, 300 negatives
17019: 29 positives, 709 negatives