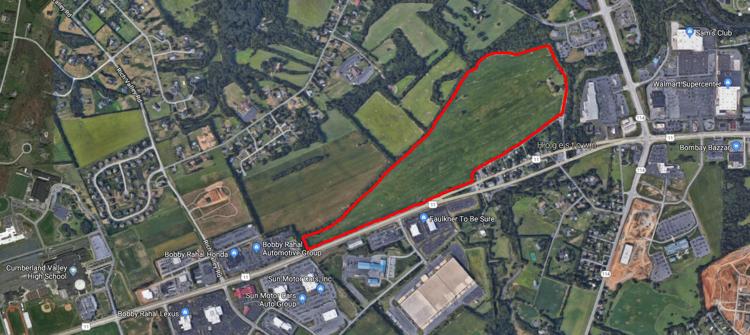 One of Cumberland Valley School District's board members who voted to use eminent domain at the McCormick Farm is also an attorney for a developer who may need a right-of-way across the land.
The appearance of conflict of interest throws yet another wrench into the legal battle over the school district's attempt to condemn 108 acres of the 116-acre historic farm tract in Silver Spring Township.
Not only would the taking of the land by eminent domain allow Cumberland Valley School District to build new school facilities on the site, it would also allow for potential access roads through the McCormick land — helping to alleviate a legal battle over traffic access to the nearby Grayhawk Landing housing development.
Grayhawk Landing is a project of developer Jeff Taylor of Spinnaker Property Management of Camp Hill. One of Taylor's attorneys is Robert Walker, the CV school board member who, on Jan. 22, made the motion for Cumberland Valley School District to file eminent domain proceedings on the McCormick property.
Walker has lobbied on Taylor's behalf as recently as April 3, when he sent a letter — obtained by The Sentinel via a Right-to-Know Request — to Silver Spring Township Solicitor Sean Schultz, in which Walker argued that traffic impact fees be reduced for another of Taylor projects, a proposed Aldi store on the Carlisle Pike.
Walker declined to comment, citing current litigation.
Taylor acknowledged that Walker has done legal work for him, although he said he did not see a conflict of interest given the highly specific nature of land-use law.
"Bob is an attorney, he does work on projects for us, but more specifically, he's a land-use attorney, and that type of attorney is hard to find," Taylor said.
Taylor also acknowledged plans to build a road through the McCormick tract, connecting his development directly to the Carlisle Pike. However, Taylor said, that option was pushed by Silver Spring Township officials as a solution to traffic issues that Taylor maintains do not exist.
"I already have two ways in and two ways out [of the development], which meets their zoning ordinance," Taylor said. "I don't want the road ... it was never my idea and never my intent."
Eminent domain
On March 5, Cumberland Valley School Board filed a declaration of taking in the Cumberland County Court of Common Pleas, seeking to exercise eminent domain and take the bulk of the McCormick tract for the purpose of building an education campus.
The McCormick Farm, which runs along the north side of Route 11 just west of Hogestown, is owned by the estate of Ui Ung Lee, an investor whose family has attempted to sell the farm at various times over the past several years. The site is farmed by a tenant farmer.
However, the school district cannot simply buy the land from the Lee estate and use it for school facilities. Since 1983, Natural Lands, an environmental conservation group, has held an easement over the farm, granted to the group by the heirs of the McCormick family, transferring rights to future development to the nonprofit foundation.
The only way to take the easement, and thus obtain the rights to develop the land into a school, is condemnation through the court. Natural Lands has challenged the school district's filing.
The abolition of the conservation easement would also give the school district free reign to grant rights of way to other entities or construct its own connecting roads if it felt them necessary for staff and student access — a potential boon for Grayhawk Landing.
When Taylor first proposed Grayhawk Landing several years ago, the project was not well received by Silver Spring Township officials. Among other things, the township had concerns over the development's potential use of existing residential streets to its north, particularly Margaret Drive.
Silver Spring Township supervisors denied the initial plan for Grayhawk Landing, and Taylor challenged the decision in court.
Access points
The eventual agreement between the township and Taylor called for Grayhawk Landing's single-family home community — which borders the McCormick Farm to the north — to have two access points to Rich Valley Road.
One access point goes through the townhome portion of the development, which sits on the east side of Rich Valley Road. The other creates an additional access point to Rich Valley Road by connecting the single-family portion of Grayhawk Landing to Stonewall Drive, which is currently a dead-end street that runs east off Rich Valley Road, behind the Bobby Rahal Honda and Acura dealerships.
As part of the settlement, according to court documents, Taylor's company "agrees that it will not provide for further access to existing public streets, Margaret Drive and Lucie Drive, which abut the property to the north so long as Stonewall Drive remains a public street."
You have free articles remaining.
However, that solution is not amenable to Rahal, which entered as a party to the court action in late 2015 in an unsuccessful attempt to stop the use of Stonewall Drive.
The road, Rahal argued, is bordered on both sides by Rahal service centers and, although legally a public way, would be unsafe for through traffic and make it difficult for Rahal to move vehicles in and out of its service lots.
That issue is still outstanding. As of now, Stonewall Drive has been renamed Grayhawk Way South and has been connected to Grayhawk Landing, although no houses are yet complete, and Rahal service vehicles and equipment still line the undivided roadway.
Third outlet
However, the township planning map that Silver Spring Township submitted to the county on April 10, 2017, shows a third outlet. One of Grayhawk Landing's streets, Kestrel Drive, is shown being extended south to create a new access point from the development directly to Route 11.
The Cumberland County planning department's notes on the map indicate that this cannot actually be done, since the Kestrel Drive extension cuts through the McCormick Farm.
"The proposed road connection between Gray Hawk Landing and Carlisle Pike appears to abut the McCormick farm easement of Natural Lands Trust. Any new street right-of-way may not be permitted on the McCormick property and would have to comply with the covenants and restrictions associated with the easement," the county wrote to the township last year.
However, on Dec. 18, 2017, a month before the Cumberland Valley School Board formally declared its intent to use eminent domain, Taylor submitted a massively expanded set of plans for Grayhawk Landing.
That layout would take Grayhawk from 141 homes to 218, according to plans filed with the county, although it appears no action has yet been taken on the plans.
The expanded plans also feature the Kestrel Drive extension, routing the development's traffic through the McCormick parcel, something that could only be done if the school board is successful in condemning the property and nullifying Natural Lands' preservation easement.
Extending Kestrel Drive though the McCormick tract has apparently been discussed with Rahal representatives as a way to alleviate their concerns.
"I'd be lying if I said I hadn't heard about it, but that's all I can really say at this point," said Ron Ferris, a partner at Rahal.
The idea of using Stonewall Drive as the main throughway for Grayhawk Landing was never viable, Ferris said, even from the developer's standpoint.
"Do you really want to go to your $400,000 home by driving through the back lot of a car dealership?" Ferris asked. "If this works out for the school, whoever thought to do it is pretty smart."
Taylor, however, maintains that the Stonewall Drive access is adequate, and a right-of-way over the McCormick Farm is unnecessary. But Silver Spring Township is not as optimistic.
"There has been discussion, especially if there is additional development back there, that there is concern about health and safety at the entrance and exits they have currently, and if those will be sufficient going forward," Silver Spring Township Manager Theresa Eberly said. "The township did approach Jeff about it, and it involves a couple different players."
Expanded plans
Taylor is correct in his assertion, Eberly said: Under the plan approval in the settlement agreement, Grayhawk Landing can be built to its current specification using only the two existing access points.
That would change if Taylor were to expand Grayhawk Landing's layout, thus increasing its traffic load, as suggested in the December plans.
If that were to happen, Taylor said he would prefer an extension across the McCormick tract that would create a four-way intersection at the Carlisle Pike and Commerce Drive.
"If there's going to be a driveway, it would be best to put it into the existing traffic light at Commerce Drive," Taylor said. "It makes better sense to put traffic there because it would come in right in the middle of the development we're building."
It is not entirely clear what Cumberland Valley School District plans to put on the McCormick parcel, and at what points that build-out would allow for a connection to Grayhawk Landing.
A major element of Natural Lands' challenge to the eminent domain filing is the lack of specificity on exactly how much land the school district needs to fulfill its public purpose.
A fact sheet, issued by the school district's administration last month, stated that the district intends to build a 1,400-student middle school on the site. The state recommends 35-40 acres for such a facility, according to the school district's fact sheet, leaving 68 acres for "ancillary facilities."
The school district has scheduled a public meeting on the matter to be held at 6 p.m. May 24 at Cumberland Valley High School's performing arts center.