The idea started when Rev. Duane Coleman of Agape International Family Worship Center in Harrisburg called Rev. Robert Woodall of Hibner Memorial Church of God in Christ in Carlisle.
"He asked if area churches in Carlisle could use 30,000 pounds of fresh food," Woodall said.
So Woodall started calling area churches and Carlisle Community Action Network members. He said everyone he spoke with agreed that, with the worsening pandemic and economic conditions, a food distribution just before Christmas would be a blessing to those in need.
There was one catch, however, to Coleman's offer. All the food would need to be distributed by Dec. 31 due to the perishable nature of fresh food.
So with a few phone calls and many helping hands along the way, the idea turned into an event.
Local churches, the Carlisle Police Department, Project SHARE and volunteers will distribute over 30,000 pounds of food on Monday outside the Police Department at 240 Lincoln St. in Carlisle.
People who want food should arrive after 9 a.m., organizers said.
Newville and Mount Holly Springs will also host food distributions on Monday later in the morning after the Carlisle distribution, said one of the event organizers, Jeff Gibelius, pastor of Second Presbyterian Church in Carlisle. Both chiefs of police agreed to hold distributions at their stations.
The distribution would be rescheduled for Dec. 28 in the event of bad weather. The distribution is part of the $2 trillion federal Coronavirus Aid, Relief, and Economic Security Act signed into law last March.
Organization
"It basically fell in our laps just a couple of weeks ago, but we realized we'd have to organize quickly," Gibelius said.
Bob Weed, CEO of Project SHARE, said the need for food assistance has grown. "We saw about a 30% spike in demand for food year over year this past November. A lot of the demand at our Farmstand is coming from new families, ones that haven't utilized our services in the past."
Woodall said he has also seen his share of suffering. "I've been here in this area almost 50 years and I never saw anything like this back in Mississippi, Florida or any place that I was. It's severe."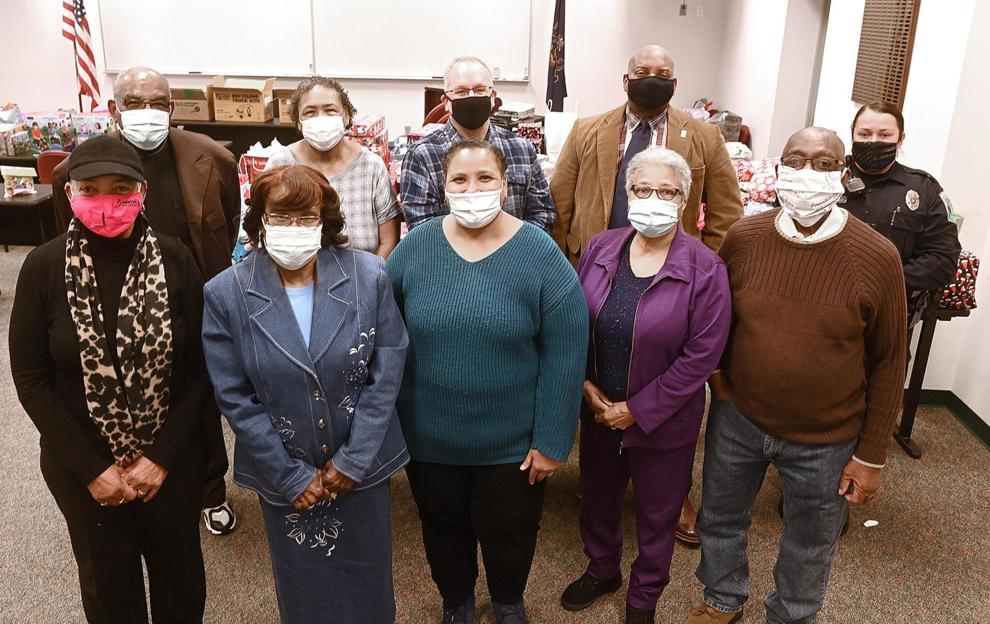 "It's a compounding of problems — health concerns due to COVID-19, loss of employment, and a decrease in social services intended for relief," Gibelius said.
Pulling off an event like this on short notice is no easy feat. Where would there be a parking lot that can accommodate a large flow of cars? An 18-wheeler needs easy access for parking and unloading. What about volunteers?
Enter Carlisle Police Chief Taro Landis. Area churches don't have the parking and access required, so Landis offered the police station.
"We have a good central location, the parking, and the access required, it was a no-brainer," Landis said.
Landis said he is always looking for ways to help his personal mission. "I have a personal mission to bring the African-American community back to the table with the (Carlisle) borough."
The organizers of the event were concerned that people would feel uncomfortable going to the police station for food. Landis saw that as an opportunity.
"There are African-American people in this area who do not go to the police station no matter what," Landis said. "So we want to dispel the myth that it's 'us against them' by showing that we're normal people.
"We've got an opportunity to help people, we want everyone to come and get some food."
No questions
Organizers decided that those receiving food would be anonymous.
"We decided there would be no questions asked, no IDs, no income verification. You just drive up, tell us how many boxes you want and we throw them in," Gibelius said.
People can pick up boxes for their neighbors, as well.
"This event may meet the needs of a different group of people, those who previously weren't comfortable admitting they needed help," Gibelius said.
And if you can't get to the Monday distribution in Carlisle another option is planned for Tuesday.
"If there are leftovers following the event we're going to use them for our food distribution the next day at our (Project SHARE) Farmstand (123 Lincoln St., Carlisle) and hopefully reach some families that couldn't get to the event on Monday," Weed said.
"One of the lasting benefits of this event is that churches, social service organizations, and the police department will continue to work together going forward. We know that we need each other to survive," Gibelius said.