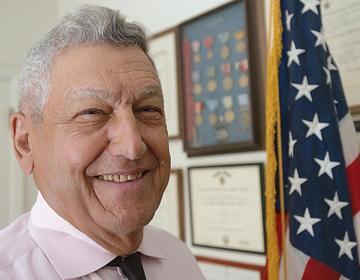 What remained of Old Glory was stitched together by candlelight as artillery shells exploded off in the distance.
In one corner of the cellar, an Army private operated the sewing machine that fellow GIs had scrounged from an abandoned building.
Elsewhere in the room, Lt. Sam Lombardo was busy helping five of his men cut the red fabric into stripes to complete the Star-Spangled Banner.
It was early May 1945. They were finishing what they had started two months before when Lombardo first followed through on a project born of frustration over military protocol.
Looking back, he wrote of his adventures in Nazi Germany during World War II in his memoir "O'er the Land of the Free." Excerpts from that book are quoted below as a tribute to the World War II veteran.
A former Carlisle resident, Lombardo died on June 11 in Pensacola, Fla. He was 101.
Living in America
Born July 12, 1919, in Caraffa, Italy, Lombardo spent part of his childhood under the oppression of the Black Shirts – agents of Fascist dictator Benito Mussolini.
"America was just a far-off place on the other side of the world, when I first heard its name," Lombardo wrote. "There was some mystic and indescribable feeling when someone in our village spoke about America. At my young age, I imagined…a land with streets paved with gold and its people were happy and free to do as they pleased. It was like a Shangri-La on the other side of a great ocean.
"Never, in the stretches of my imagination did I ever think that someday I too would be fortunate enough to be an American," he added. "As the oppression by the Fascist Regime…intensified, the feeling to leave the old country and come to America was almost irresistible, and beyond description."
Lombardo was 10 when he sailed to the U.S. and settled in with his father Pietro in Juniata Gap outside Altoona. He attended public school until the 9th grade when he quit so he could help his family during the Great Depression.
"Upon arriving and living in America, it became evident that the freedoms we dreamt about were not dreams at all, but a reality," Lombardo wrote. "I became more and more interested in the military as I read about all our great generals since Washington. Without them, we would not have our nation as we know it today. I became convinced that the military was the place for me. This was where I could contribute the most to preserve our freedom."
On Nov. 11, 1939, Lombardo joined the Pennsylvania National Guard. He later graduated from Officer Candidate School and volunteered for combat duty with the 99th Infantry Division in November 1944.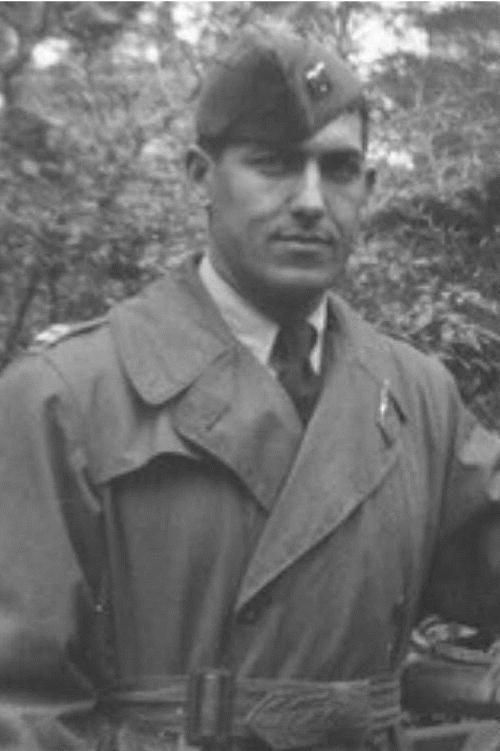 Denial and defiance
During the march across Europe into the heart of Nazi Germany, Lombardo served as a rifle platoon leader and company executive officer during the Battle of the Bulge, Remagen Bridgehead, the Ruhr Pocket and Central European campaigns. He is best known for standing up for his soldiers when they needed a morale boost.
"My rifle platoon…made an American flag under combat conditions in Germany during World War II," Lombardo wrote. "All my men were outstanding and represented not only many states and cross sections of American life, but also many religions. Above all, they were Americans."
Life under Fascist rule gave Lombardo a deep appreciation of the freedoms he enjoyed in the U.S. He developed a love for its symbols. During a lull in combat, an idea began to form in his mind.
"For the first time, I had time to think about something other than fighting," Lombardo wrote. "I missed America, my home, my family and our flag. Not seeing Old Glory for several months…made me so homesick for it. I tried to get one issued to us through Army channels."
Back then, Army regulations prohibited Old Glory from flying in a combat zone. The high command wanted to avoid the propaganda value of a German unit capturing an American flag.
Lombardo contacted his commanding officer who kicked the request up the chain of command. Lombardo was furious when word came back that the brass had issued a denial.
"I thought to myself if they won't give us one, we'll make one," Lombardo wrote. "I would wait for the right opportunity and would start on our worthy project. When I mentioned my idea to the men, they all got excited. All were as enthusiastic about it as I was."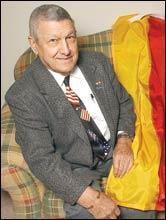 Starting the flag
Days after sharing it, Lombardo put his idea into action when his platoon entered a German city and he saw what the civilians had left behind in their rush for safety.
"White flags were hanging from all the windows," Lombardo wrote. "The town was partially evacuated. It was late afternoon and the artillery shelling ceased. We were then informed that we were to spend the night in place. The Germans were now well ahead of us and moving fast toward the Rhine."
Lombardo decided then and there to get started on the flag project. He went up to several first-floor windows all along the street and pulled down three or four of the white surrender flags.
"I took them back to a large house that I had picked out for my platoon, and stretched them out on a large double bed," Lombardo wrote. "I brought some of my men around me and told them what I wanted to do. All were happy with the idea and immediately volunteered for the different tasks."
Step one was to examine and size up the sheets. Lombardo chose one that came close and consulted his men. They agreed that it seemed to have the right dimensions for a flag.
"In this large bedroom were two good-sized red pillows and one blue set of curtains that reached all the way to the ceiling," Lombardo wrote. "They came down first. Then one of the men cut one of the puffed-up pillows open."
Circumstances had left behind something of a booby trap for the Americans. The pillow was stuffed with fragments of duck feathers that soon became a nuisance.
"The minute it [the pillowcase] was cut open, the down began flying out all over the room," Lombardo wrote. "If we talked, it blew; if we laughed, it blew; if we breathed, it would enter our mouths. Soon the bedroom was one entire cloud…We soon had to open the window in order to breathe."
Despite the feathers, work began right away on the flag. In the days that followed, the men would pull it out of a field pouch and gradually stitch it together. Often the work was done candlelight using a sewing machine "liberated" from some German property.
One side of the flag was completed by March 11, 1945, when the platoon crossed the Rhine River over the Ludendorff Bridge in Remagen. It is believed to be the first American flag carried into the heart of Nazi Germany.
The scene in the cellar
Weeks later, Lombardo and his men were camped out in the cellar near the banks of the Danube River. As they worked into the night to complete the flag, Army engineers assembled a pontoon bridge for a crossing the next day.
"We were assured that we would stay here overnight, and were reasonably safe," Lombardo wrote. "There were two or three small windows equally spaced along this wall from which we could see the river. We took several GI blankets and hung them over the windows. This was to prevent some artillery observer from seeing our lighted cellar. The sewing machine was set up in a corner…farthest from the river."
The unfinished flag was removed from the pouch along with remnants of fabric. Candles were lit and set up on some wooden boxes near the sewing machine.
"After several hours of cutting and sewing, our flag was completed," Lombardo wrote. "It was such a beautiful sight, even by candlelight. It was getting late now. We admired our treasure for a few moments. Then Sgt. Junod folded it carefully and properly inserted it in his flag pouch. All of us, dog-tired, curled up in various parts of the cellar and tried to get some shuteye."
Legacy
The platoon carried the flag through the remainder of their time in Europe. They had it with them after Germany surrendered and into the early months of the post-war occupation. Eventually, the flag that had been stitched together crossed over the ocean and became a keepsake of the American people. It is on display in the National Infantry Museum at Fort Benning, GA.
As for Lombardo, he moved to southern California where he reenlisted and started a 20-year career in the Army. His training included the Army Language School where he learned how to speak, write and read Japanese fluently. Lombardo served stints in Japan, Korea and Vietnam.
Eventually, he retired as a lieutenant and, at one point, lived at Chapel Pointe in Carlisle until the death of his wife prompted him to move south to Florida to be with family.