Rallies and vigils traditionally draw residents of Carlisle and its surrounding communities to the Square in the center of town.
Since the month following the attacks on the World Trade Center and Pentagon on Sept. 11, 2001, the Ladies Auxiliary of AMVETS Post 274 have gathered, rain or shine, at the Square on the 11th of each month to show support for the military. They vow to continue the gatherings until troops deployed in the war on terror come home.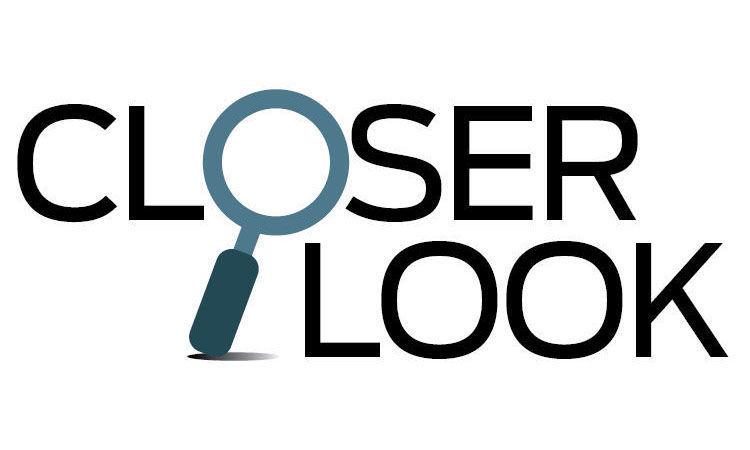 The Square in Carlisle has always been an epicenter of momentous events.
A vigil to support victims' rights has been held each April for almost 20 years as part of Cumberland County's Victims' Rights Week.
Each May, the Square hosts the National Day of Prayer and the borough's Memorial Day observations.
For sheer length and determination, there's the all-night vigil held on Veterans Day by the Carlisle Vietnam Veterans to honor and remember all POW-MIAs. They've been returning to the Square to remember the missing for almost 40 years.
But, in recent years, these traditional gatherings that largely carry an air of remembrance have been joined by gatherings with a decidedly more political tone.
For the second time in less than a week, the Carlisle community gathered to mourn victims of gun violence.
Rally factors
Picking a starting point for the string of issue-oriented rallies is a matter of perspective. Following the mass shooting at the Pulse nightclub in Orlando in June 2016, about 200 local residents gathered on the Square to remember the victims. Though not of the ordinary, that vigil didn't carry the political overtones future of future rallies.
After that vigil, activity on the Square fell into its usual routines until Carlisle High School senior Michael Smith, then a sophomore, decided to work with some friends to organize a rally to call for unity amid the divisiveness surrounding the 2016 presidential election. That rally, billed as "nonpartisan and nonpolitical" drew about 75 people to the Square on Jan. 21, 2017.
It is 2017, more than 70 years since Allied forces declared victory over Nazi Germany, but on Wednesday members of the Carlisle community fill…
That year featured four more rallies on the Square, including one for unity in the aftermath of violent clashes between white nationalists and counter protesters in Charlottesville, Virginia, in August.
Since January 2017, 14 rallies have taken place on the Square, according to The Sentinel archives.
By contrast, years passed in between rallies or protests that fell outside of the traditional gatherings mentioned above prior to 2017.
South Hanover Street marked the dividing line in the gun control debate Sunday afternoon.
Rally organizers point to a couple of reasons people gather at the Square and why it's happening more now.
"In general, people just really like to get that feeling that they're participating in a movement in the same way that those before them in Carlisle did," Smith said.
Smith also suggested that Carlisle residents realize there is a "lack of communal gathering to discuss and learn about these issues," and have been drawn to the Square because it is a highly visible, high-traffic area.
"There's something very positive and empowering about people coming together in a unified way. The downtown square gives you that presence, the space not only to gather, but the space to be heard," said Robin Scaer, executive director of the YWCA of Carlisle, which has been involved in a number of rallies at the Square over the years.
From a marketing standpoint, she said, holding a rally at the Square actively positions your issue to be heard beyond the attendees in light of the drive-by traffic.
Lights for Liberty: A Vigil to End Human Concentration Camps is planned from 8:30 p.m. to 9:30 p.m. Friday, one of hundreds of vigils planned across the country that day. Another vigil is planned Friday for 7 p.m. on the Harrisburg State Capitol Steps.
Emily Pawley, an associate professor of history at Dickinson College who along with Duffy Batzer, a librarian in the Carlisle Area School District, organized the Lights for Liberty vigil July 12 in Carlisle to draw attention to the conditions faced by migrants at the border, said many of her acquaintances thought the major social problems they faced were on the way out under the administration of former President Barack Obama. Now, she said the social problems are taking center stage, she said, and this, too, is driving people to protest.
"People are maybe remembering that keeping a society going means maintaining justice when it's possible and creating it where it has not existed. That takes work," Pawley said.
Issues like racism and the #MeToo movement didn't just pop up, Scaer said. They have been happening, but people are now finding their confidence to deal with uncomfortable topics.
"Even when people come together and they don't necessarily agree, that's OK because the fact of the matter is that you're still discussing and putting out there these important things that society needs to deal with," she said.
County seat
Some point to Carlisle's status as the county seat for Cumberland County as the reason for its rebirth as a hot spot for protests, but that doesn't paint the entire picture. Dagnes, who lives in Chambersburg, said similar events have not been happening there though it is the county seat for Franklin County.
When Arlette Morales heard that the federal Deferred Action for Childhood Arrivals program was threatened to end, "my whole world crashed," she said.
One reason? The Borough of Carlisle itself leans more to the left than Chambersburg, Dagnes said.
Cumberland County voter registration data from the May 2019 primary shows that Carlisle Borough has 7,432 registered Democrats and 4,923 registered Republicans. Republicans outnumber Democrats in only one precinct of one ward: the third precinct of the borough's third ward.
"It is not surprising that an area that is predominantly liberal would have such protests," Dagnes said.
Outside the borough, though, it's all red, setting up a stark difference between borough residents gathering on the Square and those who might be driving through. Voter registration statistics for Dickinson, North Middleton, South Middleton and Middlesex townships, which surround Carlisle, show Republicans outnumber Democrats by margins hovering around 2-1.
Because of these factors, Dagnes said residents should expect Carlisle's Square to stay busy for the next few years.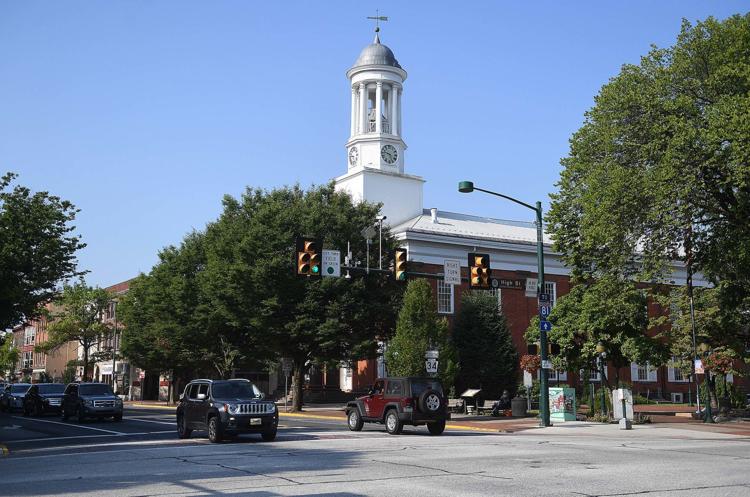 Even those who pay little attention to politics might guess what happened about two years ago to drive left-leaning residents of town to the Square to protest. Organizers for some of the recent rallies acknowledge that the 2016 presidential election played a role in their activism.
Right after the election of President Donald Trump, people on the left were "furious," Dagnes said. She described that anger as "different" from what people have previously experienced and "palpable." The anger coupled with frustration and a "feeling of helplessness that is pervasive right now, especially among the left," she said.
More than a dozen people turned out at the Square in Carlisle Wednesday to protest the Republican repeal of the Affordable Care Act.
This is where different forms of media come into play. A left-leaning Carlisle resident, for example, has social media feeds filled with like-minded thoughts of their neighbors. Add to that a relative in another state who is also left-leaning whose posts give the Carlisle resident a more national take on the issues. The Carlisle resident gets the idea that there is a national movement blossoming, and doesn't want to travel to Washington, D.C. They know other towns are holding events so chatter around a local event begins and it snowballs from there, Dagnes said.
Smith added that in the past few years there have been some nationwide, grassroots movements that have focused on challenging people to hold rallies and protests in their local communities as one way to launch local activism efforts.
What was it about the 2016 election, though, that triggered a reaction that caused opponents of the winning Republican party to take to the streets?
"Think about who protests. If you win, you're not protesting against anything. The Tea Party protests against Obama. Obama supporters weren't out protesting. They won. The Trump people aren't going to go out and protest anything. They won. They're happy as a clam," Dagnes said.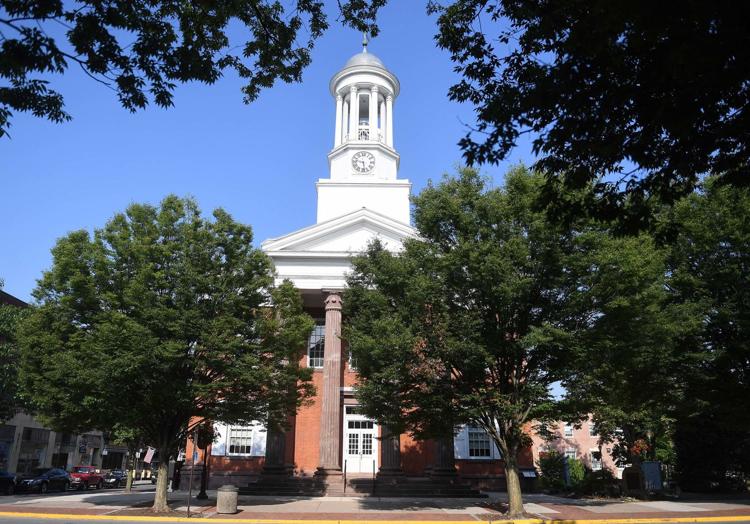 Unlike previous elections, there's a "personality-driven" factor to the protests we're seeing, Dagnes said.
The close election between George W. Bush and Al Gore in 2000 did cause "serious consternation" between the left and the right, but that was rooted in the political system, she said.
That divide resulted in one of the few nontraditional rallies held on the Square in the decade or so before the 2016 election. In December 2000, about 100 people gathered on the Square to show their support for Bush as state and federal courts determined the outcome of the election.
A cooling-off in the discordant nature of political talk after the terrorist attacks of 9/11 reignited over the next few years with the invasions of Afghanistan and Iraq, but Bush was still operating within the confines of the office, Dagnes said.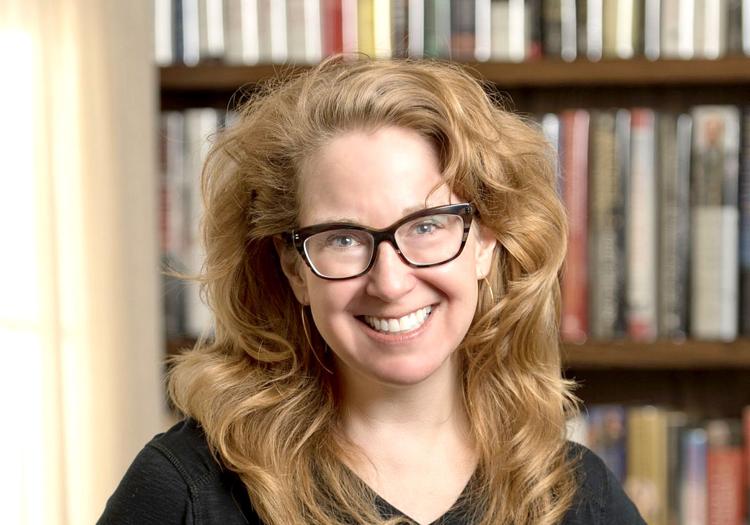 "He pushed the limits in ways the courts eventually found was unconstitutional, but it didn't feel as out of place," Dagnes said.
President Trump, on the other hand, has no experience as a politician, she said, adding that he is "obnoxious, which a lot of people like," with a simple rhetorical style that makes him easy to understand. He makes things personal and, as a "TV guy," makes it entertaining, Dagnes said.
Whether it's next year or in five years, the next president is going to be boring compared to Trump. That will lower the temperature a little in terms of divisive discourse, Dagnes said.
But, she said it would still take a long time to pull out of the spiral of discord. That can only be achieved by talking with and listening to people with whom you disagree in an effort to humanize them rather than to change their minds.
The Square has become a central meeting place, in part, because the rights to freedom of speech and assembly are guaranteed in the First Amendment.
What next?
Where this goes from here depends on future election cycles and voters' reactions to them.
"If Trump is a backlash to Obama, when is the backlash to Trump going to be? Is it going to be 2020? Is it going to be after that? If he is re-elected in 2020, is that going to make people even angrier on the left or is that going to depress people so much that they stop being angry?" Dagnes said.
Or, looking to the other side, if a Democrat wins the presidency, will Trump's base organize to find someone else or will they be depressed and stay home, she said.
Batzer's concern is that a Democrat in the White House would dampen enthusiasm for activists on the issues.
"That's one of my biggest fears: That if the election goes the way we want it to go in 2020, people will get complacent again, and we can't. We need to hold those people accountable," she said.
Seeing issues solely through party lines is a "dangerous, nonproductive lens to look through," Scaer said. It's important to disengage the issues from individual people or political parties.
"We've got to get away from that spin of political party and force ourselves to focus on the issues and how we're going to better manage those," she said.
Whatever happens in 2020, Smith hopes the trend of rallying on the Square continues, saying it's important for residents to gather in a single physical space around an issue.
"There's not much you can do alone to support a cause," he said.
Carlisle Area School District administrators recommend the board outsource the district's remaining instructional aides to save an estimated $…
Specifically, Smith said he would like to see more people coming together over local issues. Of the 14 rallies held since January 2017, only one dealt with a strictly local issue. That was the rally held in April of this year to show support for teacher's aides in the Carlisle Area School District as the board mulled a proposal to outsource their jobs.
Two weeks later, the board voted in favor of outsourcing and terminated the employment of 80 people.
"We have a lot of unaddressed issues within our own community that go under-discussed because we don't have as publicized a view of them. People aren't motivated about these issues," he said.
Be the first to know
Get local news delivered to your inbox!