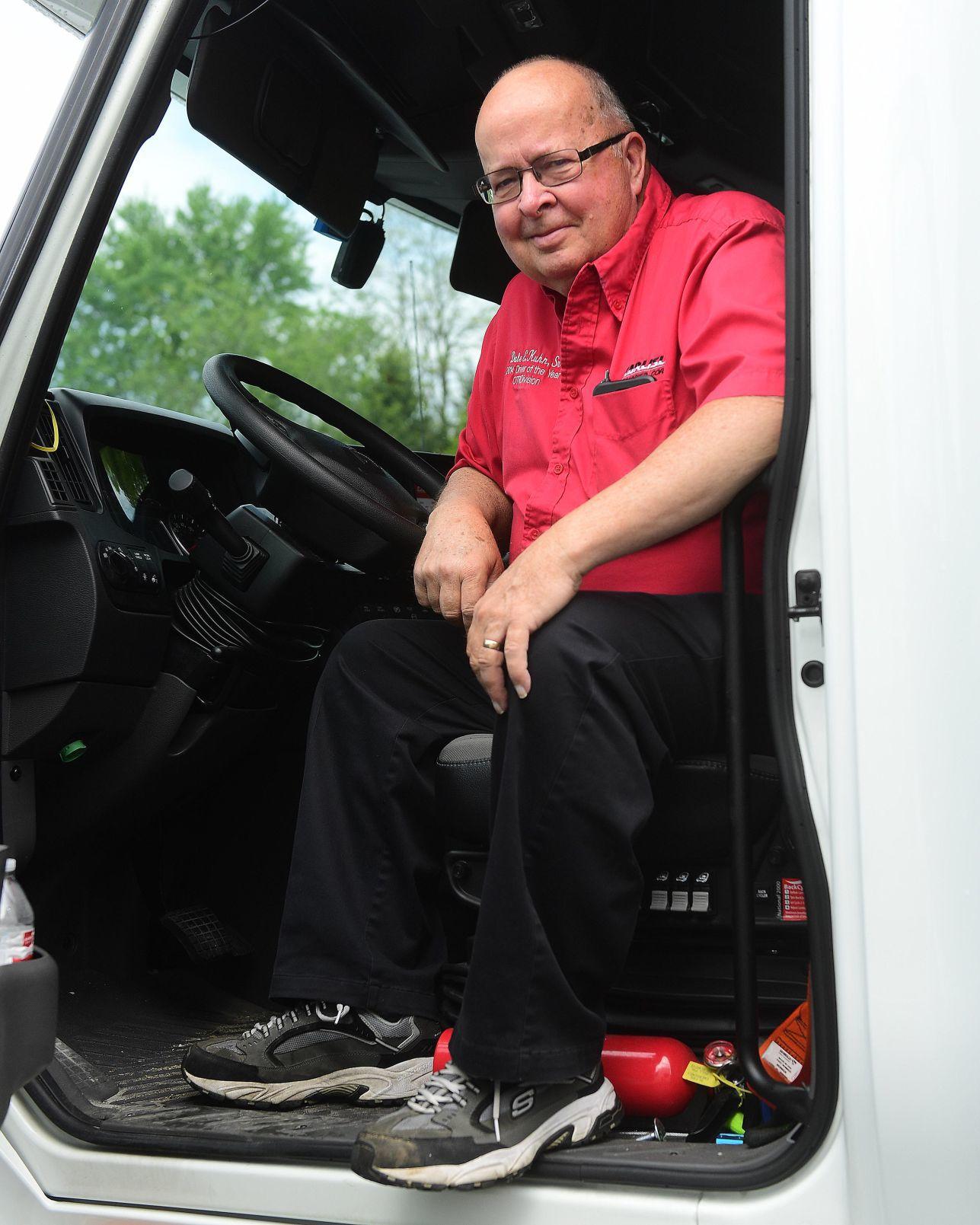 Dale Kuhn has persevered through many challenges during his decades as a truck driver.
Kuhn said he spent 23 years with the first company he drove for before losing his job.
The day after being let go, Kuhn said he went to the unemployment office to fill out his paperwork for unemployment and to find a new job.
He said the woman at the office who helped him seemed surprised that he had been terminated the day before and was out looking for a job that day. When he asked her why she said that, she responded that most people she dealt with tried to ride out their unemployment first before finding a job.
"That's just not the way I was raised," Kuhn said.
Kuhn then entered the Commercial Driver's License Training Center at HACC. Less than two weeks after he graduated Kuhn said he was driving again for the Carlisle Carrier Corp.
"I've been happy with them, they've been a very good company. I couldn't ask for better people to work for," said Kuhn, adding they treated him well over the past eight and a half years and were especially supportive and caring when his wife died.
Kuhn said he experienced many challenges on the road throughout his career. When he first started driving, Kuhn said he saw an accident happen in front of him when another truck swerved at a 45-degree angle before hitting a concrete barrier. He called 911 and reported the accident as he tried to slow down and navigate through the debris of the accident.
As Carlisle Carriers serves the Northeast region of the United States, Kuhn said he travels up to Maine almost every week. His furthest point west has been Fort Wayne, Indiana, and he said he drives as far south as North Carolina. Lately, Kuhn said he has been driving about 2,600 to 2,900 miles a week.
Along with increased security measures due to COVID-19, Kuhn said one of the ongoing challenges is other drivers. He said he realized how unsafe people can be on the roads the moment when a device on his truck, which beeps when another vehicle is too close and shows the speed of those who cut in front of him, showed somebody cutting him off the other day driving at 122 mph.
Kuhn said he hopes to see others be more courteous on the road, particularly during the current pandemic, as police have not been out patrolling as much and truck drivers are trying to make sure food and other essential goods reach stores.
Q&A with Dale Kuhn
I'll be 65 in three weeks, but right now 64.
How many years at current job:
8.5 years at Carlisle Carrier Corp.
Hometown/where you live now:
What do you like best about what you do?
I enjoy the travel. I miss my wife because she passed away last January, so it has been kind of tough being out on the road all the time by myself, and then coming home and still being by myself. I guess my thing is that I have been quarantined before quarantine was cool.
What is the toughest challenge you face as part of your job during this pandemic?
Getting into places. They scan you for temperature and make you fill out questionnaires now, like if you've ever been out of the country, you know somebody that has been out of the country or if you know anybody that had COVID-19. Then they ask if you have been ill lately, are you running a temperature, runny nose, sneezing, coughing, those kinds of questions before they even allow you to the security area. So, they do all that before you get really on site, to check, and then also now we have to wear masks before we enter a facility as well.
Something you would like the public to know about what you do?
You know we are out here working every day, trying to get products and food to the stores and warehouses, and the hardest part is people cutting in front of you or doing different things while driving. It is not only risking their lives, but they are risking my life as well, and it is disheartening to see how the motorists treat the truck drivers.
What's your proudest accomplishment?
I would say that I treat people well, and most of the places that I have been to, if you show signs of being polite and courteous to them, they are polite and courteous back.
What goals do you have in your field of service?
My goal right now is just to keep doing what I have been doing and doing whatever I can for the company. My goal right now is to get 32 more months in before I retire.