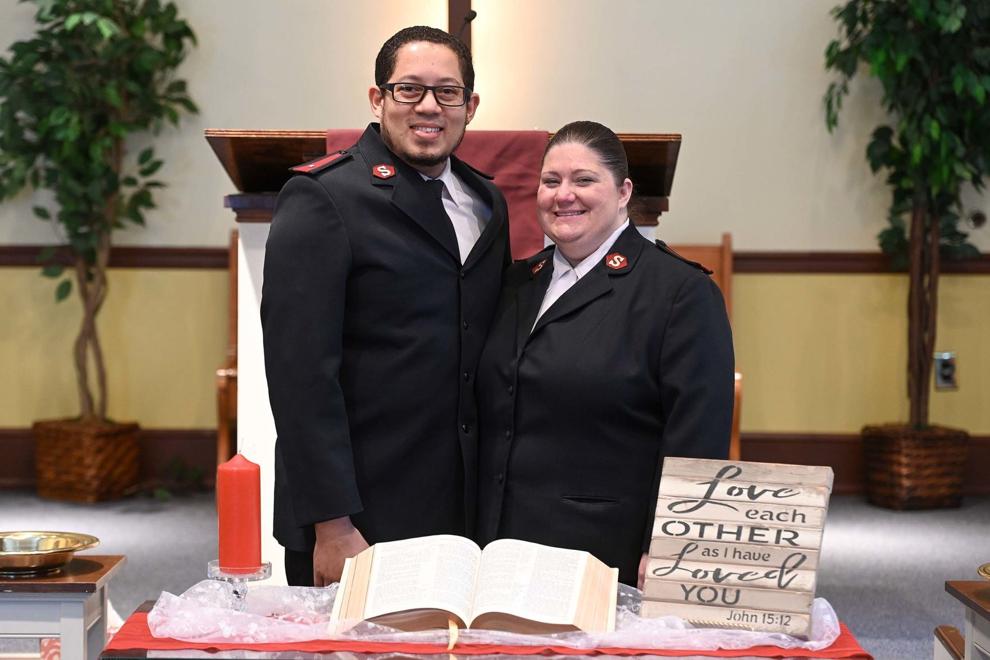 Typically, The Salvation Army appoints officers to their posts for about four years. New moves are announced each year in May.
This year, Oziel and Melissa Urbaez got the call to come to Carlisle — a call that was delayed by about two months due to the pandemic. They officially started their duties here on Aug. 4.
Adjusting to a new post has its natural challenges. At their previous post in Wilkes-Barre, the Urbaez family didn't have a supportive housing unit as they have in Carlisle. They didn't have a feeding program like the one at My Brother's Table.
"We also have a thrift store. We didn't have a thrift store in Wilkes-Barre, so that's something that we're still trying to figure out and get our bearings with that," Oziel said.
Melissa added that they also have the senior center.
"It hasn't been open, so we haven't actually been able to see it complete in its full action, but hopefully in the next couple months we'll be able to see that up and running again," she said.
The pandemic has made it even harder to get acclimated because "nothing is normal right now," Oziel said. The church itself had only been reopened for about two or three weeks when they arrived in August after having been closed from March to July.
"It's kind of hard to know what normal is for the programs. We still haven't been able to meet most of our folks that come to the programs just because of what's going on," Oziel said.
They've been able to make some connections through the church and at the daily meal distributions. In December, they met area families through giving out toys and gift cards for families to use for food — albeit at a distance, Oziel noted.
In the community, they've met pastors through the ministerium and other community leaders through the United Way, but Melissa said they haven't been able to embark on their favorite way of getting to know the community.
"We just like to go out and walk around and introduce ourselves to the people in the community, introduce ourselves to local businesses." Melissa said, noting that they haven't done so out of respect for people's different levels of comfort with meeting people during the pandemic.
Still, the community has been reaching out to them, welcoming them to town and continuing to support The Salvation Army's programs. The recent red kettle campaign raised about $150,000, surpassing their goal of $130,000.
"The community has just been so generous to us and continues to support us. We can not say thank you enough for the outpouring of support they have given us in this last year," Oziel said.
Faced with the uncertainty of what the pandemic will continue to bring in 2021, the Urbaezes are exploring potential new fundraisers with their board of directors and development team. It's likely the Carlisle Catwalk fundraiser will have to be canceled or to go virtual and The Most Amazing Race may not be able to happen.
"It's definitely a new world and we have to try to accommodate for that and think ahead," Melissa said. "We really have such a good staff and we really do have such great support from the community."
Both Melissa and Oziel are looking forward to when COVID passes. For Oziel, it's the idea of being open fully and embracing the community while showing them the love of Christ. For Melissa, it's seeing children back in the building to participate in The Salvation Army programs.
Children will find a new welcoming committee in the form of Oziel and Melissa's two girls, aged 9 and 7.
"You would think they are created for this life. They love meeting new people," Melissa said. "We actually have to try to rein them in a little bit."
Until then, the Urbaez family will continue to serve whatever that may look like in a pandemic.
"We're here and we're still doing what we do," Melissa said.
"We're still serving the community. We're happy to be in Carlisle, looking forward getting to know folks here in 2021. If they need us, here we are," Oziel said.
Oziel Urbaez
Age: 37
How long at your current position: Six months
Hometown: Miami
Currently resides in: Carlisle
Education: I have a Bachelor's in Communications, and I am finishing my graduate studies and will graduate with an MBA in May 2021
Melissa Urbaez
Age: 36
How long at your current position: Six months
Hometown: Philadelphia
Currently resides in: Carlisle
Education: I was a RN for almost 10 years before going into The Salvation Army training school. I am currently in my last semester for my BA in Nonprofit Business Management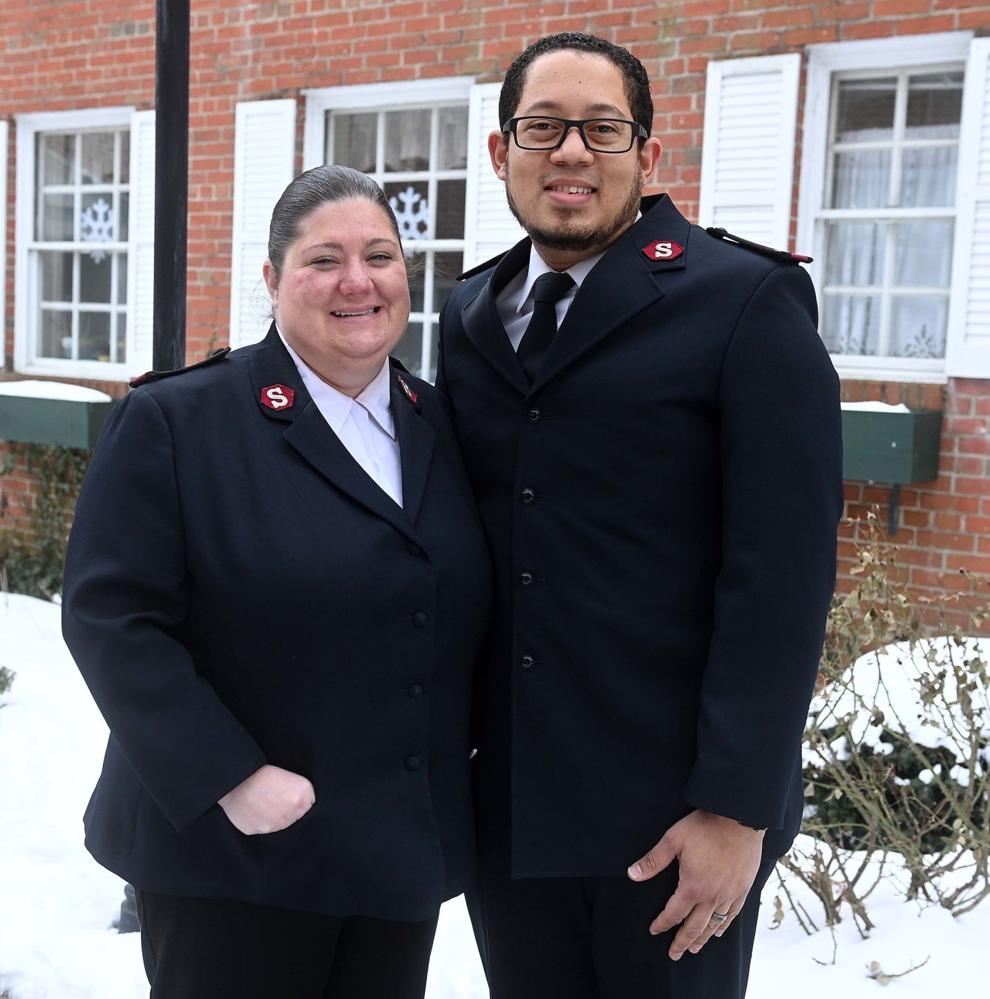 Q&A:
What do you like best about what you do?
Oziel: I love that I get the opportunity to help folks with tangible support such as food, shelter and clothing.
Melissa: I love being able to serve people and share the love of Christ with them in practical and tangible ways.
What is the toughest challenge you face as part of your leadership role?
Oziel: I think one of the toughest challenges is making sure we have adequate funding for our programs.
Melissa: Obviously with COVID it has been difficult to navigate all the uncertainties and new policies and procedures. At the moment, that is the most challenging part of my leadership role.
Something you would like the public to know about what you do?
Oziel: The fact that The Salvation Army is a church and that we offer spiritual support as well as emotional support but at the same time we do not discriminate on who we serve as our mission statement states that our "mission is to preach the gospel of Jesus Christ and to meet human needs in His name without discrimination."
Melissa: Many people know The Salvation Army for our social services, but we are also a church and everything we do stems from our desire to share God's love with others.
What's your proudest accomplishment so far?
Oziel: I enjoy the ministry of The Salvation Army and I take great joy in connecting with folks, but my biggest accomplishment is being a father to my beautiful girls.
Melissa: I love what I do but my proudest accomplishment is being a mother to my two children
What do you think the keys are to effective leadership?
Oziel: I believe a key to effective leadership is to lead by example and to maintain an open and honest dialogue with those you lead.
Melissa: Many things are important in being an effective leader, but I think the 3 main keys are: communication; motivating, inspiring and providing vision; and time management.
What goals do you have for the upcoming year?
Oziel: Our goal this year is to renovate and open a third floor in our Stuart House which will provide an additional three apartment units for the Carlisle community.
Melissa: To come up with new and creative ways to lead and minister in a post-COVID world. To engage with the community of Carlisle more. To see the church grow.
"The community has just been so generous to us and continues to support us. We can not say thank you enough for the outpouring of support they have given us in this last year."

— Oziel Urbaez