Cheri Lynn Bechtel began her career as a staff nurse, became a charge nurse and then a clinical manager "way back in the days of Polyclinic" before that hospital merged with Harrisburg Hospital.
Then she became the nurse manager of the cardiothoracic post-op unit. After 15 years there, she moved to the West Shore Hospital as its director of nursing.
"Last February, I was asked to come here as the vice president of nursing and chief nursing officer to help integrate Carlisle into UPMC Pinnacle and help grow this team," she said.
Her role as vice president of nursing operations, UPMC Pinnacle West Shore, and chief nursing officer, UPMC Pinnacle Carlisle, doesn't leave as much time for hands-on patient care, but Bechtel does take the time to visit the floors and help with procedures, answer call bells and interact with patients, even helping them to the bathroom.
And she does so with a purpose.
"You need to understand what you're advocating for. You need to understand what I'm asking the staff to do," Bechtel said.
As she works on standardizing the nursing practice across the hospitals, Bechtel said she has to build trust among the employees and listen to discover what had been done in the past.
"As things change in the organization and we're doing things differently, you have to know the why behind it. You need to be able to explain the vision," she said.
Integrating the staff means bringing retirement and entry level nurses together to meet the needs of each generation, Bechtel said. Family and a healthy work environment are important individually, but it's also important to have a healthy balance of the two.
"As they come to work I want them to be challenged, innovative, be able to give the patient a good experience, but I want them to have a good experience in their work life too," she said.
There are challenges in the profession. There aren't enough nurses. Health care reimbursements are changing. Outpatient care is becoming more common than inpatient care. Technology is becoming more central. Bechtel has to keep up with all of these changes.
"That's the visionary part of my role having to anticipate what's going to happen in the future, what are those changes, what are the needs of the nurses," she said.
In a sense, that brings her career full circle.
"My role allows me to go back to why I got into nursing: to take care of people. I take care of patients and I take care of my staff," Bechtel said.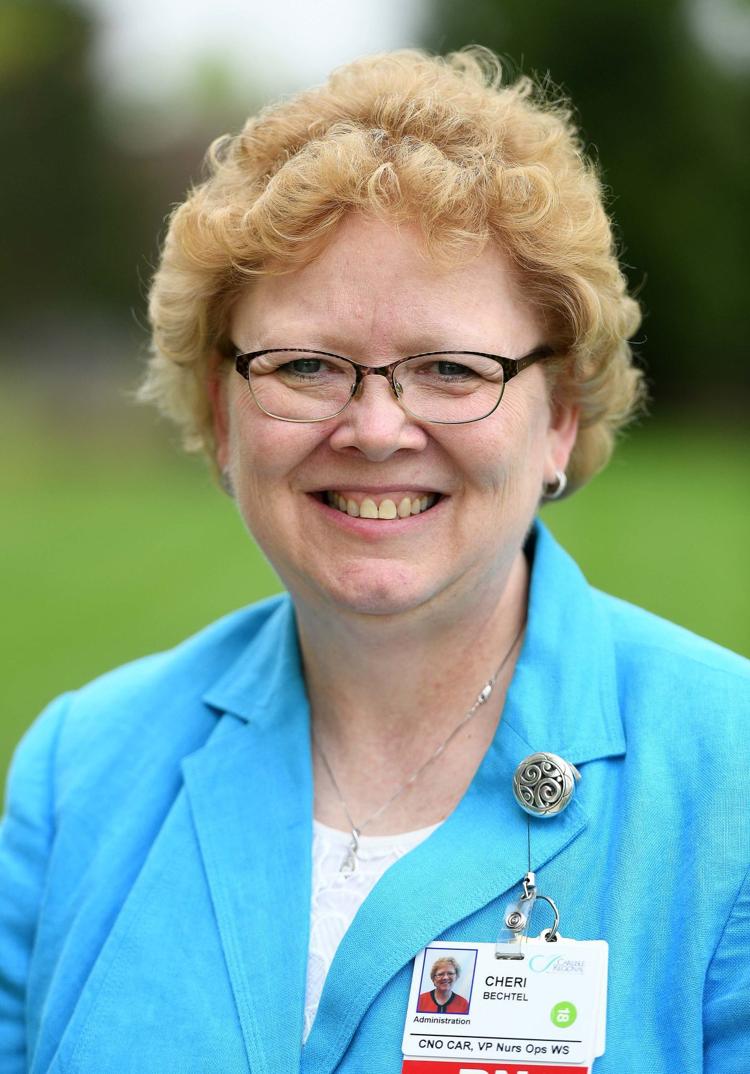 Cheri Lynn Bechtel
Family: Lee Bechtel, husband, just celebrated 30th wedding anniversary. Kayla Sorrell, daughter; Joshua Sorrell, son-in-law; Wyatt, Adalyn and Olivia, grandchildren; Ryan Bechtel, son; Heather Bechtel, daughter-in-law; Harper, granddaughter.
Profession: Vice president of nursing operations UPMC Pinnacle West Shore; chief nursing officer, UPMC Pinnacle Carlisle.
Where you live now: Halifax
Q. What do you like best about what you do?
I really like that my current position allows for me to stay connected to what brought me into nursing in the first place. It allows me to take care of people. In my current position, everything I do is connected right back to providing the patient with the best experience and high quality care. I have the opportunity to advocate for the patient, family and the staff I work with. It is my role to assure that the nursing staff has the resources they need to provide the care. I also enjoy mentoring novice nursing staff. I can help develop the nursing leaders of the future.
Q. What is the toughest challenge you face?
The toughest challenge that I face is recruitment and retention of nursing staff. It seems that over the past five years the nursing shortage has become more intense. It has become harder to recruit the staff needed to meet the needs of our organization and then to retain them. This is impacted by several things: local health care competition for a small pool of nurses and generational challenges in nursing. Currently we have nurses from multiple generations in the workforce. Each generation has different needs and wants. We must figure out how to keep the experienced generations in the workforce and how to help the new generations transition into the workforce.
Q. What do you like best about working or living in Cumberland County?
Even though I don't live in Cumberland County, it feels like home to me. I have worked in Cumberland County for the last four years and I see it as my community. It is a community that cares about the people who live there. There are so many people in the community that give back to the community to support others in need. There is history, culture and places of worship that are inviting. I see pride in the people who live in Cumberland County. It is a special place. I really love that I can be a part of building UPMC Pinnacle West Shore and UPMC Pinnacle Carlisle to be places where this community can get the highest quality health care they need and deserve.
Q. What are the key elements you see in effective leadership?
Integrity is essential in leadership. I feel that a leader should be consistent, open and honest. This builds trust with others. A leader must be able to effectively communicate. They must be able to listen, to understand, and to articulate their thoughts through verbal, nonverbal and written communication. A leader must be visionary and innovative. A leader must be able to see beyond today and be able to plan for the future. A leader must be able to empower others and inspire them to be part of what they are trying to accomplish. A leader must be able to inspire others to be the best they can be and a leader must be able to help others grow and develop. A leader must be willing to trust others and delegate the work. A leader must be humble and able to acknowledge when they are wrong and apologize.
Health care is ever changing and the work to be done will continue to evolve with the change. I really believe that along with that there is a lot of work to be done in workforce development. We need to spend time helping to build the pipeline of health care workers of the future. I truly believe this needs to be a high priority for health care leaders of today. We need to expose young children to health care jobs at an early age to plant the seed for future job opportunities. We need to develop education and training sites to support these jobs, to help our future health care workers to get the skills needed to perform the jobs of the future. Health care jobs of the future will more than likely look different. We, as leaders of today, must be innovative to help define those jobs and the skills needed to do those jobs.
Be the first to know
Get local news delivered to your inbox!