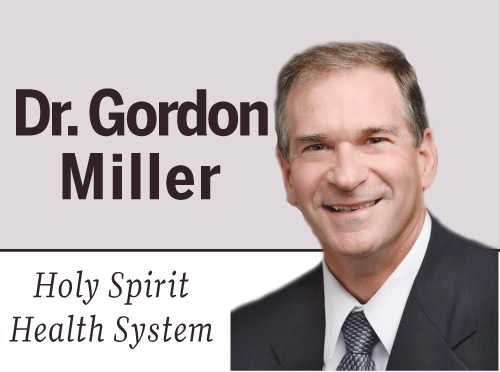 Holy Spirit Health System staff answer questions posed to them by you, the reader. If you have a question you want answered, email ncreason@cumberlink.com with your question, a name you'd like to go by and where you're from.
What are some common causes of fatigue?
— Always tired in Mechanicsburg
There are many causes of fatigue. Common causes include depression, anxiety, drug addiction and medications used to treat these conditions, as well as those that treat high blood pressure. Infections, cancer, anemia, fibromyalgia, thyroid disease, diabetes and diseases of the kidneys and liver also are common causes of extreme tiredness. Patients with sleep disturbances caused by conditions such as sleep apnea and gastroesophageal reflux also can lead to fatigue. If you are always tired and it affects your activities of daily living, social life, or job, you should talk with your health-care provider.
---
What should teens keep in mind when trying to safely build muscles?
— Working out in Carlisle
The American Academy of Pediatrics provides recommendations on resistance training by children and adolescents. Resistance training, when done properly, can improve strength, athletic performance and long- term health. It also can be used to recover from injuries. There are risks associated with resistance training. The lower back is the most common area injured. It is extremely important to ensure that lifters use proper weight-lifting techniques and are supervised while in the weight room. All children and adolescents should undergo a medical evaluation before beginning a weight-lifting program. They should begin with low-resistance exercises and add weight slowly until proper technique is learned. Exercises should include all major muscle groups and should be combined with an aerobic training program for cardiovascular fitness. Children and adolescents should avoid competitive weight lifting, power lifting, body building and maximal lifts until they reach physical and skeletal maturity. Those interested in weight lifting can benefit from instruction from someone certified in exercise training or sports medicine.
---
How can you tell if you have pneumonia instead of the flu?
Pneumonia is an inflammation or infection of the lungs, which causes them to function abnormally. The signs and symptoms of pneumonia are cough, fever, chills, fatigue, difficulty breathing and sometimes chest pain. Typically pneumonia is caused by bacteria. However, it can also be caused by the influenza virus or other flu-like viruses. The influenza virus usually causes fever, headache, muscle soreness and weakness. However, in certain high risk groups, the influenza virus can cause a viral pneumonia or can damage the lungs making them susceptible to bacterial pneumonia. If you have questions about pneumonia or think you may have pneumonia, you should talk with your health-care provider.
---
Answers provided by Dr. Gordon Miller of Holy Spirit's Carlisle Family Health Center.
This information is intended for educational purposes. Please consult your health-care provider for advice about treatments that may affect your individual health.