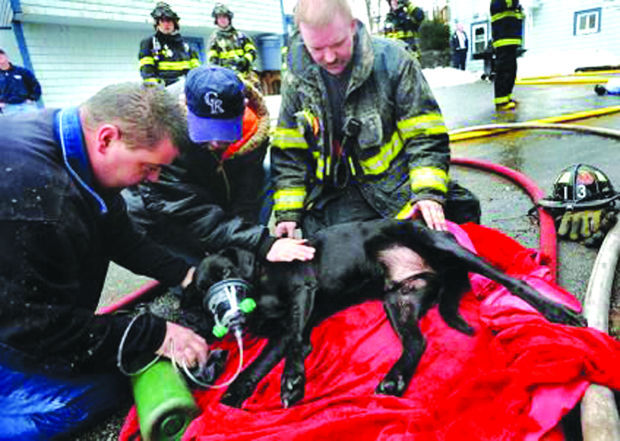 LOWER ALLEN TWP. — When our homes catch fire, we instinctively attempt escape — but our pets do not.
"Too many pets die in house fires every year because they run and hide," said Sabrena Meyerhoff, owner of Rossmoyne Animal Emergency and Trauma Center.
The center. at 4930 Ritter Road, Suite 101, Mechanicsburg, has partnered with the nonprofit Project Paws Alive to buy pet oxygen recovery mask kits for local emergency response crews to help animals that do make it out of the home.
"To raise money for these pet oxygen masks is really important to me," Meyerhoff said.
One of Project Paws Alive's missions is to help emergency responders save the lives of pets with the pet oxygen recover mask kits. The organization says these specially-designed animal masks will treat conscious and unconscious pets suffering from smoke or toxic fume inhalation.
Meyerhoff, who has treated many pets for smoke and toxic fume inhalation in her office, said having these kits on-hand at emergency scenes increases a pet's survival rate dramatically.
Project Paws Alive CEO Cheryl Allen said Meyerhoff's center became involved with the organization after successfully operating on K-9 Officer Zeke, the Belgian Malinois dog who was shot in the neck in March while helping officers in Lower Paxton Township. Meyerhoff' said Rossmoyne Animal Emergency and Trauma Center treats many service dogs, including Zeke, free of charge.
"They have been very supportive of our organization and have done everything they can to help us," Allen said.
The "top-of-the-line" kits include three different mask sizes to accommodate dogs, cats, ferrets, rabbits, guinea pigs, birds and horses.
Meyerhoff said most fire and EMS agencies are not authorized or cannot afford to purchase these kits. She said her center will provide emergency responder training on how to use the equipment free-of-charge.
Together, the organizations will collect $8,000 and buy 50 kits, which will supply vehicles at West Shore EMS, Fairview Township EMS, Newberrytown EMS, Camp Hill EMS, East Pennsboro Ambulance Service and facilities in Harrisburg.