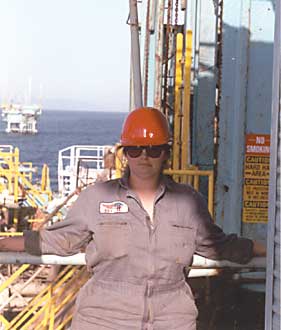 As members of Carlisle High School class of 1983 received diplomas on graduation day a decade ago, their lives stretched before them - a blank slate ready to be filled.
In preparation for their 10th-year reunion this weekend, communication has been high as they work to find everyone's location and what they have done over the years. Some have filled in those blanks in very different ways. Here are their stories.
After graduation, Sandy Miller went to the University of California, Santa Barbara. Her degree was in anthropology, but she took a lot of geology classes and went on really neat field trips all around the state, she says.
She recalls gazing off of the coast of California and seeing large iron oil rigs in the ocean. When boating, she got a closer look at them and thought, "Gee, it would be fun to crawl around on one of them."
A few years later, Miller found herself living next door to the owner of several oil rigs. He offered her a job as a petroleum geologist with his mudlogging service company.
For 10 years, her job involved monitoring drilling rig parameters and the presence of natural gas, studying rocks and determining types of oil found.
In the late 1980s and early '90s, the company was digitalizing all monitoring, rather than doing it by hand. "I helped develop real time data acquisition system" by computer, she says.
Miller reveled in the unique job. "The only two ways to get to work was by boat or helicopter," she says. Strapped down with numerous pieces of safety equipment, she remained on the rig anywhere from a day to a month.
"It was wonderful, one of the most fantastic jobs I could only imagine having," she says. "Being on the ocean was incredible. I worked between the coast and the Channel Islands and I could look down and see whales and sea lions."
A maid service on the rig didn't hurt either. Miller had her bed made every day and her clean laundry waiting outside her door.
"The only thing you have to do is work," she says.
And the work was interesting because "people from all over the world" were teamed up. She worked on very high profile projects and on both Exxon platforms, Harmony and Heritage - two of the last platforms erected offshore in California.
However, she worked for a small company that was eventually bought out. Everyone moved to Houston, but Miller remained in California and moved into the technology field, doing remote access and computer support. Three years later, she returned to Pennsylvania.
"I wanted to buy a farm," she says.
You have free articles remaining.
Now in Newburg, Miller, 38, and her husband, Ralph Jones, live on a Civil War era farm that they call the Painted Hand Farm.
She raises meat goats, writes for a small magazine in Boston and works with computer viruses for ICSA Labs. She runs viruses on computers, gets them to duplicate and tells the anti-virus companies what the viruses do.
Bill Aarhus was never much of a history student until he took care of the late U.S. Supreme Court Chief Justice Warren E. Burger for six months.
As a child, Aarhus lived next door to the justice's son, Wade Burger, in Virginia, where the families became close. However, Aarhus's family moved to Pennsylvania after Aarhus turned 2 years old. After graduating from Carlisle High School and then Shippensburg University in 1988, Aarhus moved back to a Virginia suburb of Washington, D.C.
"I had not met Wade's dad, the chief justice, until Wade called one night in February 1995," Aarhus says.
Wade Burger told Aarhus that the chief justice was in the hospital and the only way he could go home was if someone stayed with him. Aarhus, then 29, agreed to stay the night, which turned into more than six months before he knew it.
Aarhus was chosen because he was a friend of the family - someone they could trust.
At that point, the chief justice was retired. However, he still had an office and was consulted as an elder-statesman. When he began to feel better, he returned to chambers and Aarhus worked as his confidential aide. He also worked for the American Red Cross at its headquarters, where he met his wife, Susan.
Aarhus went to the hospital with the chief justice the day he died and mourned with the family. Aarhus now says knowing Burger made him look at life in a different light.
"I learned a lot about him… the sacrifices he made," Aarhus says. "I think it was learning about his love of life. He was a sculptor, painter, gardener, wine connoisseur. This guy really lived life to its fullest."
However, it was when Aarhus asked for the chief justice's most valuable piece of advice that he received a lesson he still uses today.
"'My mother was a remarkable woman,' he (Warren Burger) said. 'And she taught me to approach every task as if the rest of my life depended on it.'"
Aarhus applies that advice in his market research unit job at the Teaching Company. The firm produces full-course lectures on CD, DVD, audiotape and videotape. Aarhus determines which professors to use and what courses to tape.
His goal is "just going all out with everything," Aarhus says. "I'm applying myself more than I have ever done before."
Since he spent just Even though he spent six months with the chief justice, he was surprised when a biographer called to interview him. However, he cooperated because he wanted to honor a man he considers "an American icon."