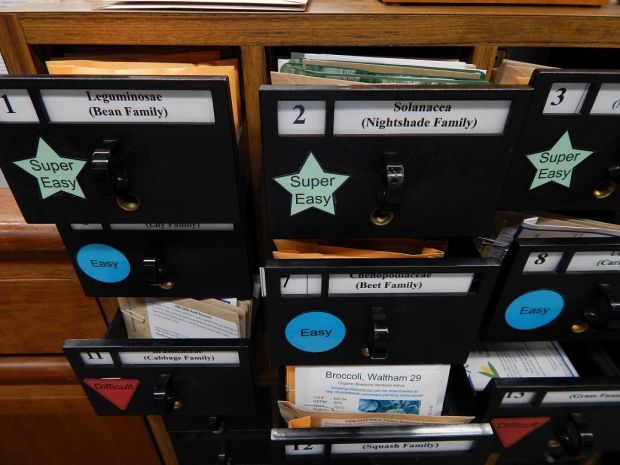 The Pennsylvania Department of Agriculture sees its new protocol for seed libraries as an opportunity to safely regulate them while saving an organization or person from liability.
Proponents of seed libraries, however, see the department's efforts as a way to effectively shut down movement to grow and maintain local seed varieties.
The issue at hand stems back to April 26, when the Joseph T. Simpson Public Library opened a seed library, in which it would allow residents to "borrow" seeds and then offer seeds back to the library to start the process over again. It's the second part of that process that caught the attention of the Pennsylvania Department of Agriculture, which then contacted the Cumberland County Library System to rectify what it saw as a violation of the Pennsylvania Seed Act of 2004.
When the ensuing discussion between the two entities and the resulting protocol on how to operate the seed library became public at last Thursday's Cumberland County commissioners meeting, the news went viral, catching the attention of seed libraries across the country and Canada.
Jonelle Darr, executive director of the library system, Monday said she has been inundated with calls and emails from proponents who believe the library should not capitulate to the department's demands. That, however, is not a fight in which the library is interested.
"This is not our core mission. If I could have this much attention on other library issues, I'd be happy," Darr said. "In my opinion, it seems like a reasonable approach."
The approach, the department noted, is one at which it jointly arrived with the library.
"We are not (going) to go in there and shut it down," said Samantha Krepps, press secretary for the state Department of Agriculture. "This was accepted as a realistic solution. As a regulatory agency, it is our charge to protect commerce, and also protect the library from any liabilities."
Cumberland County Library System's seed library was the first one in the state that the department approached about regulating how it works. Jay Howes, deputy secretary of the department, said this was a chance to develop something the department believed would appease both sides.
"We wanted to explore exactly what they wanted to do, and reconcile that," he said. "It was a very cooperative effort."
Howes said the department is responsible for protecting the integrity of seeds used by the public and agriculture industry. This includes distribution, so even though the library was not selling the seeds, this particular seed library fell under the purview of the state department.
Through discussion with the library system, the department's Bureau of Plant Industry developed a protocol that seed libraries should follow. That protocol was then accepted during a meeting last week of the Association of American Feed Control Officials. The association, according to its website, is a voluntary membership association of local, state and federal agencies who are charged by law to regulate the sale and distribution of "animal feeds and animal drug remedies."
For the library system, the protocol meant the library could still provide labeled packets of seed that are for the proper growing season, but it could not accept seeds that were unlabeled, seeds that were past the sell-by date and seeds that were not for the growing season.
Darr said it is the library system's intention to continue the seed library under the new rules.
The department said there are ways to get around the protocol. A seed library could accept loose seeds if those seeds are tested by a laboratory that follows testing rules set by the Association of Official Seed Analysts Inc.
The Pennsylvania Department of Agriculture also does not have regulatory control over a seed library that does not sell the seeds and is not operated by an organization. If it were run as just an organized way of swapping seeds among individuals, it would not fall under the department's jurisdiction.
That, however, is not the case for some seed libraries, especially those with considerable memberships.
Krepps said there are 333 seed libraries across the country, with another 170 on the way.
One of those already established is the Seed Library of Los Angeles. Founding chair of the organization, David King, said the L.A. seed library was formed in 2010 and now has more than 800 members. Not all of those are active in gardening, but it's a sizable organization that is run by a volunteer board of about 20 members.
King said he and many other seed libraries are keeping an eye on what is going on in Pennsylvania with concern about how it may affect their own libraries.
"It's a debate on whether or not we want to talk about it with our state department of agriculture," he said. "We're not getting any trouble right now, but we'd also want to change the law to specifically exclude us."
King said the Pennsylvania Seed Act of 2004 seems on par with federal seed regulations, which are then similar to how other states regulate the seed industry. The acts, however, seem to be more designed for the commercial seed industry, and King said he finds the reasons behind regulating seed libraries to be bogus.
"We're growing food. We're not growing weeds or imported species of plants," he said. "I'd say about 99.9 percent (of what seed libraries grow) are vegetables."
King said the seed library doesn't want to discourage anyone from joining, so membership is a paltry $10 for a lifetime, and checking out seeds is free — though those who do not return seeds are asked for a $1 donation, which is still not a requirement. The membership fee pays for envelopes for packaging seeds, as well as any advertising or mailing costs.
King noted that the seed library does not ship any of its seeds outside of the community.
"We really want to establish local varieties of our food supply," he said.
King said with the way the seed industry is now, it does not allow for much development of biodiversity among seeds — something he says is important in agriculture. He explained that through the seed library, they were able to save a line of beans that had been grown since the early 1800s but was on the verge of extinction because the current family couldn't retain it. The remaining seeds were able to grow four plants, and King said that was enough to save the beans and put the family name to it.
King noted that not all soils are the same across the country, and locally grown seeds would mean a better product since it was designed for the local soil.
"A radish that comes from New York is not going to be the same as something from Texas," he said. "You can make adaptive varieties for soil and climate. We have been told the way to abundance is through scientific research, not by limiting the variety out there. This fulfills that call."
King said there is a perfect example of this in Pennsylvania with the Amish and Mennonite communities who save seeds and use local seeds for crops and gardens.
What the Pennsylvania Department of Agriculture is doing with its protocol on seed libraries will get a reaction from the seed library community at large, King said.
King explained that one of the requirements, should loose seeds be accepted, is that the seeds undergo a germination test, or a determination if a seedling is capable of developing into a healthy plant. He said he understood that a library system would not have the staff to do such testing, but he said "seed people" like himself and others at the seed library are capable of doing such testing. Gardeners in the know can do such testing at home, though King said it poses a problem if there aren't enough seeds to complete a usual test — at which time, the test can cut back on the seeds used but would get a higher variable.
The Pennsylvania Department of Agriculture, however, would require germination tests be completed at a laboratory that follow AOSA testing rules — something that could complicate the process further for seed libraries.
King said it's enough to cause a stir among proponents of seed libraries and the local seed saving movement.
"It's going to create a reaction," he said. "In L.A., there's three or four seed libraries, but in the bay area, they have many, many more with much longer histories."
He said groups would look into reaching a peaceful agreement, as well as make some changes to the law to make sure seed libraries are exempt.
"Honestly, the eventual outcome at any rate is to protect (local) foods and fellow seed savers," he said.
The Pennsylvania Department of Agriculture emphasized that it is not starting a campaign against seed libraries, but has rather started a conversation about how to regulate them as the libraries begin to grow in number in the state.
Darr said the Cumberland County Library System is looking to add information to its website, www.cumberlandcountylibraries.org, that detail the discussion and links to correspondence with the state department of agriculture.