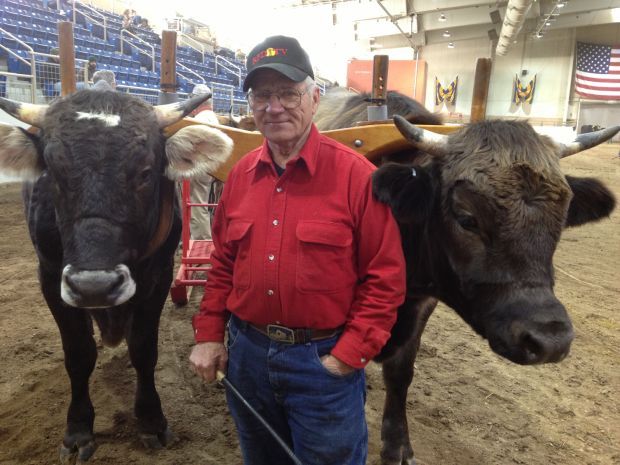 HARRISBURG — Visitors to the 98th Pennsylvania Farm Show's Dairy Oxen Demo on Tuesday felt like they went back in time.
Pairs of massive oxen showed strength and teamwork as they hauled sleds with people aboard around the Farm Show Complex Equine Arena. Others pulled 1,000 pound logs around as easily as a toddler pulls a little red wagon. Five teams of stout oxen pulled a covered wagon, looking for all the world like they were taking settlers out west.
Oxen are castrated bulls of any breed, around four years old, who have been trained to work.
Abe Allebach of Spring Mills, working with a pair of Durhams he calls Dick and Dan, said the early settlers in the 1700s used them to plow and to pull wagons. They also cleared land and harvested timber.
Darwin Braund of State College, who bought his Jersey oxen from daughter Michele Reasner of Newburg, added that settlers used oxen before draft horses were imported to the United States in the 1800s.
"Oxen are stronger," said Braund, who has two Jersey oxen. "But draft horses are faster."
That was evident from the slow but steady pace of the oxen. They weren't fast, but they got the job done. Teamsters used such terms as "gee" meaning to turn right; "come here" or "come haw" to turn left; "easy" meaning to slow down; and "head up" telling the oxen to pick their heads up.
Braund said that oxen grow on their owners.
"A couple of us got the idea to work with oxen during a trip to Fryeburg, Maine," Braund said. "In 2010, I called my daughter, who milks 55 Jerseys and told her I wanted to buy her next two bull calves and why. She said 'are you crazy?' But I bought them, trained them and have been at it ever since."
He named his oxen Frye and Burg after the town where the oxen hobby started for him.
"I drive Frye and Burg like a team of horses," he said. "I even have given sleigh rides with them!"
Braund said he wishes he bought oxen earlier in life.
"I should have started this 40 years ago," he lamented. "It's a young man's sport, not for someone 80. They walk faster than I do. I'm slowing up while they are speeding up!"