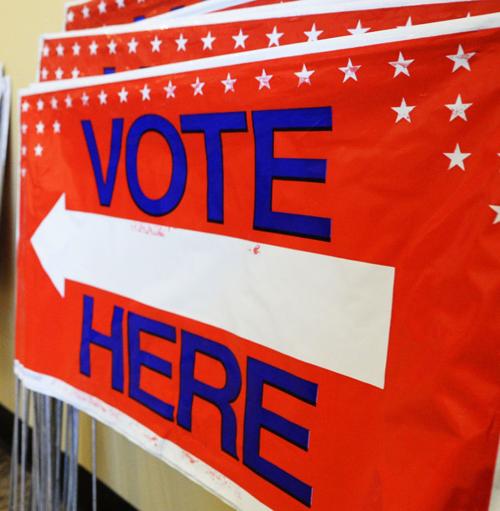 What do you have planned on your schedule for Nov. 5?
It's a Tuesday. So with your job, classes, getting kids to school or volunteering somewhere -  it will be a typical start to your week.
In next month's general election, there are candidates seeking state, county, municipal and school board positions across Cumberland County.
Only thing is, it's not a typical Tuesday. This will be a day when you can provide influence, take part in something that is a foundation to our country and make a difference. But you have to show up.
It's election day. This won't be like the shiny election days coming up in 2020 for the presidential primary and general election, but it has a direct impact on your life.
The deadline for readers to submit letters to the editor regarding the Nov. 5 election is Oct. 28.
You will be voting for a county commissioner (they make and manage the county's budget), a judge (they interpret our laws), a treasurer (the day-to-day collection and disbursement of county funds) and a district attorney (they lead how laws are enforced in our county). Throw in school board races (taxes anyone?) and some municipal races (as local as it gets for government) and you have a lot to think about.
Heck, you even have a possible constitutional amendment to consider - Marcy's Law, otherwise known as the Crime Victims' Rights Amendment.
Acting Secretary of State Kathy Boockvar filed her response to a lawsuit by the Pennsylvania League of Women Voters that asks for an injunction against the proposed victims' rights amendment.
We make it a point to provide information to help you make your vote. Through coverage of candidate forums, election letters to the editor, election feature stories and our voter's guide set to run Nov. 2. This coverage is the power of a community newspaper like The Sentinel. 
We could simply tell you that you need to vote, but we also choose to inform you about voting machines, voting issues and your local government.
As your community newspaper we take pride in shining this spotlight on elections at the local and national level. And when Nov. 6 rolls around, we'll have the election results for you to show you what your vote helped accomplish.
Thank you for your support in helping make coverage like this possible.
Tuesday night's forum for countywide candidates on the Nov. 5 election day ballot touched relatively few hot-button partisan issues, instead stressing the nuts and bolts of local government: court organization, planning and zoning, transportation, and other hometown matters.
Be the first to know
Get local news delivered to your inbox!