The number of heroin overdose hospital admissions rose in 2017, but was also the lowest increase in recent years with pain medication overdoses on the decline, according to new research from the Pennsylvania Health Care Cost Containment Council.
PHC4, which analyzes health care and hospital data in the state, on Wednesday released the results of its research brief looking at hospital admission data for opioid overdoses between 2016 and 2017.
The independent state agency said heroin overdose admissions increased 12.7 percent between 2016 and 2017, compared to the average annual increase of about 24 percent annually between 2011 and 2016. In the same time period, hospital admissions of pain medication overdoses fell 2.2 percent.
Combining hospitalization data for both pain medication and heroin, research showed that overall admission numbers for opioid overdoses dropped across the board in the Midstate.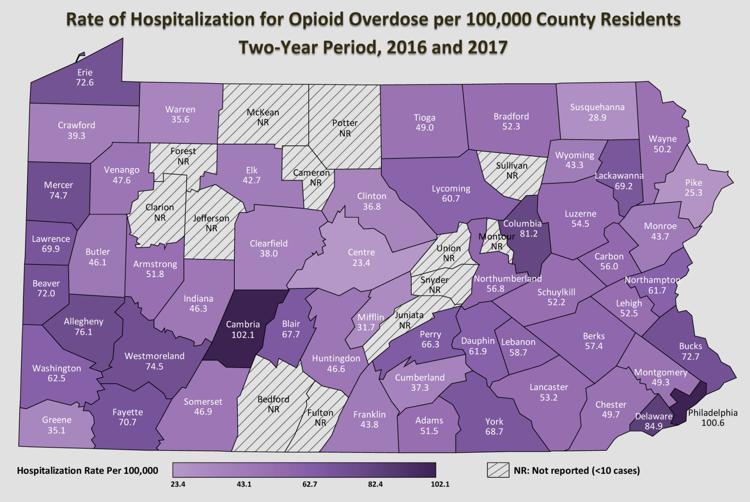 Cumberland County had 49 overdose hospitalizations in 2016 and 28 in 2017, and Perry County had 15 hospitalizations in 2016 and 11 in 2017. Dauphin, Adams, Franklin, Lancaster and Lebanon counties also saw slight decreases in the number of hospitalizations.
Despite a glimmer of hope, PHC4 said the opioid problem remains an issue in the state.
"These findings continue to stress the alarming impact the opioid problem has on Pennsylvania families," PHC4 Executive Director Joe Martin said in a news release.
While hospitalizations may be down overall in the area, mortality rates are rising across the state. According to PHC4 data, nearly 1 in 10 patients hospitalized for heroin overdose (9.6 percent) died in the hospital in 2017, which is up slightly from 9.3 percent in 2016. About 5 percent of pain medication overdose patients died in the hospital in 2017, compared to 2.9 percent the year before.
Hospitalizations
Locally, Cumberland County has the lowest rate in the Midstate of overdose hospitalization per 100,000 county residents. In Cumberland County, the rate of hospitalization was 37.3 between 2016 and 2017, compared to 66.3 in Perry County, 61.9 in Dauphin County, 68.7 in York County, 51.5 in Adams County and 43.8 in Franklin County. Rates were not adjusted for high risk factors, which is why rural counties like Perry County saw relatively high rates in the study.
Research found that the hospitalization rate was higher among populations that had lower income residents and in areas where less than 10 percent of the population had a bachelor's degree. The hospitalization rate was also higher for men (77.8 for men and 52.1 for women per 100,000 residents), and the rates per race/ethnicity were 67.5 for blacks, 65.9 for whites and 50.4 for Hispanics.
The average age of patients admitted for heroin overdoses was 33, and the average age for pain medication patients was 53, according to the research.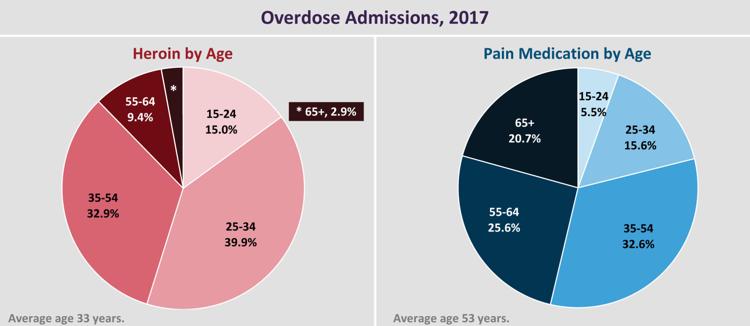 The data also broke down what types of pain medication were behind overdoses in 2016 and 2017. According to PHC4, commonly prescribed medication like oxycodone was the cause of 59.8 percent of pain medication overdoses in 2016 and 58.2 percent in 2017. Synthetic pain medication, like fentanyl, caused overdose hospitalizations in 11.2 percent of the cases in 2016 and 12.9 percent in 2017. Data attributed methadone as the cause of 8.6 percent of the hospitalizations in 2016 and 7.7 percent in 2017.
For heroin overdoses, the number of hospitalizations steadily increased in 2016 from 295 admissions in the first quarter of that year to 478 by the fourth quarter. In 2017, however, hospital admissions for heroin overdoses climbed to 536 in the second quarter before falling the third and fourth quarters, ending at 324 hospitalizations in the fourth quarter.
Money
PHC4 also analyzed who was paying for these hospital admissions and noted that opioid overdoses amounted to an estimated $32 million in hospital payments in 2017 — about $16.4 million for heroin overdoses and $15.6 million for pain medication overdoses.
On average, PHC4 said heroin overdose patients stayed in the hospital for 3.4 days, while pain medication patients stayed for 4.4 days, for a total of 13,642 days in the hospital in 2017.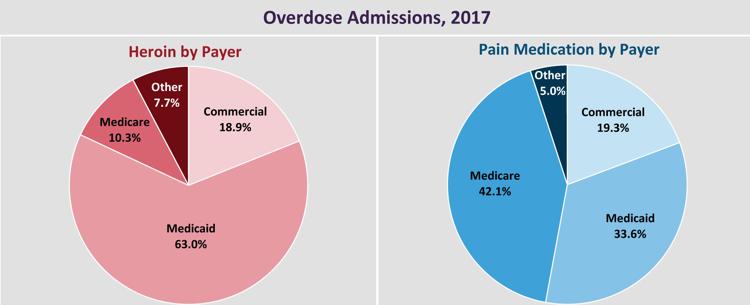 For 1,753 hospital admissions for heroin overdose in 2017 in the state, Medicaid was the anticipated payer for 63 percent of those cases, according to PHC4. Commercial insurance paid for 18.9 percent, Medicare paid for 10.3 percent, and 7.7 percent of patients had no insurance or another type of insurance, according to the data.
For the 1,747 hospital admissions for pain medication overdoses, Medicare was the anticipated payer for 42.1 percent of the cases, PHC4 reported. Medicaid was expected to pick up the bill for 33.6 percent of cases, commercial insurance for 19.3 percent, and 5 percent other or no type of insurance.