Two more medical products were recalled last week, including tablets that had a similar problem as blood pressure medication that involved a carcinogen.
Torrent Pharmaceuticals Limited last week expanded its voluntary recall from two lots of Losartan potassium tablets USP to a total of 10 lots to the consumer level due to trace amounts of N-nitrosodiethylamine, which is classified as a carcinogen, according to the Food and Drug Administration.
The FDA previously announced that Aurobindo had a voluntary recall after its blood pressure medication, Valsartan, had detectable traces of the same carcinogen.
Torrent's Losartan tablets are used to treat hypertension, hypertensive patients with left ventricular hypertrophy and nephropathy in Type 2 diabetic patients, according to the FDA. The agency said patients should continue to take their medication since stopping treatment immediately could put the patient at risk. Patients should contact their physician or pharmacist for alternative treatment.
Torrent has not received any reports of adverse events related to the recall. Recalled products include those in 30, 50, 90 and 1,000-count bottles that range in expiration date from April 2019 to May 2021. For a full list and lot batch numbers, check out the FDA's website at www.fda.gov.
The tablets were distributed wholesale and to retail customers. Consumers with questions can call Torrent at 1-800-912-9561 or email medinfo.torrent@apcerls.com.
Another medical recall comes from Lupin Pharmaceuticals Inc., which voluntarily recalled five lots of Ceftriaxone for injection at the hospital/physician level due to visual gray particular matter found in reconstituted vials, according to the FDA.
The FDA said improper piercing and use of a needle greater than 21 gauge while reconstituting a vial can push rubber flecks into the solution. The gray flecks were not seen prior to the reconstitution of the vials, and the issue was identified upon standard visual inspection prior to patient administration, the FDA said.
If injected, the product with rubber particulate matter could cause vein irritation/phlebitis or pulmonary embolic events that could result in permanent impairment or damage to the body, or, if administered through the muscles, cause local muscle inflammation and/or abscesses.
The drug is used to reduce the development of drug-resistant bacteria and maintain the effectiveness of ceftriaxone sodium and other antibacterial drugs. The FDA said the company has not received any reports of events related to the recalled lots.
Lupin Pharmaceuticals is notifying its distributors by phone and through recall notification. For more information, call GENCO Pharmaceutical Services at 1-855-838-5786.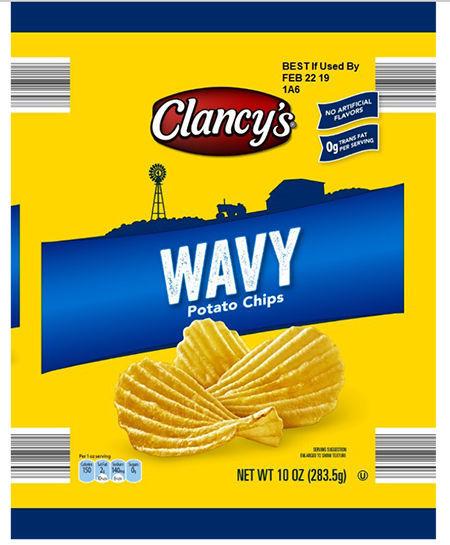 The FDA last week also announced the voluntary recall of Clancy's Wavy Potato Chips from Olde York Potato Chips of Brampton, Ontario. The chips, with a best if used by date of Feb. 22, 2019, were recalled due to undeclared milk.
The product is safe to consume for those who do not have a milk allergy.
The chips were distributed to Aldi stores in Pennsylvania, Ohio, New York and West Virginia.
The issue was discovered when two consumers reported finding sour cream and onion seasoning on the wavy potato chips. The company conducted an investigation that indicated the problem revolved around an "isolated breakdown in the company's cleaning process," according to the FDA.
The issue has so far resulted in one gastrointestinal illness, the FDA said.
Consumers can return the product to their local Aldi store for a full refund. For more information, call Olde York Potato Chips Customer Care at 905-669-2083, ext. 227.