As part of an ongoing investigation into an E. coli outbreak, the U.S. Department of Agriculture's Food Safety and Inspection Service Tuesday announced the recall of more ground beef products that could potentially be contaminated.
The inspection service said K2D Foods, which does business as Colorado Premium Foods out of Georgia, is recalling about 113,424 pounds of ground beef products that were produced on March 26, March 29, April 5, April 10 and April 12.
Products included in the recall are ones packaged in two, 24-pound vacuum sealed packages in cardboard boxes containing raw "ground beef puck" with "use thru" dates of April 14, 17, 20, 23, 28 and 30.
The products were shipped to distributors in Florida and Georgia, which then further distributed the products to restaurants.
The inspection service said it and its public health partners, including the CDC and Tennessee Department of Health, have been investigating an E. coli 0103 outbreak.
The agency said many clinical laboratories do not test for non-0157 STEC, such as E. coli 0103 because it is harder to identify. People can become ill from E. coli anywhere between two and eight days after exposure. Most people infected will develop diarrhea, often bloody, as well as begin vomiting. Most people recover within a week, but some develop a more severe infection.

In addition to FSIS' ongoing investigation into E. coli, the U.S. Consumer Product Safety Commission on Tuesday announced two more product recalls that pose hazards to its users.
Flying Tiger Copenhagen is recalling its wooden train carts because the steam dome on the toy train's engine car can come loose, posing a choking hazard. No injuries or incidents have been reported.
The toy was sold at Flying Tiger Copenhagen stores between November 2018 and March 2019. Consumers can return the toy to the nearest store for a full refund. No receipt is needed.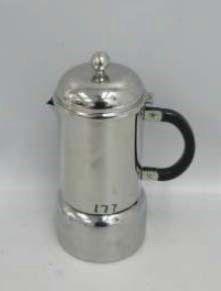 The commission also announced Tuesday Bodum's recall of Chambord stove-top espresso makers, whose handle can ignite from the flame of a gas stove.
The company has received one report of the handle igniting, though no injuries have been reported.
The espresso makers were sold at home appliance stores from January 2017 to January 2019. Consumers should return them to the store of purchase for a full refund or contact Bodum at 833-722-6386 to receive a prepaid mailer to return the espresso maker for a full refund.