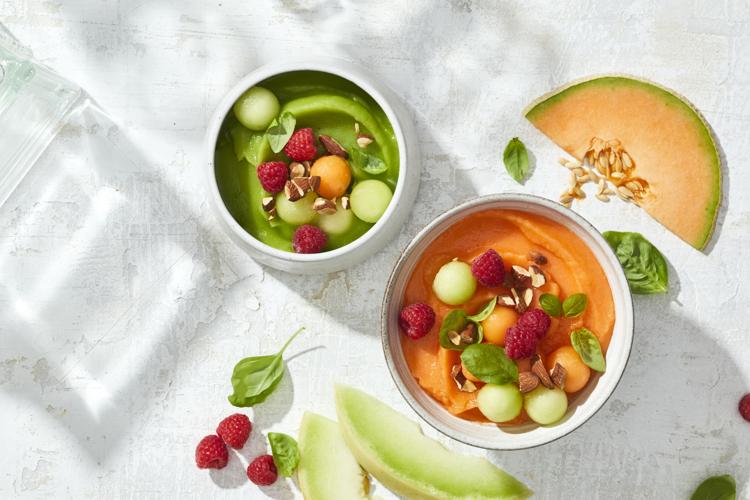 Blending frozen melon with just enough liquid yields an almost ice cream-like texture. Make this a traditional, pourable smoothie by adding a touch more liquid before whizzing everything together. It's a cool way to start off a hot and humid day.
Honeydew Smoothie Bowl
4 cups frozen cubed honeydew (1/2-inch pieces)
1/2 cup unsweetened coconut milk beverage
1/3 cup green juice, such as wheatgrass
1 tablespoon honey
Pinch of salt
Melon balls, berries, nuts and/or fresh basil for garnish
1. Combine honeydew, coconut milk, juice, honey and salt in a food processor or high-speed blender. Alternate between pulsing and blending, stopping to stir and scrape down the sides as needed, until thick and smooth, 1 to 2 minutes.
2. Serve the smoothie topped with more melon, berries, nuts and/or basil, if desired.
Recipe nutrition per serving: 176 Calories, Total Fat: 2 g, Saturated Fat: 1 g, Cholesterol: 0 mg, Carbohydrates: 41 g, Fiber: 3 g, Total Sugars: 37 g, Added Sugars: 9 g, Protein: 3 g, Sodium: 141 mg, Potassium: 791 mg, Folate: 65 mcg, Calcium: 46 mg
(EatingWell is a magazine and website devoted to healthy eating as a way of life. Online at www.eatingwell.com.)
Satisfy your cravings
With our weekly newsletter packed with the latest in everything food.