There's something about the combination of sweet, spicy and savory in a Thai-style peanut sauce that makes it so versatile. This recipe from Big Spoon Roasters, which includes instructions for fresh spring rolls, is no exception.
Like some heat? Try the shop's Hot Mamba peanut butter, which is blended with guajillo, ancho and habanero chiles, instead of the classic variety. Use this sauce as a marinade, a dip or a dressing.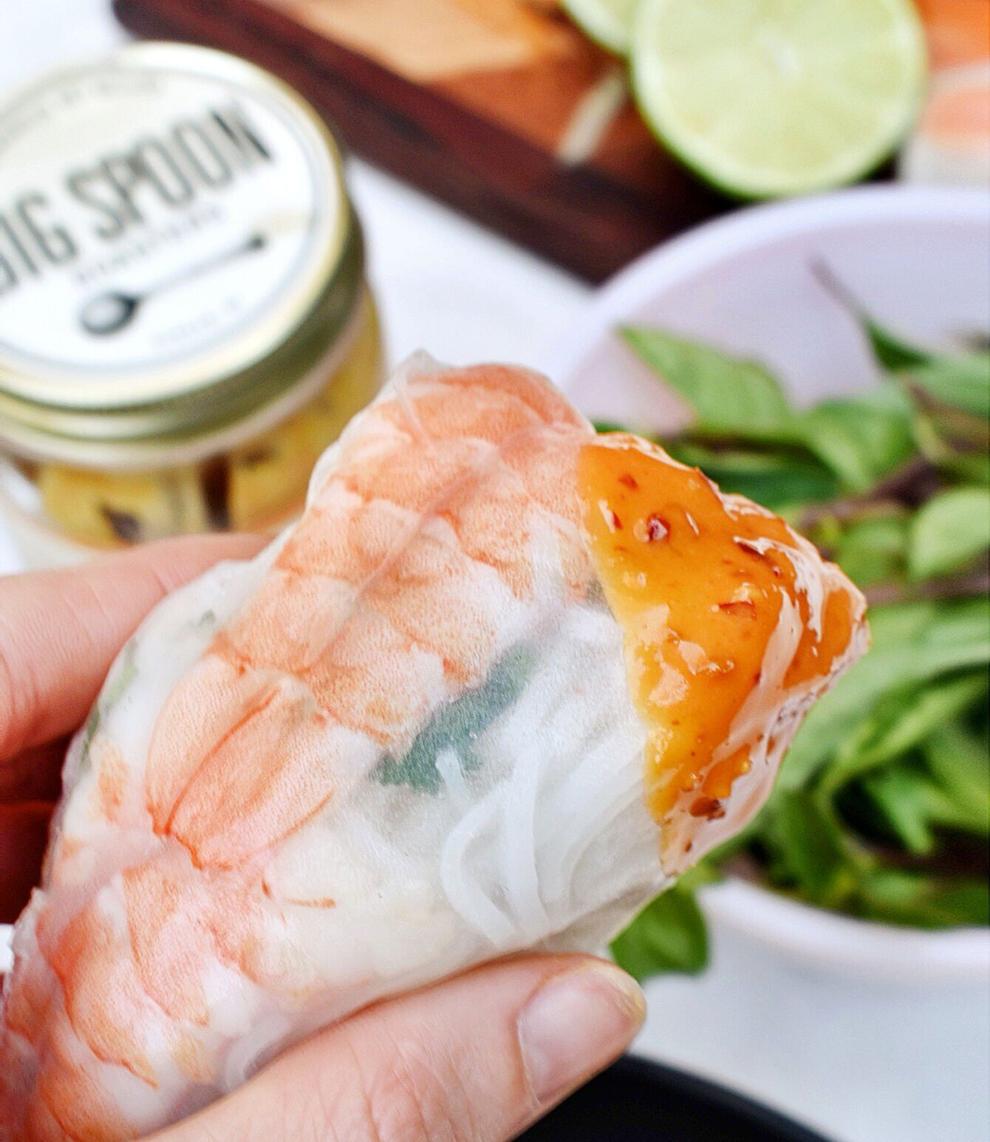 ---
Spring Rolls with Thai Peanut Sauce
Yields: 4 snack-size servings
1/2 cup Big Spoon Roasters peanut butter (or your favorite peanut butter)
1 Tbsp brown sugar
1 tsp fish sauce
2-4 tsps chili oil, to taste
1 Tbsp fresh lime juice
1 Tbsp ginger paste or freshly grated ginger
1 Tbsp rice vinegar
2 Tbsp soy sauce, tamari or coconut aminos
1 to 3 Tbsp warm water
Mix all ingredients except water in a medium bowl. Add water one tablespoon at a time and mix until your desired consistency is achieved. For a dressing, thinner might be preferred while thicker might be nicer for a sauce. Store in refrigerator. 
---
When assembling your spring rolls the Overbays have some advice: "Freestyle!" Add more or less veggies, skip the protein altogether, or adjust the herbs. "It varies so much based on preference." 
8 rice paper wrappers
6 oz thin rice noodles
2 radishes, sliced thin
1 to 2 sweet bell peppers, cut into thin strips
1/4 cup bean sprouts
1/2 cup shredded carrots
1 cup thinly sliced leafy greens, like romaine lettuce or cabbage
1/2 to 3/4 cup cooked shrimp, cooked chicken or tofu
Assorted fresh herbs, like mint or Thai basil
Prepare your rice noodles according to package instructions. Drain, rinse in cold water, set aside.
Set up veggies and protein for spring roll assembly. Place one rice paper wrapper in a shallow dish of warm water to cover until pliable but not saturated, about 15 seconds. Note: Paper will become more pliable when filled.
Remove wrapper from water and allow to dry slightly on a cutting board or plate. Fill wrapper with protein, noodles, herbs and veggies.
Tuck-in sides of the rice paper, then roll tightly to close.