There's a secret to a great charcuterie board that Instagram won't tell you. Here's a hint: The fridge is not your friend.
Ken Monteleone owns a cheese shop called Fromagination in Madison, Wisconsin. He has seen the same mistake "time and time again."
"People will do a tray and put it in their refrigerator and take it out right before they serve," Monteleone says. "That is the worst thing you can do. A lot of people have this fear with cheese that it has to be in the fridge all the time, and no! It really does it an injustice."
Fromagination's tagline is: "artisanal cheeses and perfect companions," and Monteleone has built hundreds of boards since opening on Madison's Capitol Square in 2007. Lately, he has curated the shelves to focus on things that go best with cheese and cured meats. He's currently running a contest, asking people to "create your dream cheese board" and submit their entries via Instagram (@fromagination).
"The fun thing about putting a cheese tray together in a shop like Fromagination where you can work with a cheesemonger is there are so many combinations, different things you can come up with," Monteleone says. "You can go so many different directions."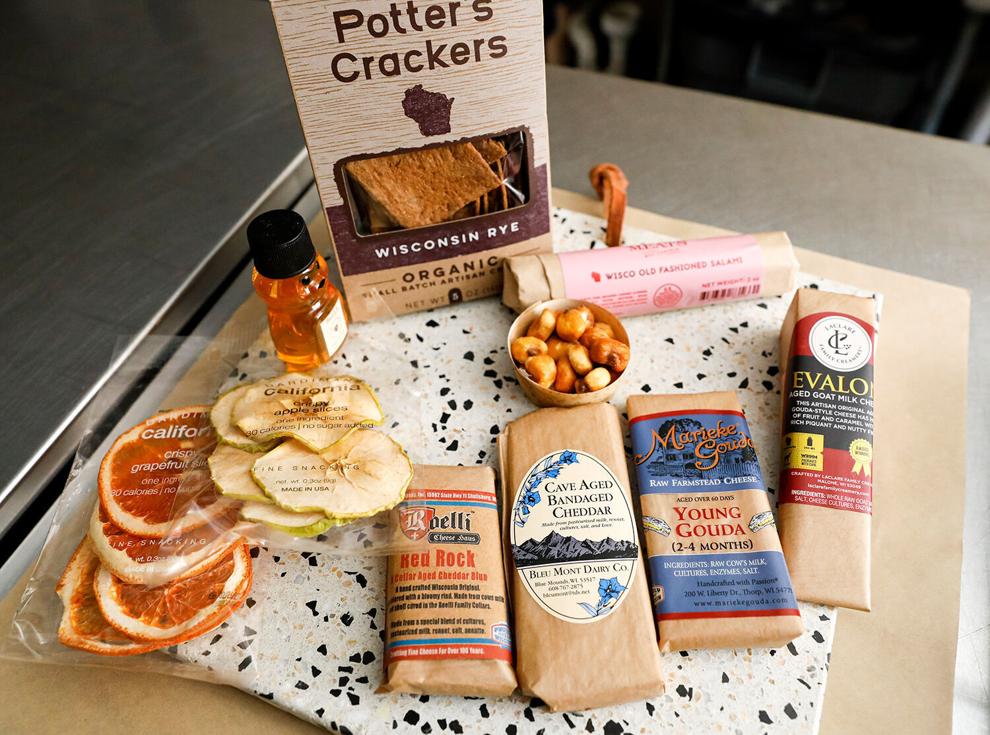 ---
To build your own dream cheese board, here are a few of Monteleone's tips.
---
Mix milks. For an easy starting trio, choose cow, goat and sheep's milk cheeses. If you stay cow-centric, try to balance texture, color and flavor. Monteleone prefers odd numbers of cheeses, like three or five.
Pair sweet and savory. Think maple syrup with Gouda or pickled onions with cured meat. Quince & Apple's fig and black tea preserves pairs well with both fresh and blue cheeses. Their tart cherry and white tea spread is a lovely complement to soft, bloomy triple-cream Brie.
For a "wow" factor, try honeycomb, Monteleone says. Bacon jam is an unexpected match with cured meat. "Trying to mix sweet and savory together is our starting point," he says.
Choose crowd-pleasers. When you don't know what everyone likes, stick to proven winners. Monteleone suggests three cheeses: a Gouda, a Cheddar (aged or cave-aged) and a flavored cheese, like a Sartori BellaVitano made with black pepper, Merlot or balsamic vinegar. Roth Cheese makes spicy Goudas, one with sriracha and a three chile pepper variety; Monteleone recommends both.
Bake it off. "Baked Bries are underrated and would be a nice addition to a tray," Monteleone says. Add preserves, like Quince & Apple's pear with honey and ginger, and toasted pistachios on top, for another level of flavor.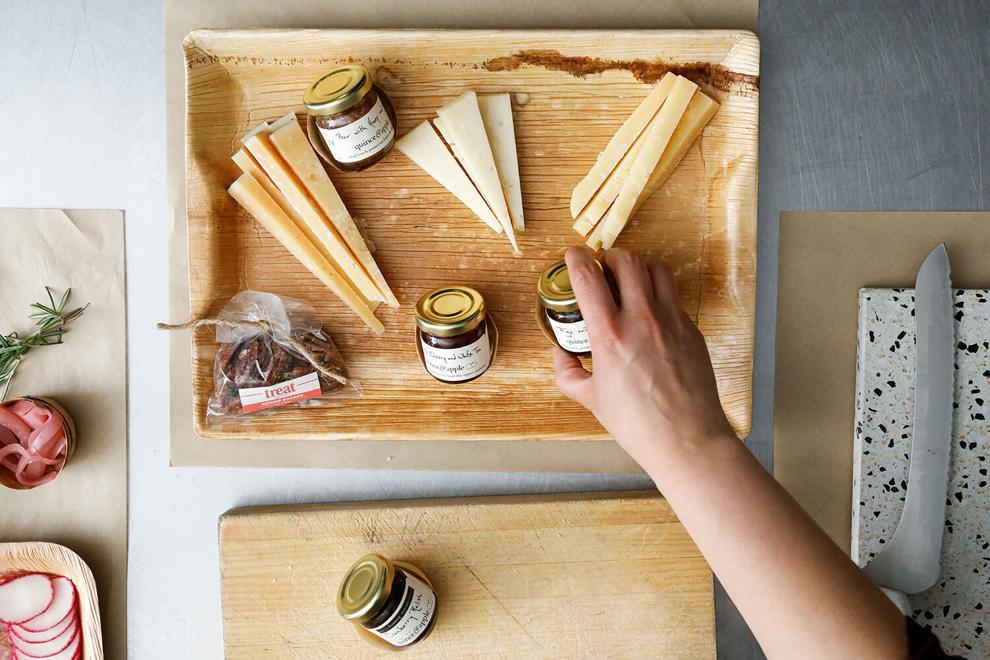 Wedges work. For cheeses with edible rinds, like Pleasant Ridge Reserve from Uplands Cheese Company, Monteleone makes long skinny wedges. Cut aged cheeses into chunks for a more rustic, organic look. Cube Cheddar and Havarti. For soft cheeses, make the first cut for guests.
Check the clock. Arrange cheeses from mild to strong. Plate the accompaniments you want to pair with each cheese or meat close to each one. "It's like being a designer and looking at elements in a living room," Monteleone says. "You work with color, texture, flavor and dimension as well."
Seek similar strengths. To go with spicy cheeses, consider chorizo. For Italian-style cheeses, pick soppressata or a Tuscan-style salami. Underground Meats makes a salami called Wisco Old Fashioned with allspice, brandied cherries, orange peel and a hint of red chile that Monteleone likes to pair with Cheddars and Gruyère.
The "strength" idea goes for bread items, too. If you're serving cured meats with olive tapenade, cornichons or spicy pickles, crostini hold up better than crackers.
Flow the finocchiona. Cut cured meats like finocchiona, a fennel salami, very thinly and curl them into flowers for a pretty accent. Monteleone cited a trend he picked up from Marissa Mullen, author of the 2020 book, "That Cheese Plate Will Change Your Life." She created something called the "salami river" that winds down the center of the board.
Think seasonally. Spring vegetables like radishes and asparagus are ideal for a spring charcuterie board, while fresh strawberries and colorful carrots are perfect for June. Edible fresh flowers add a bright pop of color.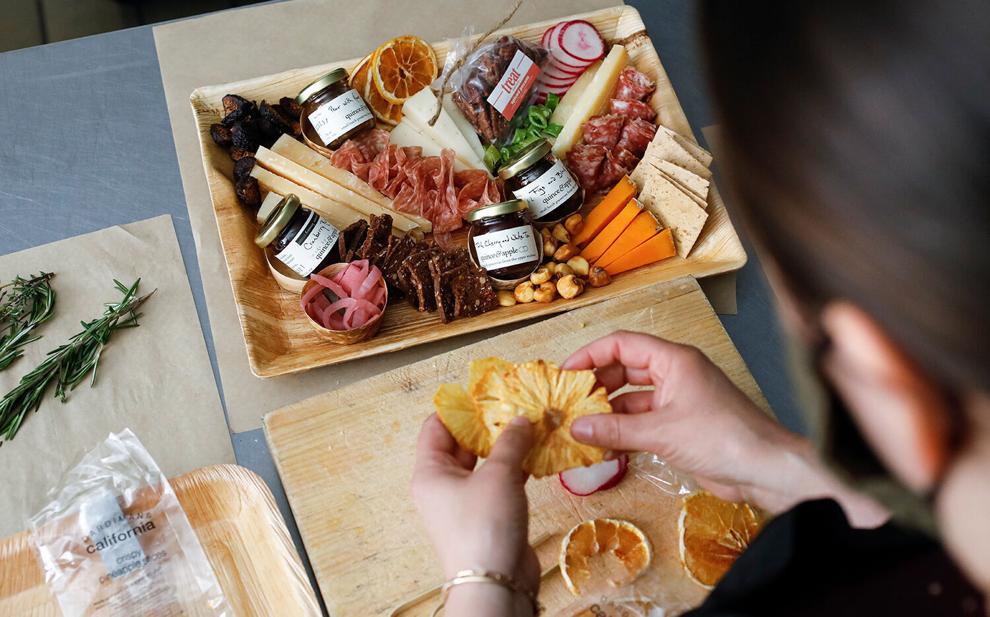 Find ways to surprise. Monteleone likes to pair peanut brittle with blue cheese and dried pineapple with Gruyère for a little something unexpected. Lately, he's smitten with fruit crisps from a California company called Dardimans with flavors like apple, blood orange and lemon.
"You don't want a whole tray to be all unusual pairings," he says. "But putting a dried grapefruit on a tray is fun."
Another trend is to pair cheese with more cheese by making Parmesan crisps — just shredded Parmesan baked until crispy in the oven.
Remember restrictions. Be considerate of those with allergies or dietary preferences. Vegetarians may balk at a tray that crowds cheeses and meats together, and it's always a kind gesture to offer a rice crisp or quinoa cracker for friends who eat gluten-free.
Utilize utensils. Today more than ever, guests are oftentimes wary around open food. Offer tongs, so they aren't grabbing with their hands. Or, consider individual charcuterie plates with a little bit of everything on each.