Chicken Caesar salad is on seemingly thousands of menus across the country. It's a favorite but, let's be honest, it's usually not all that great. Good dishes are the sum of their parts and I find that Caesar salads tend to be terribly boring, with bland lettuce and overly sour bottled dressing.
This approach to the classic will make any Caesar salad lover swoon. First, while you're grilling the chicken thighs, you'll also grill the romaine, which is an underused technique. All you do is cut the romaine in half, from stem to the tip of the leaves. Then, brush the lettuce with olive oil and season with salt and pepper. Grill the romaine on all sides until it's just beginning to char on the edges and remove to cool while you make the dressing. The grill lends an aromatic, nutty quality to the romaine that truly changes this salad for the better.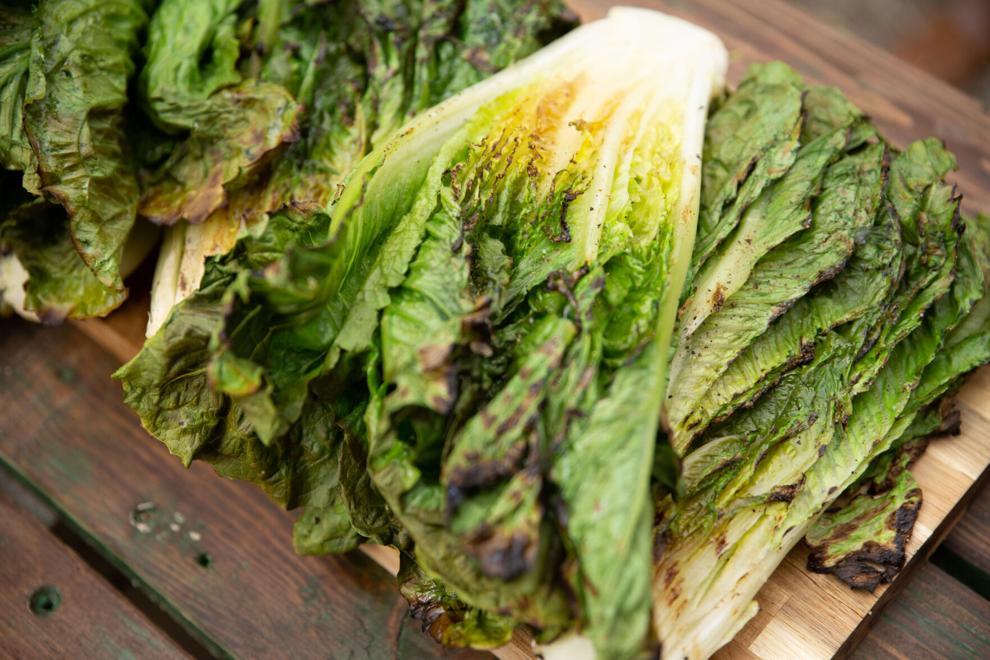 Now, I know that there are some decent bottles Caesar dressings out there, but not a single one of them compares to one that is freshly made. Start with oil-packed anchovies. You can sub anchovy paste if you must, but the whole fillets offer better flavor and texture. Chop the anchovies together with your garlic and salt to form a paste, the basis of the dressing. By chopping these elements together, the flavors marry better than if they are minced separately and stirred together in a bowl. The rest of the dressing comes together like making mayonnaise. Egg yolk is added and oil is streamed in slowly, with everything being whisked together to create an emulsion. The dressing will begin to lighten up and become a lovely yellow hue as it thickens. Stir in a bit of Parmesan and there you have it.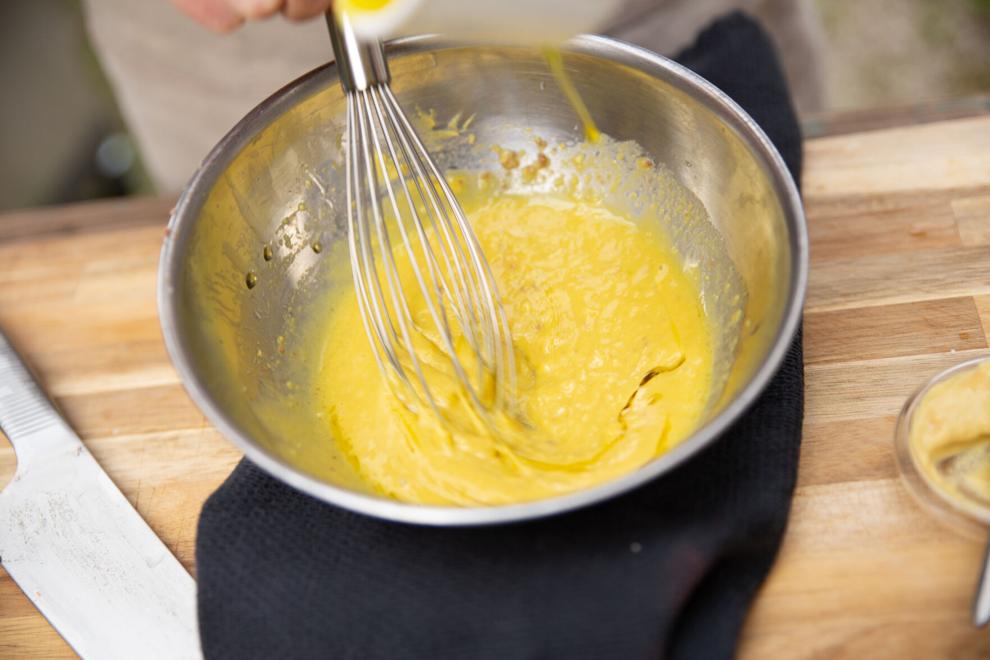 Caesar salad is incredibly simple — romaine lettuce, dressing, croutons, Parm and sometimes a protein — so the components better be stellar, otherwise the salad will fall flat. By grilling your romaine and taking the time to whisk up a homemade dressing, you will be assured of that perfect Caesar balance of sharp, garlicky, pungent dressing with cool, sweet lettuce enhanced by tender chicken and toasty, crunchy croutons. This approach will remind you why the salad became a classic in the first place.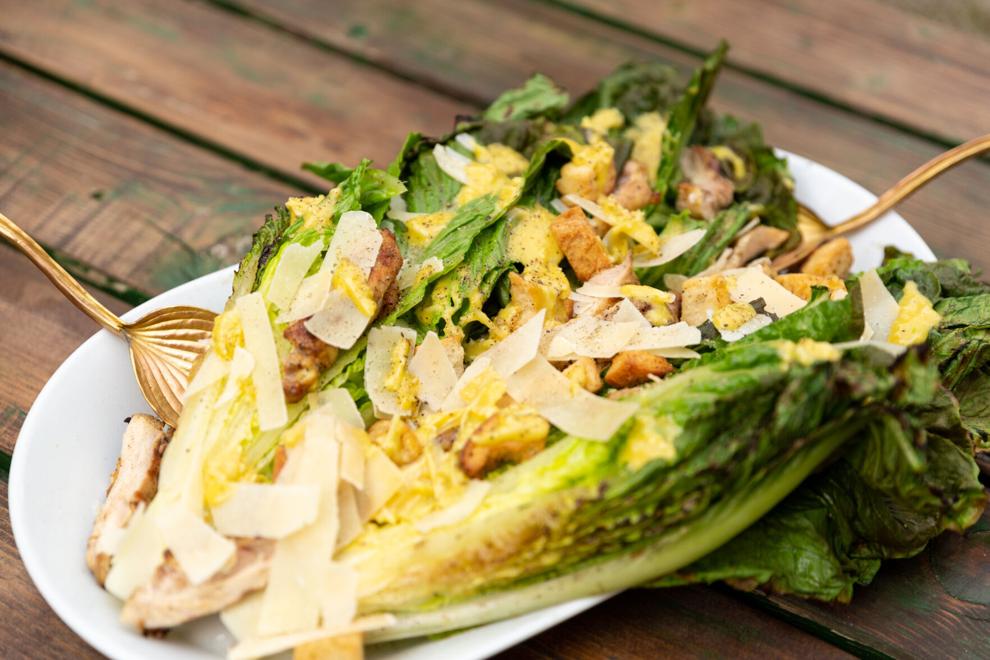 Grilled Caesar Salad with Chicken
Recipe by Catherine Neville
3 lbs boneless, skinless chicken thighs
3 garlic cloves, minced, divided
2 lemons
1 cup olive oil, plus more for romaine
freshly ground black pepper
salt
3 heads romaine lettuce
3 oil-packed anchovy fillets
1 tsp sea salt
1 egg yolk
1½ tsp Dijon mustard
¼ cup extra virgin olive oil or grapeseed oil
2 Tbsp freshly grated Parmigiano-Reggiano cheese, plus more for garnish
croutons, for garnish
| Preparation | Place chicken thighs in large bowl; add olive oil, one-third minced garlic, juice of 1 lemon and 1 teaspoon each pepper and salt; toss to combine. Cover and refrigerate a couple of hours to marinate.
Prepare outdoor grill for direct grilling over medium-high heat. Remove chicken from marinade, allowing excess to drip off. Place chicken on hot grill and cook 12 to 14 minutes, turning once halfway through cooking.
Meanwhile, cut romaine heads lengthwise in half through core to keep root-end intact. Lightly brush both sides of romaine with some olive oil, then sprinkle with salt and pepper. Grill a couple of minutes on each side or until caramelized, but do not allow to burn. Transfer romaine to cutting board to cool.
Prepare Caesar dressing: Chop anchovy fillets, sea salt and remaining garlic until they form a paste; transfer to medium bowl. With whisk, stir in juice of ½ of remaining lemon, egg yolk and mustard. In slow, steady stream, drizzle in extra virgin olive, whisking vigorously to emulsify; stir in cheese. If desired, add additional lemon juice or salt to taste.
Cut romaine into large pieces. Divide romaine between each of 6 plates. Slice or shred chicken and arrange on top of romaine. Sprinkle with croutons and drizzle with dressing. Top with a shower of additional cheese and pepper.