Fruit is amazing grilled. The natural sugars caramelize and the juices get gorgeously hot — a few minutes on the grill transforms peaches, watermelon, bananas and, here, pineapple, into something decadent and dessert-worthy.
I toss the pineapple with a marinade of honey and cayenne to add complexity and heat, but honestly, you could skip that step and just grill the pineapple plain if you'd like. The key is to get nice grill marks on the fruit. That char is what lends new flavor and texture — the honey and spice just amp everything up.
One of the great things about grilling is that you can create zones of heat, just like you do on your stovetop. On a gas grill, it's as easy as turning on the burners and on a charcoal grill, you just bank your coals off to one side to create a hot zone and allow the other side to be the cooler, mid-range zone. In this recipe, you cook the brown sugar sauce over medium-high heat and then, if on a gas grill, turn the burners down to low, to keep the sauce warm as the pineapple grills at medium. If you're on a charcoal grill, just move the cast-iron skillet over to the cooler side while you grill the fruit over the hot coals.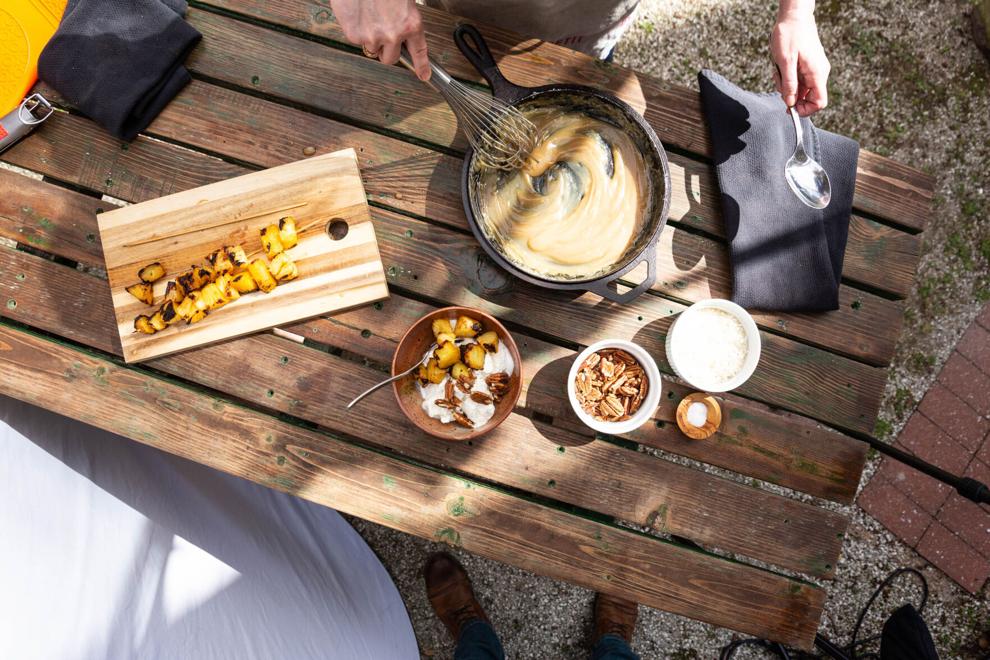 If you don't have a good, heavy cast-iron pan, this brown sugar sauce might be the excuse you need to invest in one. The sauce is very easy to make, with few ingredients and it is absolutely decadent. All you do is melt butter in the pan and then stir in brown sugar and a bit of salt, whisking until the sugar melts into the butter and everything gets bubbly. Then, half-and-half is added to smooth everything out and make the sauce thick and creamy.
The sauce is a dream paired with the pineapple, coconut and pecans in this sundae. A perfect sweet ending to a summer evening spent around the grill.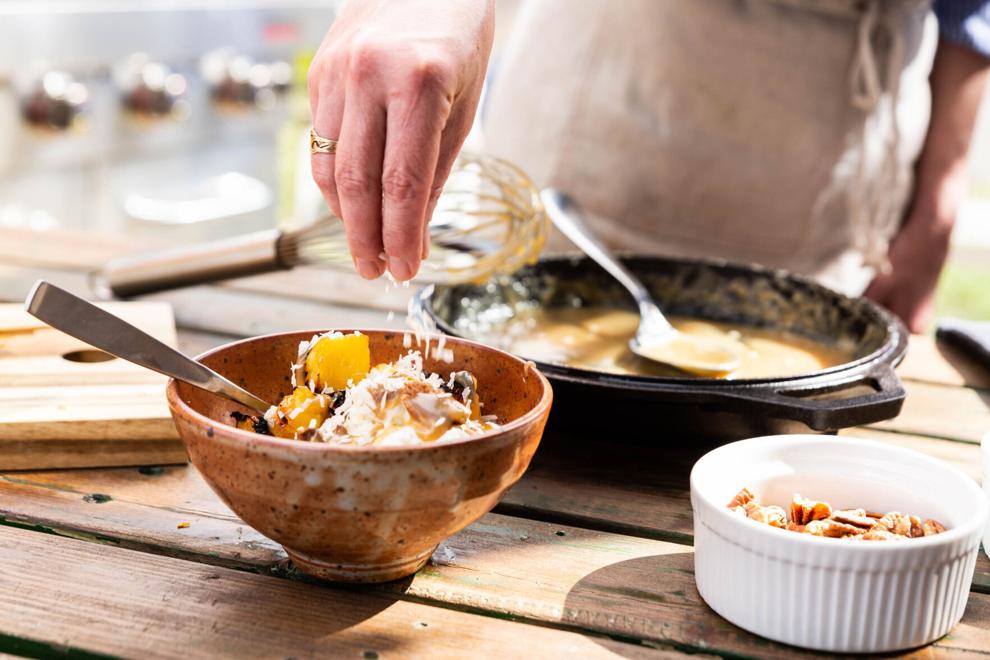 Grilled Pineapple Sundaes with Brown Sugar Sauce
Recipe by Catherine Neville
wooden skewers
3 Tbsp plus ¼ cup unsalted butter, divided
1 Tbsp honey
¼ tsp cayenne pepper
3 cups fresh pineapple chunks (about 1-inch chunks)
½ cup packed brown sugar
¼ tsp salt
½ to ¾ cup half-and-half
vanilla ice cream
shredded coconut
toasted pecans, chopped
| Preparation | Submerge wooden skewers in water and set aside at least 30 minutes or until ready to grill. Meanwhile, prepare outdoor grill for direct grilling with half of grill set up over medium-high heat and the other half prepared for medium heat.
In microwave-safe medium bowl, melt 3 tablespoons butter. Add honey and cayenne and stir until well combined. Add pineapple and toss until well coated in marinade; let stand about 5 minutes. Thread pineapple onto skewers.
In small stainless steel or cast-iron skillet, add remaining ¼ cup butter; place on grill over medium-high heat to melt butter. Add brown sugar and salt and stir with whisk until combined. Cook until sauce bubbles and thickens slightly, stirring occasionally. Whisk in half-and-half, beginning with ½ cup and adding more, if necessary, to achieve a thick, creamy sauce. For gas grill, turn down burners to the lowest setting. Place skillet on coolest part of grill to keep sauce warm.
If using a gas grill, reduce heat to medium on other side of burners. Drizzle enough oil on a few paper towels to moisten but not saturate; with tongs, use to oil grill grates over medium heat. Grill pineapple until nice char marks appear and pineapple is heated through.
Divide grilled pineapple between each of four dessert bowls; top with a scoop (or two) of ice cream. Drizzle with brown sugar sauce and sprinkle shredded coconut and pecans on top to serve.