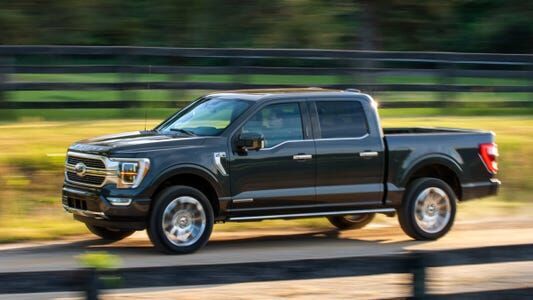 There's not usually much movement among the U.S. top 20 best-selling models, but there were some notable changes in the first half of 2021 versus the first half of 2020, thanks to some wild cards, like lower inventories due to the ongoing computer-chip shortage.
Market share is down in the first half, for all three of the Detroit 3 manufacturers — Ford, GM, and Stellantis — partly because the computer chip shortage has hit them disproportionately hard, and partly because of models they discontinued since they all but abandoned passenger cars, in favor of more-profitable trucks.
Notably among the top ranks, the Ram brand Ram Pickup shrank the lead of the perennial No. 1, the Ford F-Series pickup, and overtook the Chevy Silverado as the No. 2 overall. The Ram Pickup is popular, but its gain also reflects the effect of the chip shortage on Ford and GM.
Further down the Top 20 list, redesigned new models like the Toyota Highlander climbed the rankings. A year ago, the Highlander barely made the Top 20 list, but for the first half of 2021, it was in the Top 10.
Rankings are based on industry sales reports for the first half of 2021, compiled by Motor Intelligence. Percent changes vs. the year-ago period are based on unit sales, unadjusted for a slightly different number of selling days in the respective periods.
1. Ford F-Series, 362,032 sold, down 1.5%
A year ago, the Ford F-Series was ahead of the Chevy Silverado by 102,945, and ahead of the Ram Truck by 121,134. This year, the Ford F-Series outsold the Ram Pickup by fewer than 50,000, and the Ram Pickup overtook the Chevy Silverado by a relative eyelash of just over 25,000 units. The F-Series was the only top 20 vehicle to lose sales against 2020.
2. Ram Pickup, 313,068 sold, up 27.1%
A year ago, the Chevy Silverado outsold the Ram Truck by a thin margin of 18,189 units, year to date, the equivalent at the time of a couple of weeks' worth of sales. Ram, formerly known as Dodge Ram, has stuck to the former Chrysler Group's marketing playbook, rolling out frequent special editions such as "Built to Serve Edition" Ram 1500 pickups for the 2021 model year honoring the branches of the U.S. armed forces, plus high-performance variants, plus attractive incentive offers. The goal is to keep attention on the Ram brand, and fend off competitors like the redesigned Ford F-150.
3. Chevrolet Silverado 286,410 sold, up 8.3%
General Motors prefers to count the Chevy Silverado and its upscale sibling, the GMC Sierra together, since they're based on the same platform under the skin, code-named C/K. That would make the combined Silverado/Sierra the sales champ instead of the Ford F-Series.
4. Toyota RAV4, 221,195 sold, up 20.6%
The 2021 Toyota RAV4 has been a big seller all year, with first-quarter sales up almost 20% vs. a year ago. Jack Hollis, senior vice president, automotive operations for Toyota Motor North America Inc. said in a phone interview the 2021 RAV4 Prime plug-in hybrid, which was launched a year ago, and the Toyota RAV4 Hybrid, have attracted new buyers to the RAV4, even though the underlying model is not especially new, being about halfway through its product lifecycle. In the spring, some dealers were asking, if not getting, $10,000 markups on the RAV4 Prime, which (after a $7,500 tax credit) is about the same price as RAV4 Hybrid. Toyota has also suffered less than many other brands from the computer chip shortage.
5. Honda CR-V, 213,199 sold, up 53.5%
In the first half of 2021, the rival Toyota RAV4 outsold the Honda CR-V by just 8,000 units. In the first half of 2020, the RAV 4 outsold the CR-V by 44,462. Analysts expect a redesign for the Honda CR-V next year. It got a facelift for the 2020 model year, which included new front-end styling, with bigger openings for fog lights. A big drop in sales last year also exaggerated the percent increase in 2021 sales.
6. Nissan Rogue (and Rogue Sport), 182,289 sold, up 70.4%
The Nissan Rogue was redesigned for the 2021 model year and debuted in the fall of 2020. Since then, it has climbed the Top 20 list, from No. 9 last year. Most reviews, including Forbes Wheels', found the '21 Rogue a marked improvement. The total also includes a facelifted version of the Nissan Rogue Sport, a smaller and more affordable variant of the Nissan Rogue that was first introduced in 2017. Factory-supported lease deals likely also helped. Nissan Rogue sales doubled in the second quarter vs. the same quarter last year, to 95,569. The year-ago quarter was severely affected by COVID-related shutdowns.
7. Toyota Camry, 177,671 sold, up 41.1%
The Toyota Camry is the nation's best-selling sedan, a category that has come under pressure as buyers rush to trucks and the domestic brands have just about quit making passengers cars altogether. But sedans still represent a major product category. "Sedans still make up about 25% of the market," said Jack Hollis, senior vice president, automotive operations for Toyota Motor North America Inc., in a phone interview. "We just don't understand why our competitors want to abandon their customers," he said.
8. Honda Civic, 152,956 sold, up 19.6%
The current version of the Honda Civic is the 10th generation of the ubiquitous little car, with a reputation for safety and reliability. Its replacement started reaching U.S. showrooms in June. While they last, advertised specials on the lame-duck 2021 model include a 36-month lease for $169 per month, with $2,999 due at signing. That offer may vary by region, subject to change without notice. The actual monthly payment is likely to be higher, taking options, taxes, dealer fees and other costs into account.
9. Toyota Highlander, 144,380 sold, up 82.6%
A year ago, the Toyota Highlander barely made the Top 20, at No. 19. This year, its sales have nearly doubled vs. a year ago. Toyota introduced an all-new Highlander for the 2020 model year, starting in December 2020, so it's still pretty new. The exterior styling got a completely new look, and the Highlander got an all-new assortment of driver-assistance features, such as Lane Tracing Assist, Toyota's proprietary term for automatic lane centering. Combine that with adaptive cruise control and the Highlander provides rudimentary highway self-driving.
10. Toyota Corolla, 143,538 sold, up 42.5%
Like some of its key import-brand competitors, Toyota is sticking to passenger cars like the tried-and-true Toyota Corolla, now in its 12th product generation. "We continue to believe passenger cars are still a critical part of the market," said Jack Hollis, senior vice president, automotive operations for Toyota Motor North America Inc., in a phone interview.
11. Toyota Tacoma, 139,296 sold, up 33%
Toyota has promoted thee Toyota Tacoma in the highly competitive midsize pickup segment with aggressive lease deals and a series of "special editions," like a blacked-out "Nightshade" package of trim and equipment, and an off-road oriented "Trail Special Edition."
12. GMC Sierra, 138,412 sold, up 29.6%
For the 2021 model year, GMC added a lot of trailering technology and capability, some of which is optional, or available only on more expensive variants. GMC offers a very wide array of engines and light, medium, and heavy-duty models within a model. GMC notes the upscale Sierra Denali sub-brand accounts for a big chuck of Sierra sales.
13. Jeep Wrangler, 118,666 sold, up 23.4%
The Jeep Wrangler had its best quarter ever for U.S. retail sales in the second quarter, not counting fleet sales, the company said. Earlier this year, Jeep launched the plug-in hybrid Jeep Wrangler 4xe. All 2021 models come with what Jeep calls "Jeep Wave" benefits, such as the first three oil changes and tire rotations at no extra charge at any Jeep dealership, up to 36 months from purchase, plus coverage for roadside assistance up to 5 years/60,000 miles.
14. Ford Explorer, 118,241 sold, up 16.9%
The Ford Explorer slipped a few places in the Top 20 Best Sellers, from No. 12 last year, as sales slowed in recent months. The iconic SUV was last redesigned in 2019 for the 2020 model year. For 2021, Ford added several new optional appearance packages, such as XLT Sport Appearance Package, with 20-inch Carbonized Gray-painted 10-spoke wheels. In reviews, the Explorer has not fared well against the benchmark Kia Telluride, though some buyers prefer an SUV built by a U.S. company. (The Telluride is actually U.S.-built, too.)
15. Honda Accord, 114,707 sold, up 29.2%
Honda has navigated the computer chip shortage better than many other brands, and that has paid off with greater availability in a short inventory environment. It also helped that the 2021 Accord introduced last year got new front and rear styling, Interior upgrades included a touchscreen entertainment system, Apple CarPlay and Android Auto, which were made standard on all models that were previously available only on more expensive trim and equipment levels.
16. Jeep Grand Cherokee, 107,924 sold, up 11.9%
Jeep is rolling out a redesigned Jeep Grand Cherokee for 2021, including a third-row version for the first time, the Jeep Grand Cherokee L. Jeep executives said customers have been asking for more space and more functionality. In the meantime, Jeep continued to drum up interest in the outgoing model by introducing a slew of "special editions," like specially badged 80th Anniversary models, to commemorate the 80th anniversary of the brand.
17. Subaru Forester, 95,965 sold, up 11.8%
Considering new-car inventories are tight, Subaru sales were a big success in the first half, said Tom Doll, president and CEO of Subaru of America Inc., in the company's sales announcement July 1. Jeff Walters, senior vice president of sales, said the global microchip shortage "continues to pose challenges."
18. Mazda CX-5, 92,621 sold, up 42.3%
Mazda says its total first-half sales were 189,167, up 48.7% vs. a year ago. Its best seller by far is the Mazda CX-5 crossover, first introduced in 2012 and redesigned in 2017. Lease offers have probably helped. Current advertised specials include a 24-month lease for $179 per month, $4,299 due at signing. That offer doesn't include options, taxes, license, dealer fees or other expenses, so the actual monthly lease payment would likely be higher. That offer expires Aug. 2, may vary by region, subject to change without notice.
19. Subaru Outback, 87,619 sold, up 40.6%
The Subaru Outback is a crossover-styled wagon, but the outdoorsy Subaru target demographic seems satisfied that it's outdoorsy enough. In recent months, Subaru has had inventory shortages that began to cut into monthly sales, but in the meantime Subaru dealerships have been selling out to the bare walls. The Wilderness model variant gives Subaru further credibility among adventurers and a price in the upper thirties. Unlike others with vehicles meant for rock crawling and other extreme pursuits (at the expense of on-road comfort), Subaru says the Outback "takes you to the adventure" rather than making the vehicle the adventure.
20. Ford Escape, 87,619 sold, up 0.8%
First-half sales for the Ford Escape were basically flat, but still substantial, considering the short-inventory environment for the industry as a whole, and considering it had relatively few changes since its last facelift, more than a year ago. The standard level of tech features isn't bad, including auto high-beam headlights, Blind Spot Information System (blind spot warningwith cross-traffic alert and pre-collision assist with automatic emergency braking. The Escape edged the next-generation Hyundai Tucson for the final spot in the top 20 by fewer than 2,000 sales.