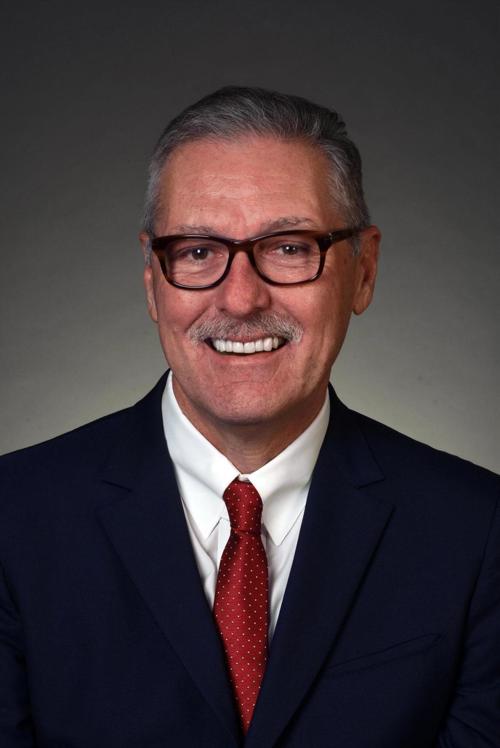 Mark L. Butler, 61, of Carlisle, passed away unexpectedly on Sunday, December 1, 2019 in Los Angeles, CA. Mark was born on November 14, 1958 in Brooklyn, NY and was a son of the late Stephen Vincent Butler and Carmen Rose (Ferreno) Butler.
Mark is survived by two daughters: Brooke A. Butler and her fiance, Joshua Wagner and Brynn Lee Butler both of Carlisle, one stepson, Shane A. (wife, Maggie) Thornton of Carlisle, one brother, Stephen R. (wife, Carol) Butler of Finksburg, MD, three grandchildren; Ryder and Reagan Romito and Everly Wagner, the love of his life, Wendy L. Davis and family of Los Angeles and several nieces and nephews. He was preceded in death by one sister, Diane S. Lucas.
Mark grew up in Carlisle where he attended Saint Patrick Catholic School and graduated in 1976 from Trinity High School in Camp Hill and went directly on from there to begin his retail career. Mark soon found himself working for Mort Bernstein (co-founder of Ollie's). Mark rang the very first sale at Ollie's Bargain Outlet on July 29, 1982 in Mechanicsburg, PA. Together, he and Mort grew Ollie's until Mort's passing. In 2003, Mark took the helm with 27 stores in 3 states, growing the company to 345 stores in 25 states today with over 8,000 associates across the company.
On July 16, 2015 Mark led Ollie's to a tremendous milestone. He rang the opening bell on NASDAQ that morning, signaling the first day Ollie's was publicly traded under the symbol "OLLI". Mark's accomplishments as CEO of a publicly traded company are well documented and led to him being declared a "Bargain Billionaire" by Forbes magazine in 2019.
Mark had a sincere passion for helping underprivileged children. He proudly served as the Chairman of the Cal Ripken, Sr. Foundation whose mission is to build character and teach critical life lessons to at-risk young people living in America's most distressed communities. Mark also supported other children-focused charities including the Kevin Harvick Foundation, the Harrisburg Boys & Girls Club, and the Children's Miracle Network. In more recent years, Mark formed his own foundation (Mark L. Butler Foundation), focused on helping disadvantaged children in and around Central PA.
Mark also had a deep love of sports. As a huge fan of the University of Maryland Terrapins basketball team, he provided significant support to the school's athletic programs over the years. Mark also fueled his love of sports by becoming the majority owner of the Harrisburg Senators baseball team, the Double A affiliate of the Washington Nationals. Mark loved to spend time at his ballpark on City Island and would frequently appear at games to greet and thank fans for their support of the team. He was an exceptional entrepreneur, merchant, leader, philanthropist and friend.
Mark's proudest accomplishments were his daughters. Nothing compared to the joy when the entire family was together, whether at the beach, a baseball or basketball game, or sitting at the table playing board games. In addition to his girls, Mark adored his grandchildren that he affectionately called "his babies". Spending time with them and teaching them made him smile, ear to ear. "Dad" and "Pa" were his two most favorite titles. Mark was quite the family man and has left lasting imprints on all of the hearts he has touched.
A Memorial Service will begin at 10:30 a.m. on Monday, December 16, 2019 at the Hershey Lodge, 325 University Dr., Hershey, PA 17033 with Rev. William Forrey officiating and where a fellowship luncheon will be held. Burial will be private. Viewings will be held at the Ewing Brothers Funeral Home, 630 S. Hanover St., Carlisle, PA 17013 on Saturday, December 14, 2019 from 11:00 a.m. to 2:00 p.m. and from 5:00 p.m. to 8:00 p.m. and on Sunday, December 15, 2019 from 1:00 p.m. to 4:00 p.m. and from 6:00 p.m. to 9:00 p.m. Memorial contributions may be made to the Butler's Bunk House, C/O Scott Willis Legacy Foundation, P.O. Box 539, Fallston, MD 21047 or go to, www.scottslegacy.com. Visit Since1853.com to send condolences to the family.
To plant a tree in memory of Mark Butler as a living tribute, please visit Tribute Store.